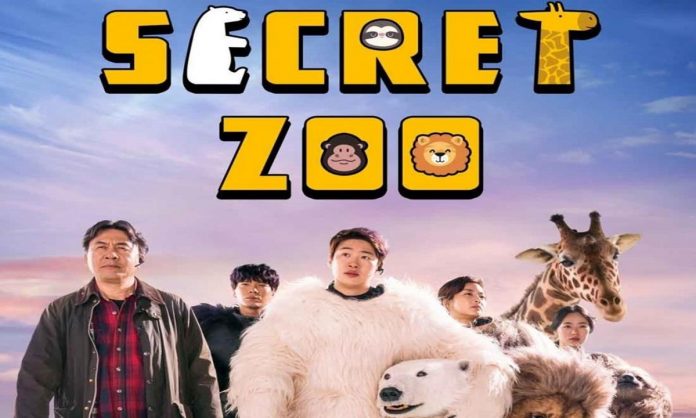 Secret Zoo is a film from South Korea which tells about the zoo there is a little problem, because the animals in it try to be diverted due to lack of funds from the government to maintain it.
On the other hand, there is a lawyer who is so great that he really wants to work in a big company in the city center. But over time the CEO of the company told him to save the zoo that was almost extinct, with certain criteria and goals.
Armed with knowledge and knowledge, the lawyer finally accepted the offer with pleasure. The next day he went to the zoo, and what a surprise all the animals that were there were transported by big cars.
After looking around, the lawyer finally met 3 employees and 1 doctor who were still working there. Finally all the stories, what happened to the beast. Then with an interesting and somewhat crazy idea the lawyer decided to come up with a plan to save the zoo.
He made an animal costume for incognito at the zoo, because all of his animals had already been sold. So inevitably 3 employees and a doctor agreed to the request from the lawyer. and this is where the Secret Zoo story begins!
Secret Zoo Information (2020)
Release Date: February 5, 2020
Duration: 1 hour 58 minutes
Genre: Comedy
Language: South Korean
Director: Jae Gon Son
Author: Jae Gon Son
Main cast:
Jae-hong Ahnh as Kang Tae Soo
So-ra Kang as Han So Won
Yeong-gyu Park as Director Seo
Seong-oh Kim as Kim Gun Wook
Yeo-bin Jeon as Kim Hae Kyung
Supporting Players:
Yeri Han as Min Chae Ryung
Yang Hee-Won as Kindergartener # 2
Park Hyoung-Soo as Lawyer Song
Seung-jo Jang as Sung Min
Woon Jong Jeon as Police officer
Bi-bi Kim as Dismissed employee # 1
Heung-rae Kim as Black Nose
Ki-Cheon Kim as CEO Go
Soo-jin Kim as Lawyer Seo
Hyun-Wook Lee as Min Chul Hyun
Rate: 6.1 / 10 (IMDB.com)
Secret Zoo (2020) Official Trailer
Watch Secret Zoo (2020) Sub Indo Streaming Online
Lots of funny and interesting scenes in the Secret Zoo film, from the absurd ideas of the lawyer, all the employees acting silly and the doctors who can't do anything to save all the animals in the zoo, it's really really fun if you watch this film.
For boredom busting shows, this film really helps accompany your spare time, in terms of the story is very good and also easy to understand. There are also many comedy scenes that can make the audience laugh out loud. Secret Zoo can be streamed on VIU. That's all from us and have fun watching!