The EVOS Legends team and the Mobile Legends scene are often subject to rumors. A few days ago he said that Kyy was going to EVOS. Finally, the issue of transferring EVOS Mobile Legends was answered by Luch.
Luch is the Head of Esports Mobile Legends, which means he is fully responsible for this division. So according to him, there are many rumors that need to be clarified about EVOS.
Actually, it's not just EVOS, because teams like RRQ and BTR are also hit by issues. Now, the issue of Kyy from BTR going to EVOS seems almost to be trusted by other players.
EVOS performance on the MPL S6 is not satisfactory, so it's natural that there will be an overhaul for the next MPL. Bringing LJ, Luminaire, and Antimage can be said that EVOS is very strong on paper.
Now, if you bring in new players, of course, it doesn't make sense, considering there are too many players. The issue of the transfer of EVOS in Mobile Legends was finally denied by Luch from his QnA.
Transfer Issue of EVOS Mobile Legends Answered by Luch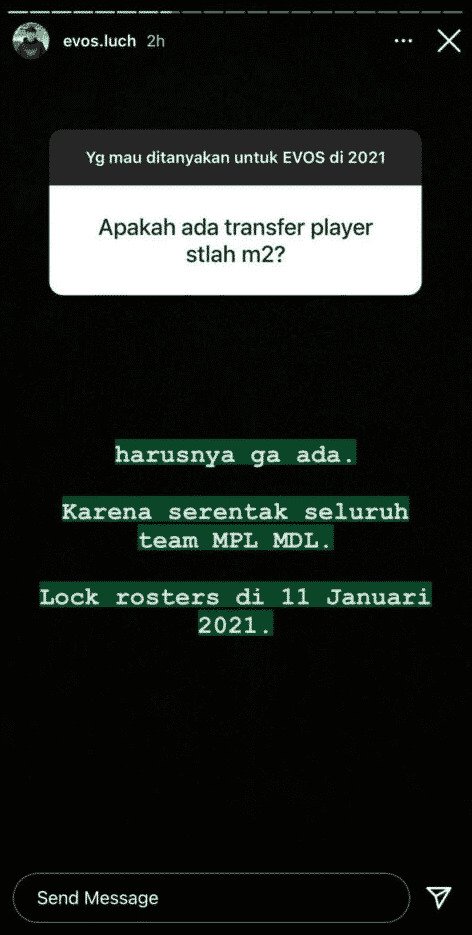 Based on this QnA held on Instagram Stories, Luch answered the rumors. He said the roster change was no longer there. The roster lock that appeared on January 11 means that after M2 there will be no more changes.
EVOS, which has brought in three new players, is certainly more than enough for MPL later. The arrival of three strong players, EVOS is expected to return to dominate the MPL and the local scene.
Well, but it doesn't just stop there. Many have asked Ivan Yeo's statement as CEO of EVOS which he said there would be a big announcement. But apparently this is not an announcement for Mobile Legends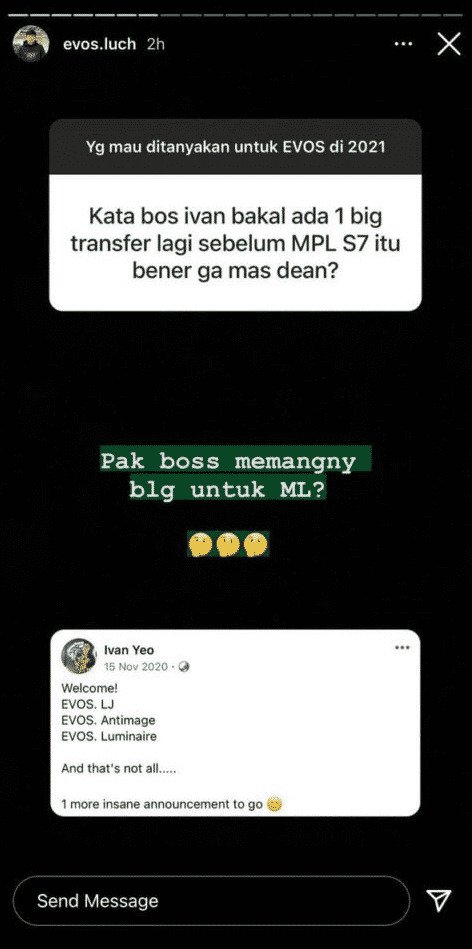 Many assumed that this was indeed EVOS 'biggest announcement but in other divisions. Most likely EVOS will announce their newest division in Wild Rift which will open a new team.
Wild Rift, which will be one of the competing games for Mobile Legends, certainly attracted EVOS to enter. But yes, it's better to just wait for the official news from EVOS later.
So, finally, the issue of transferring EVOS Mobile Legends is answered. There will be no more changes in the EVOS Legends roster later. But for those of you who are waiting for the next big news, keep an eye on it.
Also follow our social media on Instagram.