To fill free time nowadays, most people will usually spend that time playing games. Playing games is quite exciting and fun, you might also be challenged by the presence of new games nowadays. But if you want even more fun, try the Free Fire game right now. This time there is a new Panda and Bunny Free Fire bundle that you can get at the magic shop ff 2020
Because this game is also very well developed by Garena, where in this development there are many interesting things that can be found. Yesterday we had a new weapon called M82B in this game, its ability is quite deadly.
But that's not all, we all want the Magic Cube. Where this item is quite rare, and if from within Diamond Royale it has a high price. Follow the Tips for Getting a Free Fire Magic Cube, so you have lots of magic cubes later.
By having the Magic Cube item, of course you can get cool bundles that will be present in the Magic Shop later. Yesterday in Indonesia, we had the Token Ketupat Free Fire Event. The prize given too, is a free Magic Cube.
Maybe Garena is currently giving you a trial, because in the Magic Shop there is another new bundle present. Surely you are curious right? Immediately, we see the explanation in the article below.
Magic Shop's Latest Bundle – Crazy Panda And Sexy Bunny Free Fire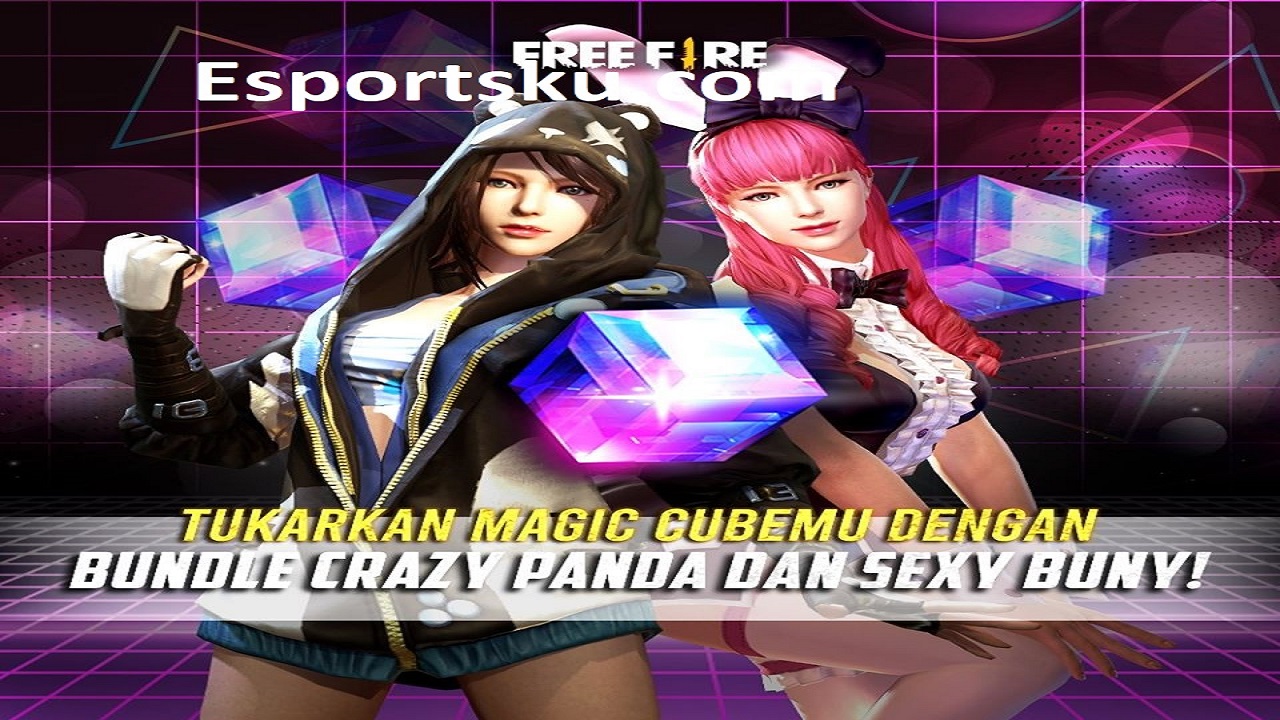 As we all know the bundles that are present in this feature, usually have been sold or presented in Diamond and Gold Royale in the past. So now, finally, we have a new, pretty cool women's Bundle in Indonesia.
Of course, the presence of this new bundle for each server, has a different lag time. In Brazil today, they are presenting the Captain Punisher bundle at the Magic Shop. Maybe for the next, Captain Punisher who will be present in Indonesia.
This Crazy Panda and Sexy Bunny bundle is pretty good, but it differs from the style of dress. For Crazy Panda, we see him wearing a hoodie, with a panda ear on the top of his head.
Also Read: Elite Pass Season 26 Free Fire, The Creepy Robot Human FF!
As for the Sexy Bundle, it can be seen that she looks more like a maid. But from the style of appearance alone, maybe some of you are tempted to get this cool bundle. Now of course, this is one of your best opportunities.
Where can you get the latest Panda and Bunny Free Fire bundles at the FF Magic Shop, by exchanging just 1 Magic Cube. Don't worry because of these two bundles, there are still many players who use them in matches. So all of you can't miss this event in the Free Fire game.
There are still a lot of bundles that will be coming into the Magic Shop right now. Maybe in the future, we will present a cool old bundle into the Magic Shop Feature. So, later on, you can have many of the best choices for using the Magic Cube that you already have.
So which bundle will you choose for now? Both of these bundles are very good, so try to determine them well first.
That's it, Thank You and Greetings, Booyah.