For now, the Free Fire game is still one of the best because it is developed quite well. Garena himself, reportedly wants to add many other new things to make this game even more famous. Existing features such as Free Fire Characters only, will be added more and much better.
At this time, the Free Fire game became quite busy because it was updated and all events were presented very well. For now, we are attending the Booyah Ramadhan Event with a lot of prizes. So all of you, you will definitely not be bored playing the Free Fire game.
Later on, if you compete in this game, you must use a weapon. You can try, a new SMG Thompson King Weapon. Where this is, it is one of the most meta weapons in the Free Fire Game.
Every weapon too, must have something called Skin. Of course this way, the appearance of the weapon is even more attractive. As well as weapons that use skins, you will get additional stats. But there are some players who say Weapon Skins Are Useful Or Not.
So in this way, you guys think first about taking and collecting the weapon's skin. Just now, in this game, a new sales item has come that you shouldn't miss. In this case, the item given is a new, unique Gun Skin Box.
On this occasion we will provide information about this to all of you.
Curious? Immediately, we see the explanation in the article below.
Gun Skin Box M60 Gold Free Fire is here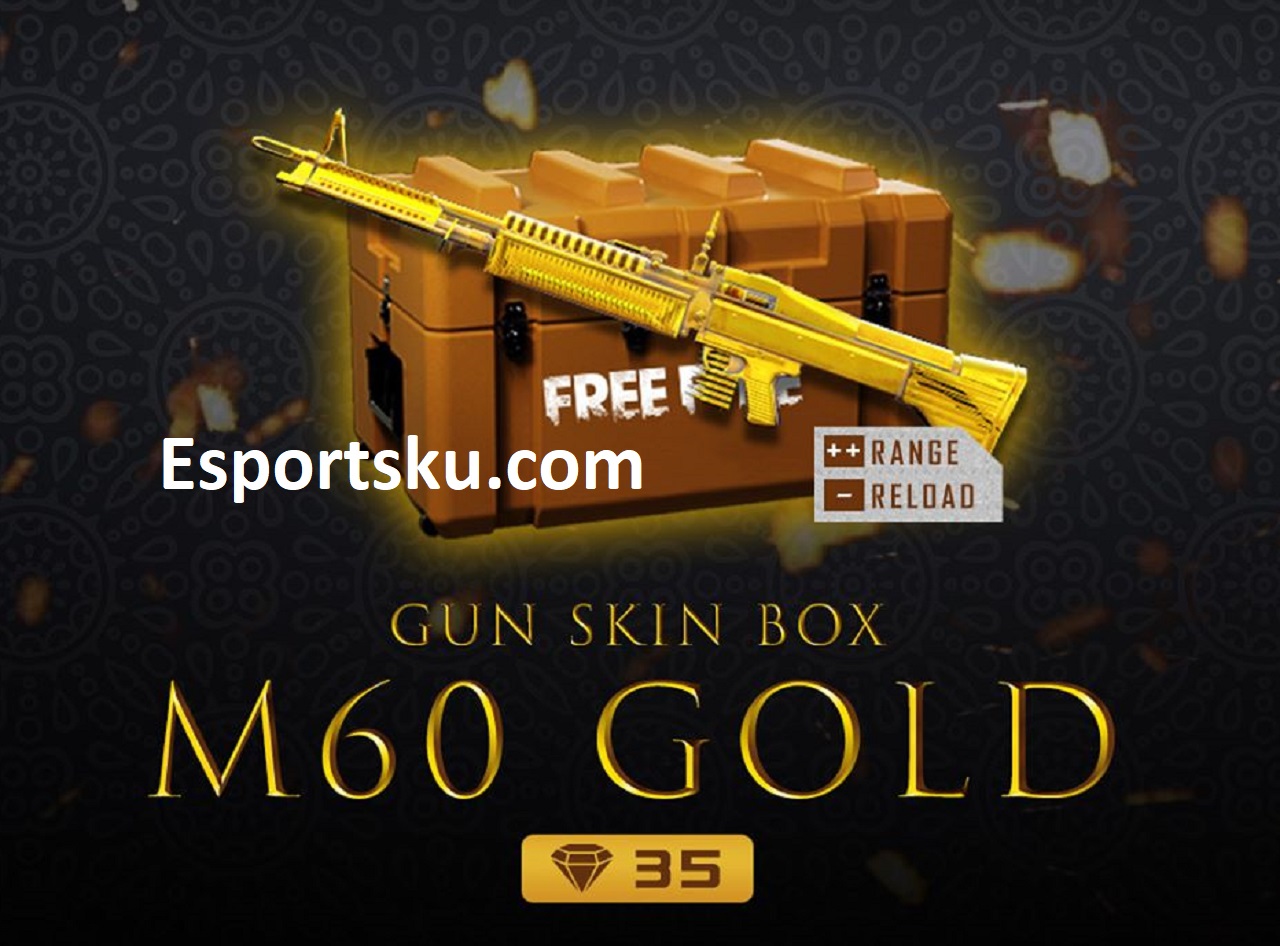 If you are a player with expertise in M60 weapons, don't forget to buy this Gun Skin. Because Garena, too, has presented the latest Gun Skin Box, which is pretty good. In this case, you can later get an M60 Gold Weapon Skin.
If you see, the appearance of this weapon is dominant with a shiny gold color. Of course this way, if you have skin the weapon will look very sultan. Because the appearance given by the Skin M60 is in the form of pure gold.
Only With 35 Diamond Free Fire Only
You can buy it in the shop, with a very cheap price, of course. Only by issuing 35 Diamonds, you can gacha as much as you want to get this weapon skin. If I'm not mistaken, you can get 5 prizes at once if you buy a Gun Skin Box.
In this way, of course your chances of getting the prize will be even greater. Even in the future, Garena still has a lot of new things to sell to the Shop. Weapon skins that were previously present in Weapon Royale will also be present in Gun Skin Box.
Even though we all don't know, when will this matter be launched by Garena. Maybe soon, there will be a new gun skin box that's even cooler.
So, those are some of the information that we can convey on this occasion. Besides that, there is also a deadly sniper weapon in this game, so be careful. As well as there are some of the Best Weapon Skins, which in the past have been targeted.
That's it, Thank You and Greetings, Booyah.
---
If you want to get lots of information about the Free Fire game, you can immediately join our group.