Mobile Legends is increasingly providing various kinds of interesting events for its players, this is a form of appreciation from Moonton. Moonton is the developer of the Mobile Legends Game, which has made good developments from time to time for the game. This is the Easiest Way to Redeem ML Redeem Codes in Mobile Legends!
The events that are presented are also very many, you can get a Free Skin, Free Hero and even get Diamond for free. This is something that is quite rare, because the price of Skin Mobile Legends is quite expensive.
In addition, there are still other events that will be presented by Moonton, namely the Redeem Code Event. As we know, the Redeem Code will give you more prizes if you exchange it. However, these codes have a time limit to be redeemed.
The code can only be used only once in 1 account, so you cannot use the Redeem Code twice. You can get various kinds of prizes, including the Skin from the Redeem Code.
On this occasion we will provide an explanation of how to Redeem Mobile Legends Redeem Codes. Curious? Immediately, we see the explanation in the article below.
How to Get Mobile Legends Redeem Codes
You could say that Moonton often shares Redeem Codes for free through ongoing events, both in-game and on their social media accounts. For example, like the one in September 2019, they shared Redeem Codes with Skin Elite and Protection Card prizes.
Those of you who want to get the Redeem Code, can follow the developments on the Official Mobile Legends Social Media Account. In addition, you can follow developments on Youtuber Mobile Legends such as Jess no Limite or DylanPros.
If you have received the Redeem Code, but you don't know how, we will provide you with the redemption method below.
ALSO READ: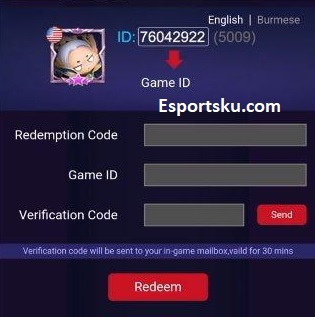 So that you want to exchange the Redeem Code, just visit the following link https://m.mobilelegends.com/en/codexchange/. But you also have to follow a number of conditions to redeem the code beforehand.
The following is how to redeem the Mobile legends redeem code that ML players should know:
This code has 17 Numbers and a Combination of Capital Letters
You must use the User ID from your Mobile Legends
After that you will be sent a Verification Code that enters the Inbox in the game
This code is only valid in 1 country, for example in Indonesia and is valid in Indonesia only
This code can only be used once
The Redeem code has an expiration date
After you understand the above, then the next step is to make the Redeem Code Exchange.
Make sure you already have the Mobile Legends Redeem Code with the conditions listed above
The Redeem Code can only be used in this link https://m.mobilelegends.com/en/codexchange/
Login to your account that has been binded or linked
The prize that you just redeemed will go directly to Mail in the game
That's how you can get Mobile Legends Redeem Codes and how to exchange them. How? Will you immediately do how to get the Redeem Code?
That's all we can say, Don't forget to follow our official Instagram on Esportsku (@ esports.ku) to get other latest information about Mobile Legends games and other games. Thank you.