This time there is the best download place for the Vikendi PUBG Mobile map. Map Vikendi is a map in PUBG with the theme of a snowy city. This map is a standard 6 × 6 size, smaller than Erangel and Miramar, bigger than Sanhok.
This map offers many places such as factories, forests, mountains, and several houses scattered on the map. This Vikendi map also offers several new weapons available in this map such as the G36C and MP5K
By offering new things, Vikendi will also make it difficult for many players to choose where to drop, here we will provide the best drop and loot spots on the Vikendi map.
The best place to drop in the Vikendi PUBG Mobile 2020 map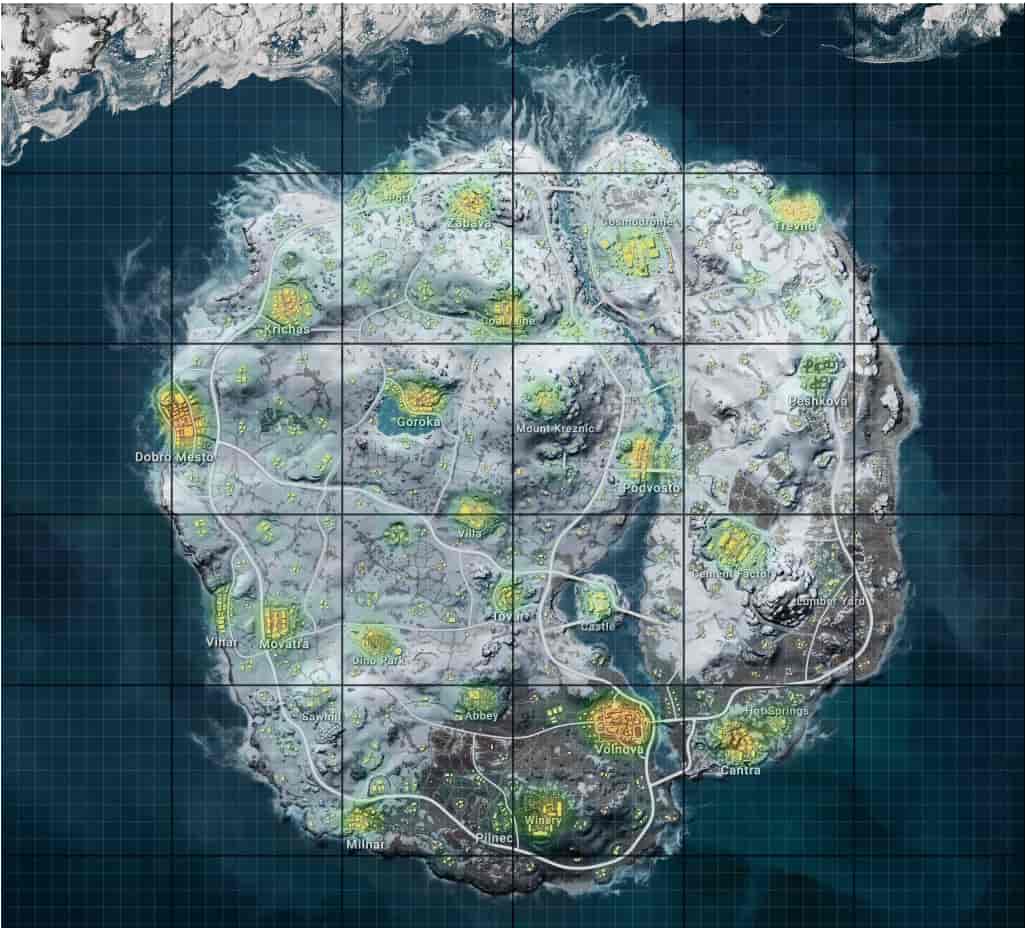 GOROKA
Goroka is a residential area that has many houses and several tall buildings. This very dense area has a lot of loot available. By having a lot of loot pastinga, this area will be visited by many other people.
It is not recommended if you come to Goroka on foot because the area around Goroka PUBGM is very open. With the tall building, this is also very helpful for the Snipers to kill passers-by.
DOBRO MESTO
Dobro Mesto is a large city on the edge of the map. As a city that is so vast, this certainly also makes many people love it as a place of loot.
When you finish looting, immediately go looking for a high place to try to get kills around the area if you know there are a lot of people here.
CASTLE
Castle is a strategic place in Vikendi for several reasons. Being in the middle of the map makes access to this place easy anywhere, excellent loot here, and a good place for defense and camping.
This place is perfect for those of you who like to survive. Enough loot, kill everyone here. If you survive successfully, this place will be very good as a defense.
COSMODROME
As a rocket launching place, this place is also quite popular with many people because it has a pretty good loot. If you want to get off here, try to get off at the rocket launch site because there is a lot of good loot here.
Avoid going down in buildings that have damaged roofs because the loot here is not that good compared to the others and you can take damage when you fall.
WINERY
Because it is at the end of the map, the Winery is a suitable place for you to relax. Not too many people come down here to make your loot time more comfortable.
Also Read: PUBG Mobile Attachment Grip Functions
Even so this place has a pretty good loot but not as good as other places. It is recommended to be careful because there are some who come down here thinking the same thing.
LUMBER YARD
Just like the Winery, this place is suitable for those of you who want to get off relaxed and loot safely. Lots of several buildings to explore and have good loot. It is recommended that after you get off here don't spend a long time and quickly move because there is not much loot available and it is very risky if there are other enemies.
That's the best place to get the best Vikendi PUBG Mobile map, the best Vikendi PUBG Mobile 2020 map that you can use to get the best item drop. PUBG Mobile players must be careful because there will be many enemies that you will face later.