It's released again! Special Royale FF Cobra Free Fire Theme Vehicle Skins! you really can't miss this skin later. Because indeed all those present at the Royale, are very good and very interesting which we can get quite easily.
Even for the Skin that comes with the Vehicle theme, it will definitely be one of the most interesting updates for us to try. Especially for you at this very moment, you can find out a variety of interesting things that give you lots of cool prizes.
Like some of the new events that have been presented now, because the Cobra Next Stage Free Fire Event has also been presented well. Especially from this new information, maybe you guys will also like these events.
Then for new information about the Special Royale FF Cobra Free Fire Theme Vehicle Skin, maybe it will make you like it again later. With the presence of a lot of Poison Can skin versions, it will give you interesting things from those skins.
Especially you can just watch, the latest event is directly in the article below right now.
Special Royale FF Cobra Free Fire Theme Vehicle Skin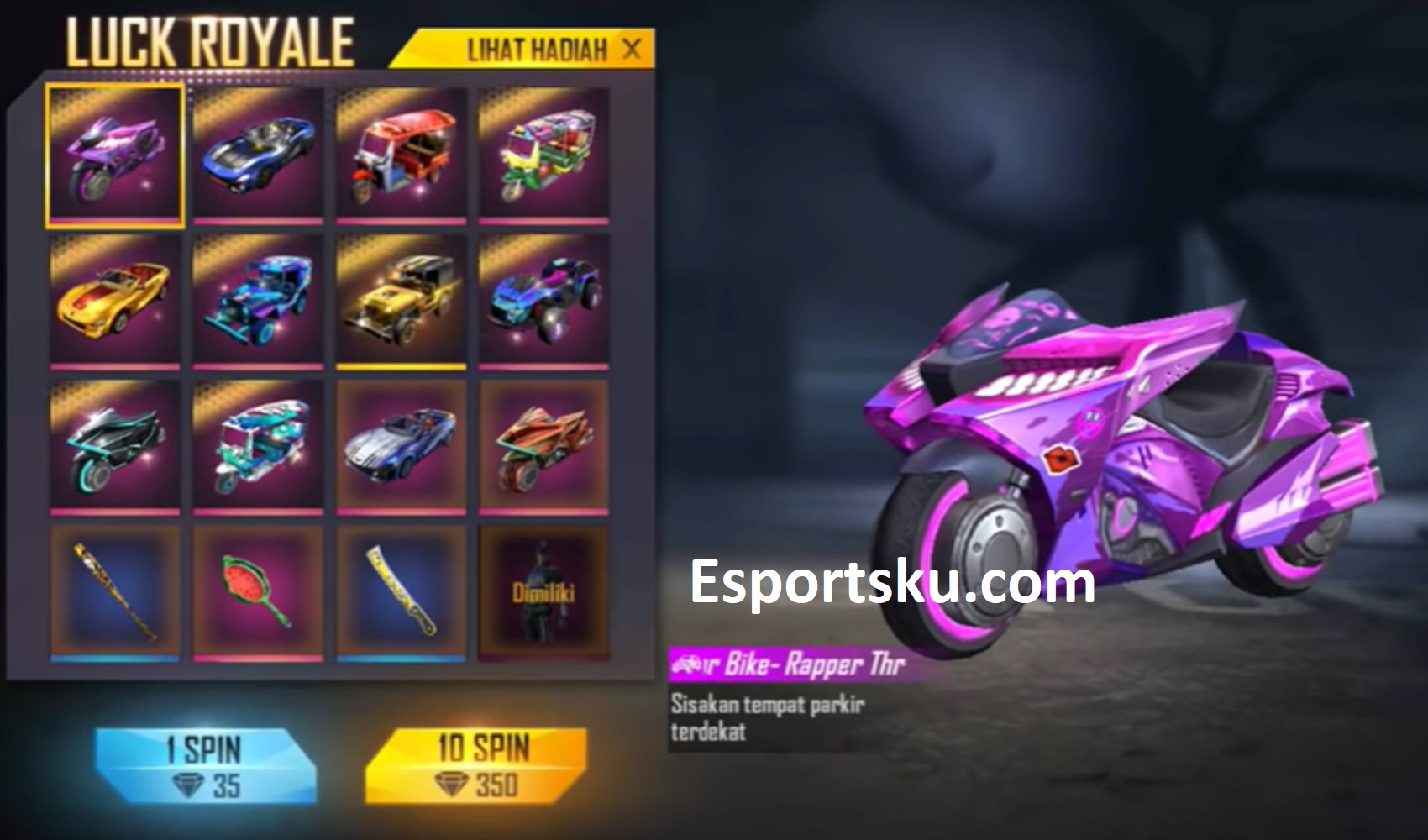 So from the information about this Special Royale, you will get new and old skins from the vehicles that are present in the game. Moreover, we also know that Cobra has a poison that is quite dangerous for all humans.
So if in the game world, Poison Can or Venom will be more purple because it is more suitable. With that, it is not surprising, if the main prize of this Vehicle Skin is a motorbike that has been coated in Purple.
In this Free Fire Special Royale, we can get 2 Spin options which are quite clear at the price. Take out up to 35 Diamonds for 1 Spin and 350 Diamonds to get 10 Spins.
Of course with the purple color like thick and deadly poison, we won't be easily defeated by the enemy. Because later the enemy will be affected by radiation from this Motor Skin, if it's too with you.
In addition to motorbikes, you can get skins from the best vehicles in Free Fire in the royale. So for now, don't ignore the skins released in this cool Royale.
Especially at that time Motor Vehicles Get a pretty good Buff, this is one skin with a good theme. But for those of you who are on Indonesian servers, it is not certain that you can get the Event Royale.
Because what we know is the CBR Shirou Free Fire vehicle, currently there is no certainty that it is ready to be presented by Garena. All of these things are presented in a special way, so you must have the Skin Motor if it appears later.
Just wait for Garena's confirmation, so they can successfully release the Special Royale to all servers. Surely this will be a Cobra Special that will not be missed by the playerns later.
After knowing the Special Royale Skin FF Cobra Free Fire Theme Vehicle, then you guys just prepare a lot of Diamond now. So that later when you really attend, you can immediately Spin the 10 Times quickly and directly.
Make sure to try the Spin Free Fire Hockey Tips, so that you can easily get the main prize in this event later. Because of all that, it is still functioning today.
---
Keep up with all the new information from the Free Fire game, by way of us just following my Esports Instagram right now. With things like that, every day you will not miss all the new news from this game event update.