Hayabusa is one of the Assassin heroes in Mobile Legends who has good mobility and is very agile. Hayabusa is still quite over power until now because it has quite a lot of damage and can easily lock the opponent's hero using his ultimate skill. This time there is the July Mobile Legends Starlight Skin that you can get for the Hayabusa hero with the skin name Hayabusa Biological Weapon ML.
As we know, Hayabusa can also easily be done by the enemy using his two skills. This hero is very agile and is still often used in the current season. This one hero is very agile with the best solo lane abilities of other heroes. If you are good at using it.
Then the hayabusa will be terrible. But the good news seems to come to you, especially Hayabusa users, because Hayabusa will get an exclusive skin in July for the Mobile Legends game.
At this opportunity, we will provide a review of the July starlight skin, Hayabusa Biological Weapon Mobile Legends. For those of you who are curious and want to know about the latest Hayabusa skin in Mobile Legends, let's just look at the reviews below properly and correctly!
The Latest Skins for July Starlight in Mobile Legends
Moonton as the developer of Mobile Legends will give the July Starlight skin to the Hayabusa hero. The newest skin is named Biological Weapon. You can get this skin by buying Starlight Member in Mobile Legends. By buying Starlight Member Mobile Legends you will get many benefits, not only getting the latest Hayabusa skin but also you will get various interesting items in Mobile Legends.
Has a look that matches the Hayabusa
This Biological wapon skin has a pretty good appearance and is perfect for Hayabusa. This is because Hayabusa, who is indeed an assassin, when using his latest skin, is getting cooler and quite frightening. Hayabusa looks like she is wearing a mask on her face and in this Biological Weapon skin display mode, Hayabusa's hair is changed to white.
For the mobile legends costume, it is also quite good, it looks like it uses quite thick armor and the left side of the chest is like a roundabout in the middle like there is a green light. On the back of the Hayabusa it looks like there is a green slayer, which of course makes Hayabusa's Starlight July Mobile Legends appearance even better.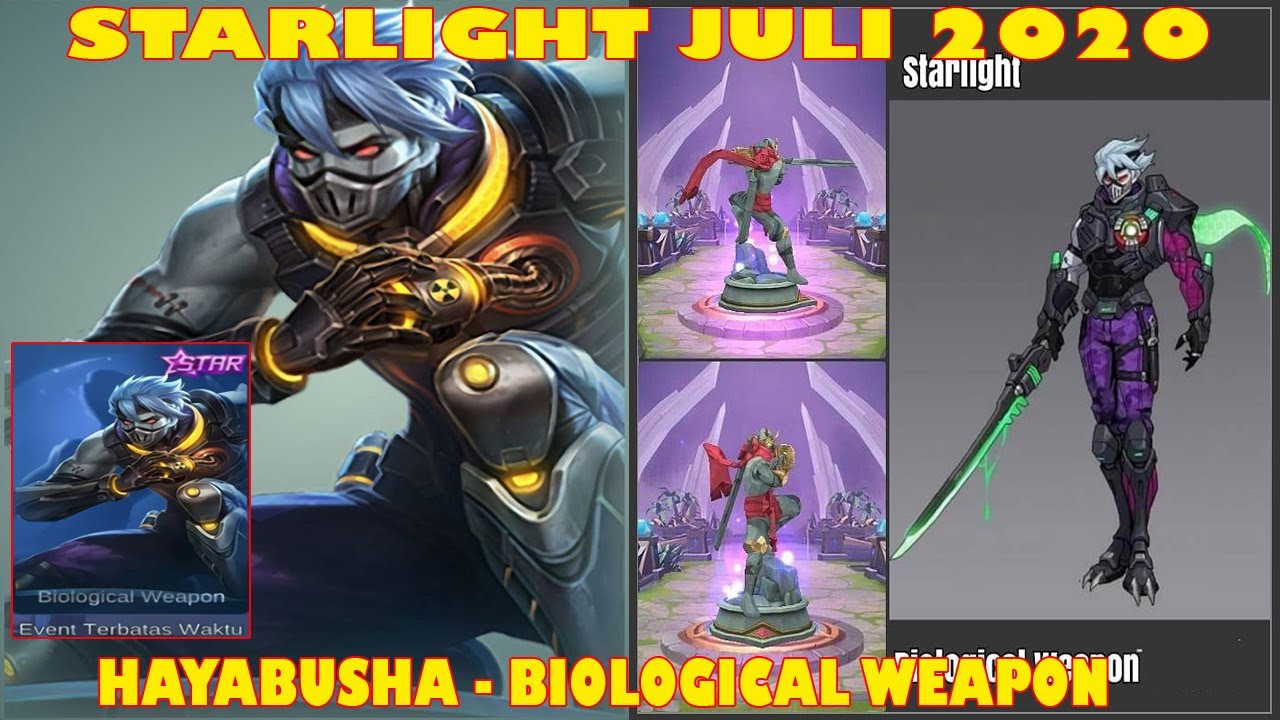 The weapon he uses in his latest skin appearance is very well designed where the katana he uses has a touch of green poison effect. In accordance with the name Biological Weapon, Hayabusa's ability is designed to be an assassin who kills his enemies using a sword that has been smeared with green fierce poison. This skin is highly recommended for you Hayabusa users in the Mobile Legends game.
For those of you who are interested in the July Starlight in Mobile Legends, you only need to wait patiently until July. You can get this skin by buying a starlight member of Mobile Legends for only 150,000.00. The skill effect of this skin is probably not much different from last month's Starlight Granger skin. It's quite worth it for you to get and please try the latest Hayabusa skin for yourself.
So that's a review of the July starlight skin, Hayabusa Biological Weapon Mobile Legends, which will become a starlight skin in the coming months. Are you ready to propose to Hayabusa's newest skin?