The Dota 2 anime called Dota: Dragon's Blood has certainly been awaited by many people. This collaboration between Netflix and Valve seems to have intervened by the prince of Saudi Arabia, sponsoring the anime Dota.
Yes, in fact indirectly they were not sponsored. But the prince has a relationship with Netflix which also collaborates with Valve. Of course money is not a problem.
The prince is Abdullah Al-Saud. Prince Abdullah is indeed no stranger to the Dota scene. Many already know him as Dota's "sultan" because he has expensive inventory!
Yes, his name began to increase in the Dota scene when there was a courier transaction at that time. Apparently the surprised seller who bought was this Saudi prince and started to get excited from there. Prince Abdullah is a true gamer who is active on Steam.
Saudi Arabia Prince Sponsor Anime Dota?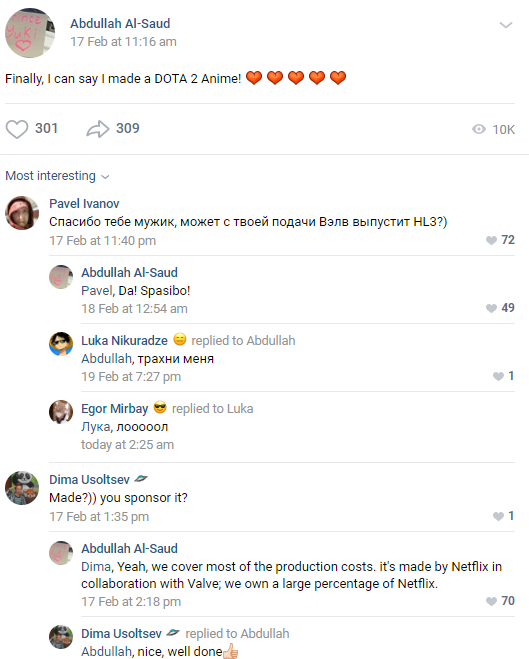 Prince Abdullah Al-Saud is indeed no stranger to the world of games. He is a gamer who is very thick with the industry. In fact, they often play Dota from Steam.
Not only that, Prince Abdullah did not play around when he poured money into Dota. He was even known as the player with the highest Battlepass level at TI 2017. Surely the statue of Roshan immediately slid to his house.
Well apparently he didn't stop there either. Prince Abdullah also has something to do with the latest Dota anime. Indirectly, he also sponsored this anime.
Yes, the reason is because the Saudi royal family has a part with Netflix which works with Valve to make anime. So Prince Abdullah also has something to do with this Dragon's Blood anime.
Made by Netflix, production cost almost completely given to him. Not only Netflix too, because Amazon which owns Twitch also seems to be part of this kingdom too.
If it is true that the prince of Saudi Arabia sponsored the anime Dota, of course this will be an interesting thing. The prince, who is known as a gamer, might be able to help the esports industry in the future.
Also follow our social media on Instagram.