Kagura is one of the most beautiful heroes in Mobile Legends. In the upcoming update, Remodel Kagura will return together with other heroes in Mobile Legends. What is the latest appearance of this hero?
Kagura is indeed very famous for his beautiful abilities, while fighting in the Land of Dawn, Kagura is also interesting and gives a beautiful umbrella dance. This hero is very famous for its beauty in Mobile Legends, and now it will be even more beautiful with the presence of the latest Kagura Remodel in Mobile Legends.
On this occasion, Esportsku will provide information about Kagura's latest remodel in Mobile Legends which will make it even more beautiful in Mobile Legends. Now regarding the explanation and the latest appearance, see the following reviews.
Kagura Mobile Legends remodel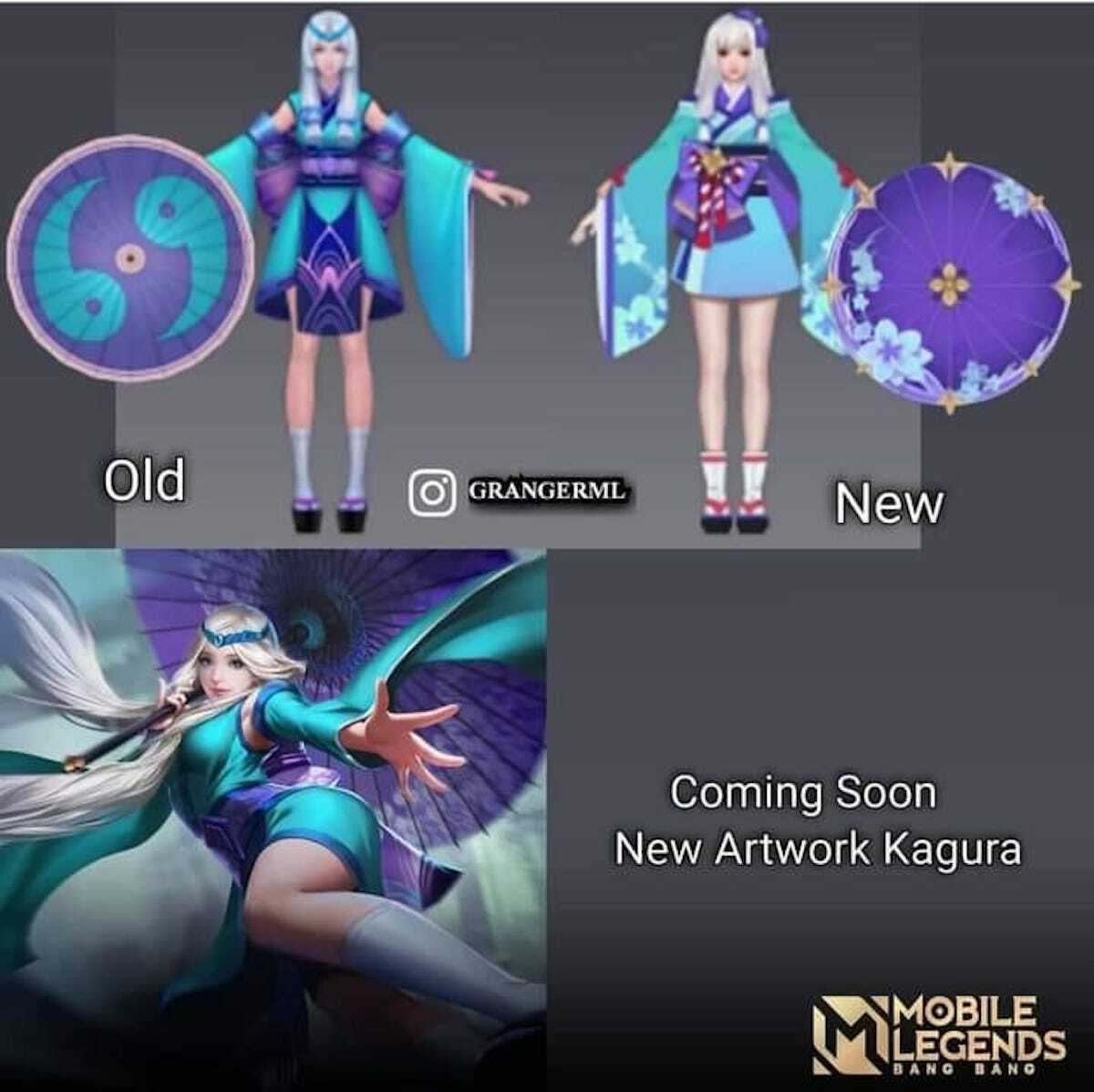 Regarding the latest Kagura remodel in Mobile Legends, it is already very scattered on the internet. This has also been reposted by many Mobile Legends leakers. Now for the newest appearance you can see in the display above.
Previously, many said that this remodel was canceled. But the news turned out to be wrong, and it was true that Kagura would get a new remodel. because the appearance of Kagura's own hero has never been remodeled in the past.
Kagura will later catch up with Hayabusa, who both get their newest remodel. These two heroes will be more suitable to be paired with the Mobile Legends game.
For the Kagura remodel, you can see some differences which for the latest one will be more beautiful and also look younger. The difference in appearance can also be seen starting from the hair, length and also the clothes worn by Kagura.
Kagura will still be wearing the Green Tosca Kimono, which may be different from the sleeves which are now wearing long sleeves and the clothes are getting shorter.
Yes, maybe in this section you will agree with Kagura's newest outfit, Kimono with a shorter skirt will make many players like Kagura's remodel even more, especially for those of you who are devotees of Paha Kagura.
Then the difference also lies in Kagura's hair which is now loose from before which was tied in two. Kagura also wore a purple ribbon and gave a pretty impression to this latest remodel.
The umbrella, which is Kagura's main weapon, also received a change from the previous Yin Yang motif and now has a Sakura flower motif with a white color like snow. Moonton gives a fresh appearance and of course fresh for the players.
Now that's a review of the latest Kagura remodel that will be present in the Mobile Legends game. Hopefully, the presence of this latest review can make Kagura users more excited about playing Mobile Legends.
Don't forget to keep visiting Esportsku.com and activate notifications so that you don't miss the latest and interesting content about the Mobile Legends game every day. Hopefully useful and see you!