Every month every birth has its own Zoadiac, now in the Mobile Legends game there are 12 Zodiac skins that are always present every month. You can get this skin at an event. Now in October 2020, there is a Zodiac Helcurt Scorpio skin, this is the release date of the Zodiac Helcurt skin in October 2020 Mobile Legends.
Zodiac skin is one of the exclusive skins that are always released every month in the Mobile Legends game. This skin has its own caste and is not a special or epic skin. You guys have different skins and are really cool. There are only 13 heroes who have Zodiac skins, one of which is Helcurt.
On this occasion, the release date or resale of the Zodiac Helcurt Scorpio skin in the Mobile Legends game. Now for those of you who want to get this cool skin. You can earn in the following time periods.
Skin Zodiac Helcurt Scorpio Mobile Legends
Helcurt Scorpio is not a new skin. This skin has been released by Moonton for a long time. But every month Moonton always presents a resale or Zodiac skin release with each date from the Zodiac itself.
On every Zodiac date you can get a Mobile Legends hero skin based on that month's Zodiac. Well, especially in October to November you can get a Zodiac Helcurt skin called Scorpio in Mobile Legends.
Helcurt Scorpia will get a release date or resale on October 24, 2020. This skin has a very unique look with the Zodiac animal theme, Scorpion.
Helcurt and Scorpion do have a similarity. Which Heclurt himself crawled like the animal and has a tail. Which one of these heroes seems to be devoted to Moonton for the Zodiac animal hero in Mobile Legends.
Helcurt's ability to have deadly burst damage and passive silence skill that can stop opponent's skills easily. This one hero also has skills that can blind his opponent and runs very fast.
With full speed and his blink skill, Helcurt can easily attack opponents and provide very high burst damage.
Price of the Zodiac Helcurt Skin in Mobile Legends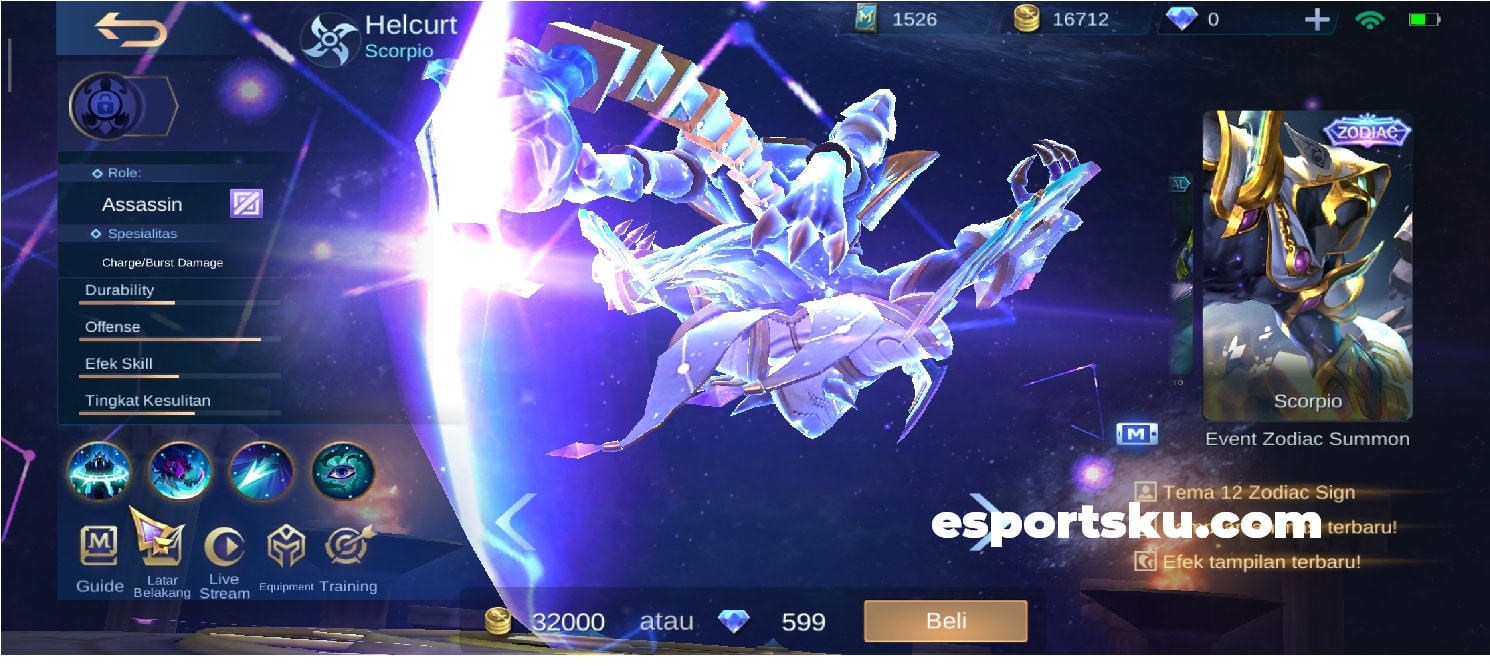 To get the Zodiac Helcurt mobile legends skin, at least you need 1500 diamonds to buy this skin. If converted to Rp. 300,000 to Rp. 400,000 only.
This price is somewhat cheaper than the limited epic skins and more expensive than other epic skins. But it paid off with the appearance of the animated sera effects of this skin.
Not only that, you can also get this Zodiac Helcurt skin by using Crystal of Aurora in order to save the price of this Zodiac skin. You can get even half the price instead of using diamonds.
Now that's the release date or resale of the Zodiac skin from the Helcurt hero in Mobile Legends. Hopefully this review can be useful especially for those of you who are Mobile Legends gamers. See you!