Last April, 8 teams divided in two in Asia and Australia competed for tickets to the LAN Finals ZEN League Season 1 which took place at ESL Australia's studio, Sydney last weekend.
Featuring two teams from Australia, Dark Sided and Team Immunity, as well as two teams from Asia, Recca Esports and MVP PK, each person has their own predictions of who will be able to advance to the Grand Final. Team Immunity came with former Vox Eminor team player, namely Chris "cozeh" Cossyvas as backup, while Recca Esports returned to appear with their full Indonesian roster, with Hansel "BnTeT" Ferdinand who will compete with his compatriots for the last time.
The first match brings Team Immunity against MVP PK. Immunity, who had just finished third in the PGL Asia Minor tournament in Beijing, felt more confident and tried to find excellence at the start of the match. However, the MVP PK actually gave very fierce resistance, they were able to win with a score of 16-13 at Inferno and 16-14 at Nuke and made it through to the upper bracket finals.
On the other hand, Recca Esports will face a rising Australian team, namely Dark Sided. However, BnTeT, which came with its best performance, gave more strength to the Recca Esports team, this was proven by the 2-0 defeat of the Dark Sided team.
Furthermore, two teams from Australia were forced to go down to the lower bracket round and destroy each other at their own home, Team Immunity was able to come out as winners and had to face MVP PK who had just been defeated by Recca Esports 2-0.
Unfortunately, a nightmare came for Australian fans. MVP PK proved why they deserved to qualify for the Grand Final by defeating Immunity in the map they chose, namely Nuke. After losing 7-8 in the first half, 'solo' and his teammates were able to dominate and win the match with a final score of 16-11, this result also ended Team Immunity's journey, and brought back MVP PK with Recca Esports in the Grand Final round.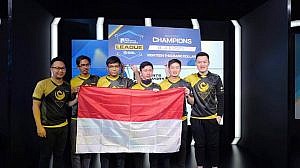 Learning from the previous defeat, the Korean team showed Recca why Inferno was their mainstay map, MVP PK was able to destroy the Indonesian team with a score of 16-3 in the first half. Despite being one point behind, Recca Esports is not discouraged. With players like Albert 'FrostMisty' Giovanni and Kevin 'xccurate' Susanto appearing with BnTeT, it is proven to give more strength to the team. Finally, after gaining momentum in the last two rounds, the Recca Esports team was able to steal the victory and win the ZEN League Season 1. Congratulations to Recca Esports.
The following were the prizes that each team won: