The PUBG Mobile battle royale game seems to have started to realize that many players really like events with prizes in the form of free weapon skins.
Even though the free skins cannot be owned permanently, the feeling is quite pleasant if you continue to participate in events like this, because it seems as if the player has a lot of weapon skins.
And of course it adds to the satisfaction because you can feel the sensation of using expensive skins without having to buy them by spending money.
On this occasion, Esportsku will discuss an event at PUBG Mobile called Bonds From Battles Are Forever, let's see the details below!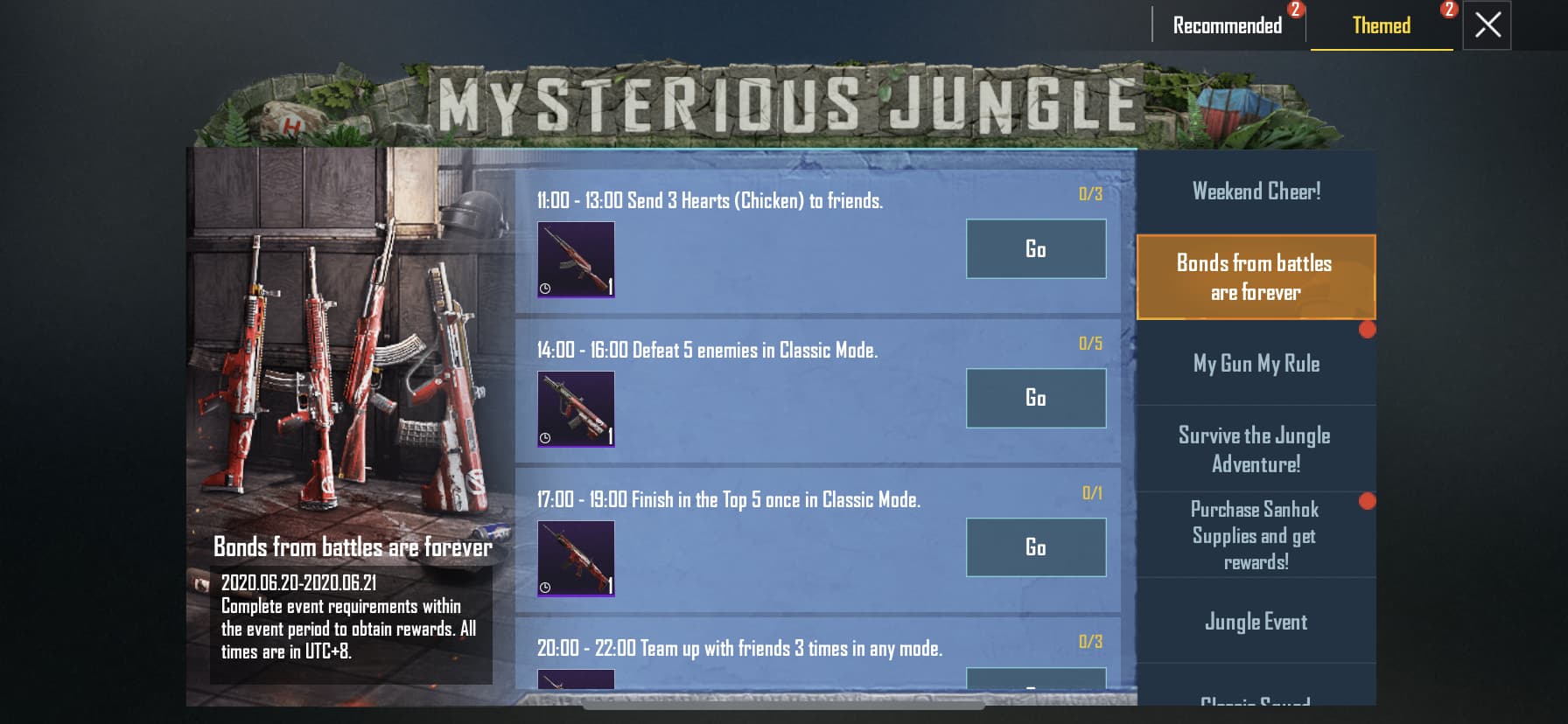 First Mission
You can do the first mission at 11.00 to 13.00 by sending three hearts or chickens to your friends.
You only need to visit your friend's profile, then give likes or hearts on their profile to increase the number of popularity. The prizes given were Bloot Dath skins for AKM for 3 days, cool!
Also Read: Lucky Spin End of June 2020 PUBG Mobile, Lots of Free Skins!
Second Mission
In the second mission, you will be asked to kill 5 people in classic mode.
You don't need to complete it in one try, because there is no limit to how many classic modes you have to complete to get this AUG Blood Dath skin prize. The second mission was carried out from 2:00 p.m. to 4:00 p.m.
Also Read: Login Rewards at the PUBG Mobile Special Event, Check Out the Prizes Here!

Third Mission
In the third mission, you are only required to be ranked in the top 5 once in a classic game mode. This mission can be completed from 17.00 to 19.00, and the prizes given are Blood Dath weapon skins for SCAR-L.
If you are afraid to bet your rank that you have maintained, you can play on other modes or servers that you rarely play, or on ranks that still have low points.
For example, if you are used to playing in squad mode, then you can complete this mission in solo or duo mode which still have low rankings.
Or you can also finish on a server that you rarely play, for example if you are used to playing on Asian servers, you can try it on other servers such as KRJP to make it easier.
Also Read: New LIVIK Map on PUBG Mobile Coming Soon!
Fourth Mission
In this fourth mission, you will get a skin for the favorite weapon of all PUBG Mobile players, namely M416. You can complete this mission from 20.00 to 22.00 by playing with your friends in any mode three times. This mission looks like the easiest mode to do of the other three missions.
Also Read: Tired of Too Soon? These 3 Causes of PUBG Mobile Ranking Easily Down!
Details of the Blood Dath Weapon Skin
To clarify the details of the Blood Dath skill that PUBG Mobile gives in return for the missions you have completed, please refer to the pictures below!
AKM

AUG
SCAR-L
M416
Based on our explanation above, what weapon skin do you like the most from this event? Thank you for listening!