The competition for the pro Mobile Legends scene in Southeast Asia is very tight. Each country and team has their respective advantages. But in Southeast Asia there is something that is very prominent with its consistency in the international scene and local dominance, namely Bren Esports. We provide a profile of the M2 Bren Esports team for those of you who want to get to know them.
Bren is a team that has a long history and in the Philippines itself, this person has many divisions. But in Mobile Legends, they are real monsters. Very difficult to beat in their local scene, Bren is also terrible on an international scale. They are probably the best team from the Philippines.
In M2, Bren is included in group C which is predicted to be the "hell" group. In Group C, they will fight Alter Ego who is the favorite of M2 winners and also the mysterious 10S Gaming Frost. Fighting teams from Indonesia and Japan is certainly not an easy thing for Bren.
Here, let's take a look at the profile of the M2 Bren Esports team for those of you who want to know more about them. Bren is certainly a very strong team. In fact they have a high chance of lifting the M2 trophy too. With high strength and enthusiasm, they are ready to fight in Singapore.
Profile of the M2 Bren Esports Team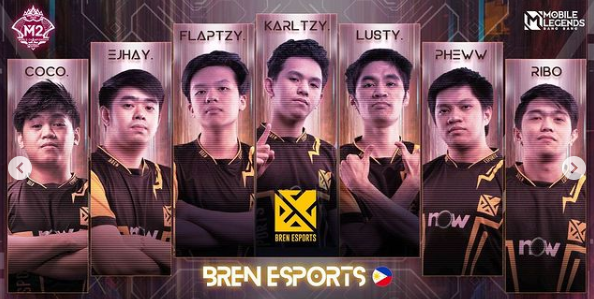 Even though Bren will be fighting a strong team in Group C, it doesn't mean they will be beaten easily. Even with Alter Ego, they have a high chance of dropping out of the group into the playoffs. It is not uncommon for them to predict that they can continue to the winner bracket in M2 later.
What's interesting is that in this group they will fight Alter Ego. When MPLI yesterday Bren failed to beat Alter Ego in the final match. This team from the Philippines is indeed not strong enough against the domination of Alter Ego loseless MPLI yesterday.
But their M2 came back again and still carried revenge and a more heated spirit. This time, apart from taking revenge on the MPLI, Bren is also ready to lift the trophy in Singapore as the pride of the team and the Philippines.
Bringing their newest player Coco, Bren here is not a team that other contestants can underestimate. With such terrifying potential, Bren might deliver the biggest upset on M2 later. Of course, you must watch their game on M2.
Roster Bren Esports M2 World Championship:
Coco
Ejhay
Flaptzy
Karltzy
Lusty
Pheww
Ribo
Players that you should pay attention to: Karltzy, Flaptzy, and Pheww
With the profile of the M2 Bren Esports team, hopefully you can understand more about Bren Esports. They are a very strong team and certainly not a trivial team. Ready to give a surprise, we recommend that Alter Ego and 10S Gaming Frost have to get ready to face this Philippine giant.
Also follow our social media on Instagram.