Playing the Free Fire game right now is indeed one of the things that is quite exciting, where you will be able to have fun when you have a long free time, for now also the game that is trending and famous is Free Fire, where the game is also quite good and interesting once for you to try later. This time we will discuss about the Latest FF Fortune Ice Cream Free Fire Event Prizes that you can get.
In this Free Fire game, there are lots of new challenges that you can feel later, in the future the Free Fire game will definitely present many other new things. Yesterday we were all Free Fire players, there were lots of the latest updates for June 2020.
When you play this game, you will definitely find lots of interesting cool features, for example, like the Free Fire Character, which is an old feature. But until now it's still used by the players, so that later you can win easily.
The event presented by Garena is also quite good and very interesting, where in this event there are many cool prizes that you can get. Now there are several Ways to Get Ice Cream Tokens, where in this token event there are attractive prizes.
Garena will definitely give you cool gifts, so that you all don't get bored playing this Free Fire game. Are you curious about the prizes currently present at the event? let's just look at the explanation in the article below.
Also Read: Free Fire Map Location Day 6 Elite Pass 25 Bermuda FF
Prizes That Are Present in the Fortune Ice Cream Free Fire Event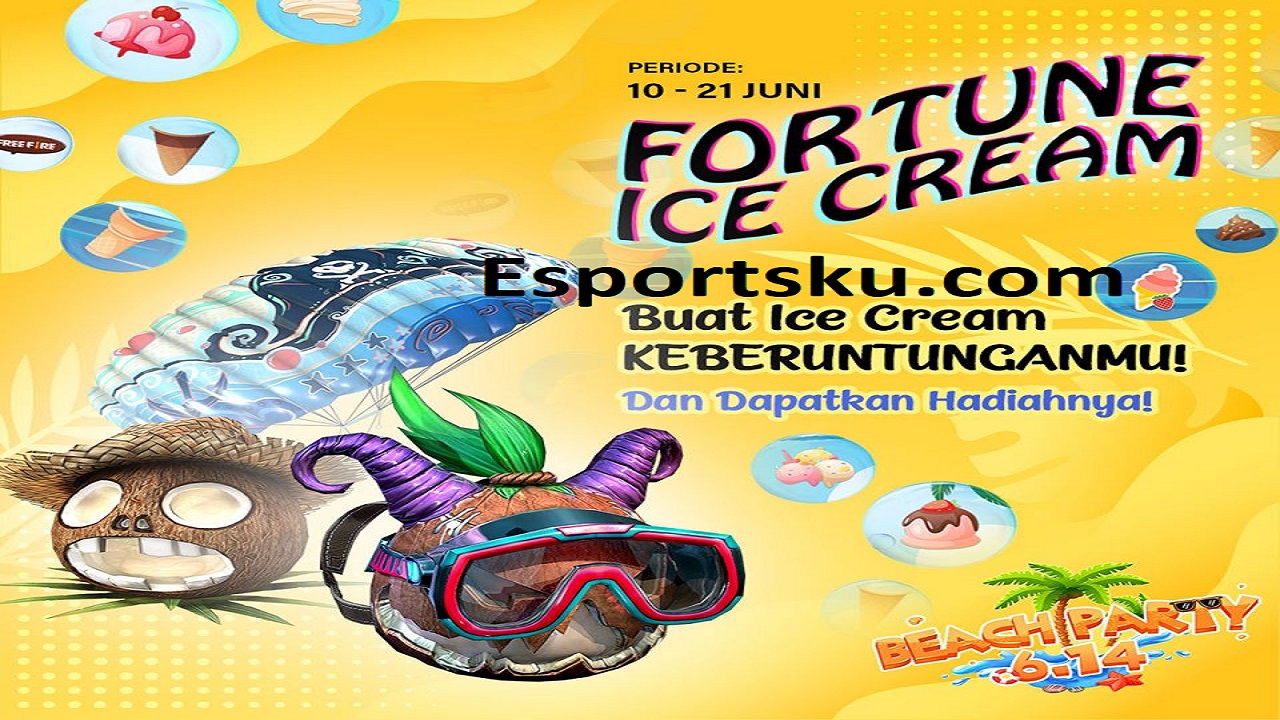 In the current event, we will all get lots of prizes if we exchange these tokens. In the future also events that have this theme, will definitely increase to be more so that all of you will definitely be able to enjoy it.
The events that are currently present do give lots of cool prizes, but you have to exchange tokens first. So that all the prizes in the event can be obtained. Of course, to get the token, it can be completed immediately now.
Get Permanent Rewards
You can get some cool prizes that are very interesting, even in this event the prizes inside can make your Free Fire account even better. In the following, we will provide information, prizes in the event.
Special Summer Parachute Skin
Mr. Coconut mask
Dive Token
These three prizes can be obtained, for example, if you already have the right total of Ice Cream Tokens. Apart from the main prize, there are still many other cool prizes that can be obtained. Even so, all of you, must have a lot of tokens.
So that all the prizes in this event can be obtained quite easily. For later you can look cooler, if you get these prizes later.
Also Read: 10 Best Times for Free Fire Push Rank, So It Doesn't Keep Dropping on FF!
The various cool prizes that you can get from this event, of course, will be pretty cool later. Because Garena presents a new event, so that all of you will never be bored playing this game.
If this game doesn't hold any more events, of course it will be quiet and it won't be famous anymore.
That's it, Thank You and Greetings, Booyah.