Aurora Summon is one of the features in the Shop section of Mobile Legends. Aurora summon itself uses Crystal of Aurora which you can get by buying it in Mobile Legends. You can summon to get epic skins with the crystals of aurora you have.
To get an epic skin on Aurora Summon, of course, requires a high lucky point, the more lucky summon you get, the greater the chance to get the epic skin.
On this occasion, we will provide the latest information that Moonton made Aurora Summon one of the permanent events in Mobile Legends. Here's the full explanation!
Aurora Summon Becomes a Permanent Event in Mobile Legends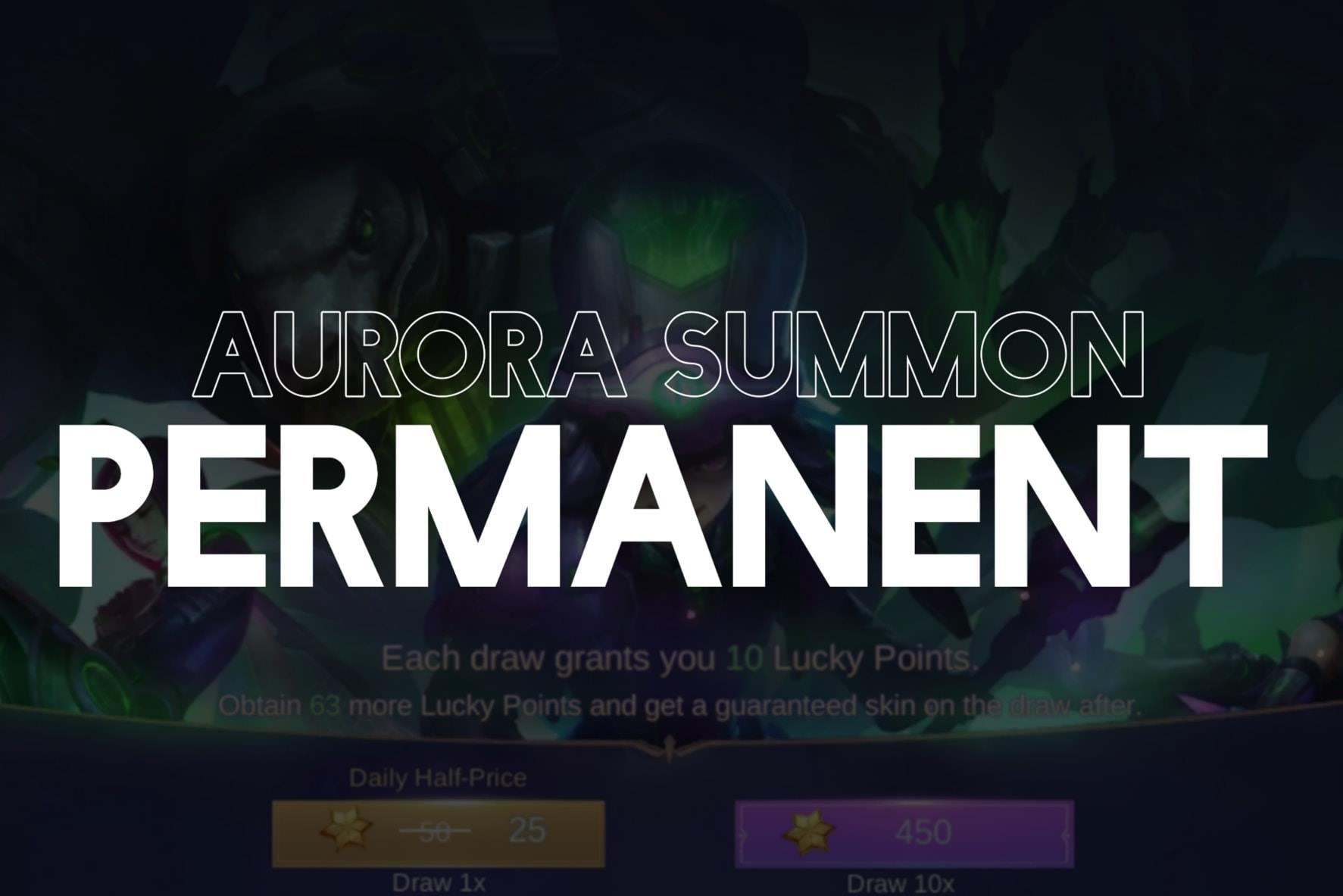 This time, the latest information is for one of the Aurora Summon events, where Moonton will provide the latest update that will present the event as one of the permanent events in Mobile Legends.
Previously, the Aurora Summon Event itself was an event that had a duration in Mobile Legends, but in the latest Mobile Legends update, Moonton as the developer made this event permanent. This of course can be another upsi to take advantage of the Crystal of Aurora that you have.
Aurora Summon itself has quite a lot of prize pool skins that you can get, ranging from normal skins to epic skins. Every time you do the first Draw you will get a discount or discount of 50%.
This will also give you an additional lucky point of 10 every time you draw. The more and more often you draw on Aurora Summon, the greater your chance to get a permanent skin in the Prize pool.
Chance of Obtaining Skin in Aurora Summon
You need to know that the chance to get a permanent skin from Aurora Summon itself is 1%. With the small chance of getting a permanent skin, you have to collect as many lucky points as possible so that the chances of getting the permanent skin are even greater.
Not only can you get permanent skins here, you can also get other prizes such as skin trial cards, rare skin fragments, and diamond coupons.
Price for the Draw Event Summon in Mobile Legends
For one draw you have to issue 50 Crystals of Aurora
for 10x Draw you have to issue 450 Crystals of Aurora.
Moonton's decision to make a permanent aurora summon in Mobile Legends can make other options for you players to take advantage of the Crystal of Aurora you have.
For additional information, you can also use your Crystal of Aurora to draw on the Magic Wheel, new products, Lucky Treasure, and Zodiac Summon. Collect as many of your Crystals of Aurora as possible and make the most of them.
So that's a complete explanation of Moonton to Make Aurora Summon Permanent in Mobile Legends. Hopefully this is useful and can be a good reference source for you.
Don't forget to follow our official Instagram @ esportss.ku Make sure to always visit our Esports website to get the latest Esports information, that's all and thanks!