Weapons are important items that you must pay attention to. The choice of weapons must be in accordance with the character and role you are going to play. It is intended so that your game does not fall apart and become a burden on the team. This time I will provide info about skins that can make AK47 attacks even more painful. Namely, Skin Skull Hunter Free Fire which can make your AK47 even scarier.
For those of you who are happy with brutal games who like to hunt as many kills as possible, of course choosing weapons with large damage is something that must be done. Even though some weapons already have high weapon damage, the desire to make weapon attacks even more painful continues.
This time we will provide a discussion about AK47 which is a weapon with great damage and is also popular as the best AR free fire. We will provide weapon skins that are suitable for him in improving his performance so that it is optimal during free fire games.
Also read: Latest FF Top Up Event for Free Skin Gloo Wall Free Fire
AK47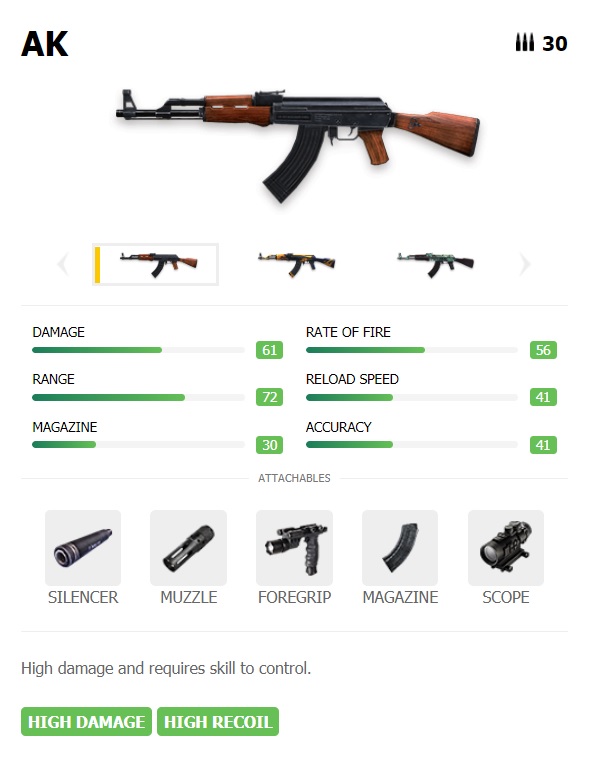 Weapons with this type of Assault Rifle (AR) actually already have high damage. For this medium range AR weapon, damage of 61 is classified as high level damage. The disadvantage of this weapon is its low accuracy. This weapon also has a recoil which is rather difficult to use for beginner free fire players. Choosing the AK47 as the main gun for beginners is a bad choice.
But with high damage, of course you can get a kill quickly when the attack hits the target correctly. This time there is Skin Skull Hunter FF, a special AK47 weapon that can increase damage to be even more painful.
Gun Skin Skull Hunter Free Fire AK47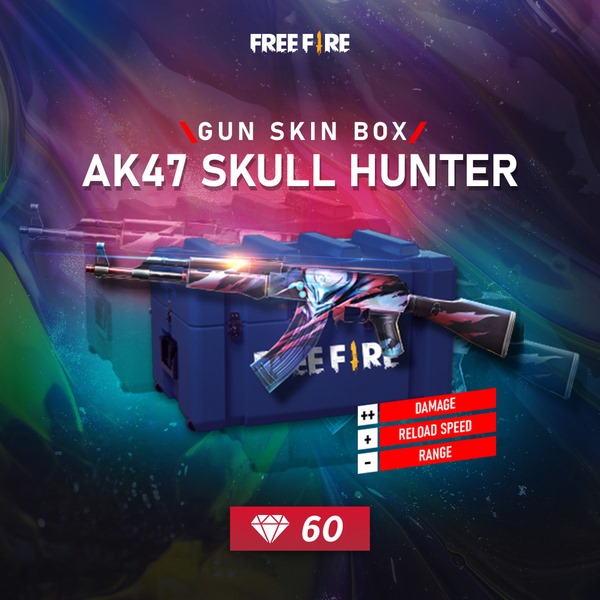 From the name, Skin Skull Hunter Free Fire already wants to show ferocity. The appearance of this skin makes the AK47 look luxurious with a combination of red and blue, which is a bit dark but looks radiant. Not to mention that the skull image on the body of the weapon adds to the impression of this "skull hunter" getting thicker.
Returning to the topic of Skin Skull Hunter Free Fire, this increases the damage of the AK47 weapon by two points. Of course with this skin it can make AK47 attacks very deadly. With one or two shots maybe you can get a kill quickly.
Furthermore, you will get a fast reloading effect because with this skin you get one additional point on its reload speed. A combination of painful damage and fast reload speed. This is one of the optimal combinations that you can get from this weapon skin.
Unfortunately, players can only shoot sick shots with this Skin Skull Hunter Free Fire only at close range. This is because of one point deduction for the range given by this weapon's skin. You only do shots with great damage and also do fast reload speeds only at a distance closer than the usual AK47. Of course, if you shoot far using this skin, you will only see your bullets not hitting the target you want to shoot.
Also read: How to Play the Latest Pro FF Free Fire, Keep on Booying!
That's a skin that can increase AK47 damage to be very painful. As the name suggests it will make the AK47 a "skull hunter" impression of your enemies. Collect these skins so that the AK47 attack becomes even more dangerous and deadly. Thank you and booyah! Don't forget to follow my esports!