PUBG Mobile Pro League (PMPL) Season 2 Indonesia has passed its second week with various surprises in it. Boom won the weekly standings and Bigetron RA still tops the overall standings with ION Esports trailing in second. For those of you who are waiting for the third week of PMPL ID's match, this time we will provide the match schedule.
Indonesia has millions of active PUBG Mobile players with various esports teams and communities that have been formed. Tournaments like PMPL ID are the right place to bring together the best PUBG Mobile teams. There we can see how the underdogs show off in front of the top teams.
PMPL ID Season 2 will enter its third week soon. Getting here the more it appears which teams are entitled to enter the final round later. The following is the match schedule for the third week of PMPL ID Season 2 2020.
Also read: What Does Bromance Mean in PUBG Mobile?
Third Week PMPL ID Match Schedule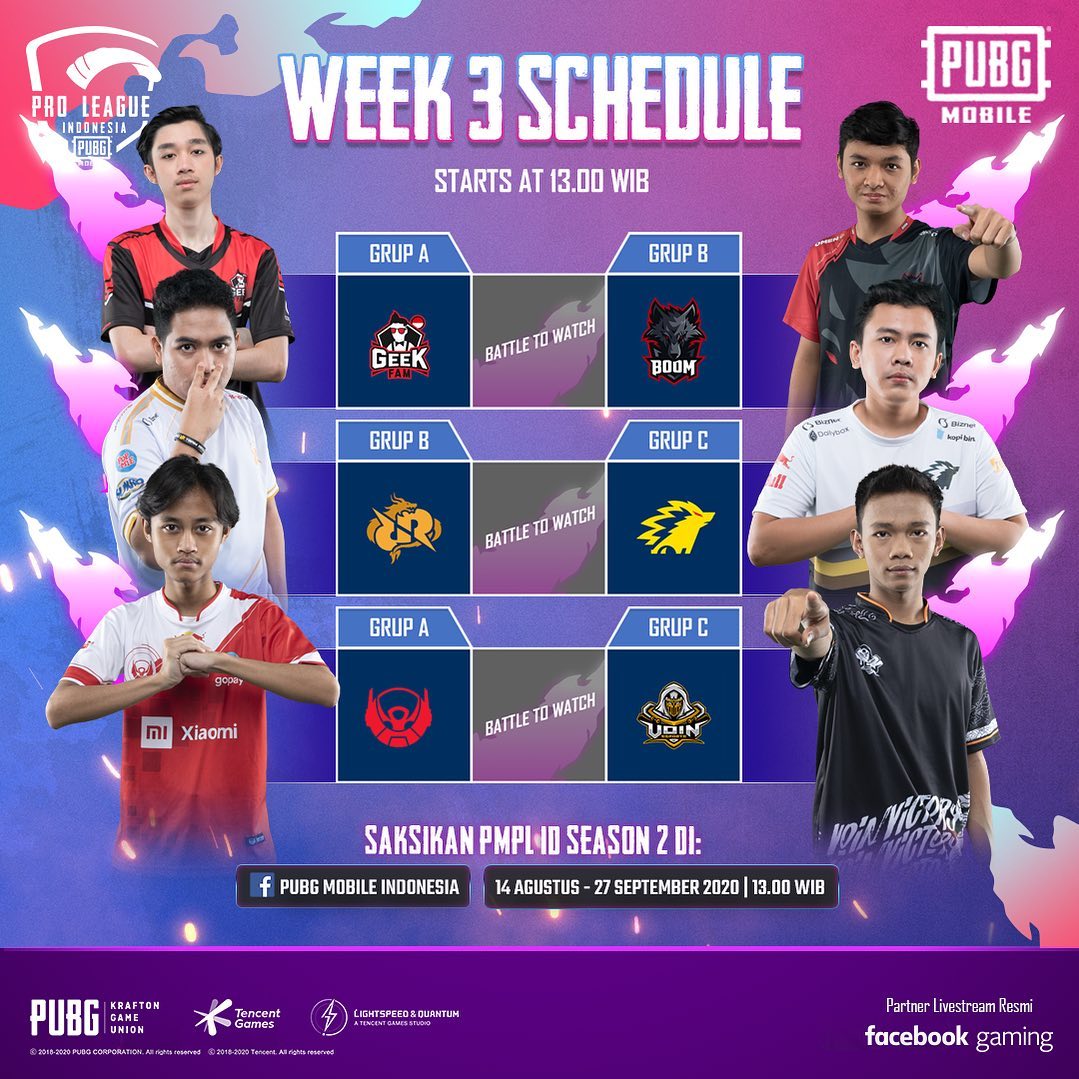 The match system in the third week is still the same as the previous week where every match day will bring together teams from two groups. The third week of the match will still be held in 3 match days, on 28-30 August 2020. Every day the match will be held in 6 matches, namely 2 times at Erangel and Miramar and once in Sanhok and Vikendi.
On Friday, 28 August 2020 the match will bring together teams from Group A and B. On the second day Saturday, August 29 2020, Group B and Group C will compete. And on the last day of Sunday, 30 August 2020 will be closed with a match between Group A and Group C.
The poster above shows the teams representing each group. On the first day of the match between Group A and Group B, you can see pictures of Geek Fam ID and Boom who both shone in the second week ago.
What caught our attention was the third match that brought Group A to Group C. There, Bigetron RA represented Group A with Voin Esports representing Group C. This reminded us that in the second week of the second day, Voin managed to level Bigetron RA and became one of the PMPL ID Season 2's epic moment. Will another surprise happen to them in the match day three of the week when tomorrow?
Also read: PMPL ID Season 2 Weekly Standings, Boom Boom Boom!
That is the schedule for the third week of PMPL ID Season 2. Let's watch every match in the three days. The first match starts at 13.00 WIB which can be watched on PUBG Mobile's Facebook live stream. Thank you!