There is a Luck Royale FF Buff Leak for the Free Fire Character Bundle, this is definitely one of the most awaited leaks. Because if we are lucky, surely one of the character set Bundles can be obtained from this feature.
But we do have to know first, if for example something like this, is it ready to attend or not. Because there are indeed several features that will or may not be available, even though yesterday there was already a leak for us to find out.
Then don't forget that Free Fire's Advance Server is still open now. Make sure you have entered and tried a variety of new updates, on that server and see what comes into this game.
Moreover, the emergence of the new Shriou Free Fire Character, with overpowering strength will definitely make it easier for you to play. Besides that, from all the updates that are present now it can indeed help us too in the future.
Luck Royale FF Free Fire Character Bundle Buff Leaks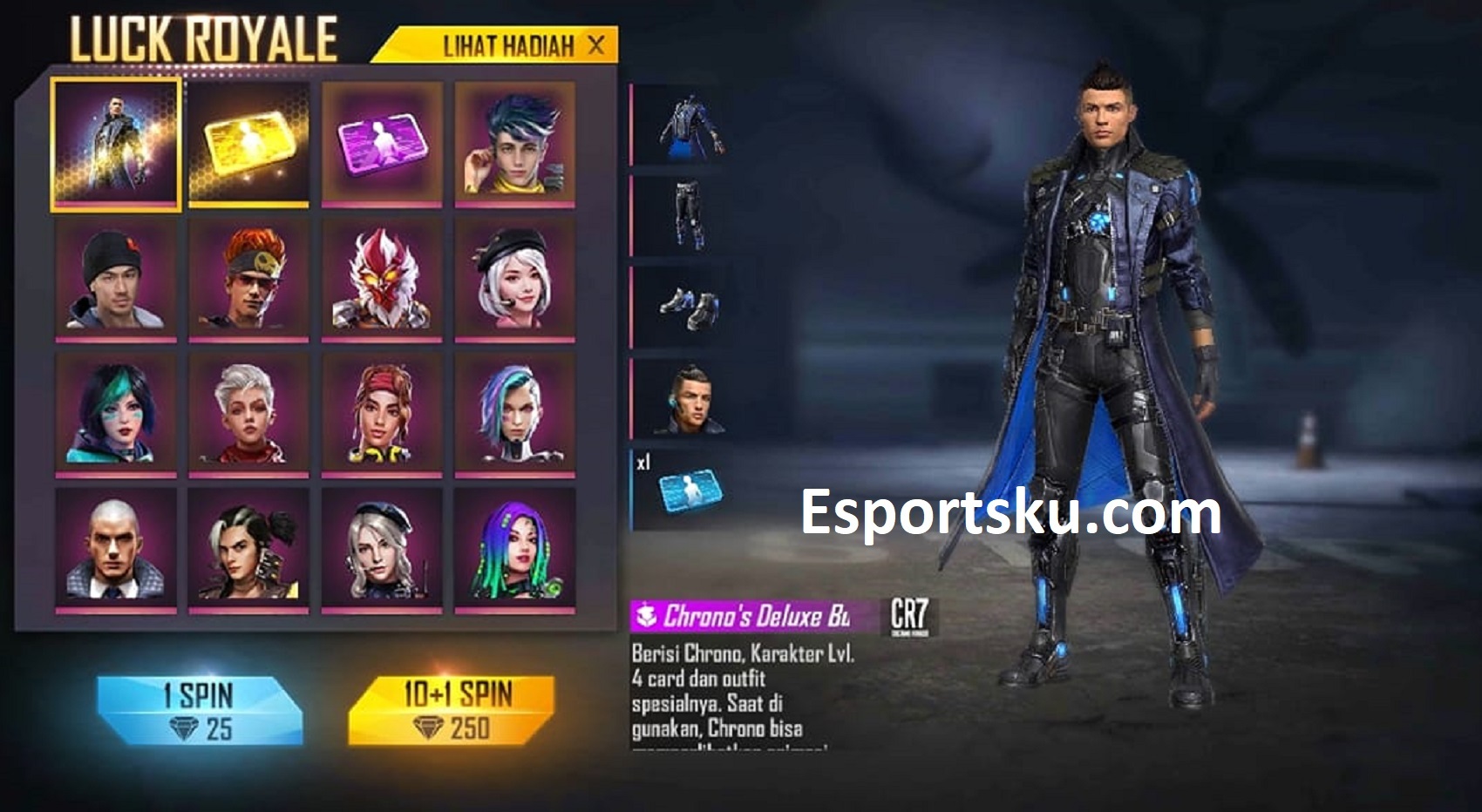 With us always knowing the leaks that will be coming later, of course Free Fire players will always be patient waiting for all of that to happen. Now, from this new information, we get a Luck Royale leak where the prize is a Character Bundle.
Of course things like this make it one of the Luck Royale that will be dispatched by many players too. Because in this Royale, only character Bundles are provided even though there are other prizes underneath it too.
This luck Royale FF buff is now present on the Singapore Server, where it is a part of the current Free Fire Special Luck Royale. So maybe there is one opportunity, where this Royale can enter our server.
You also only need to take out 25 Diamonds for 1 Spin and 250 Diamonds for 10 Spin times. Of course, the low price makes this Royale feature even more attractive for us to try.
Therefore, free fire players must also know when there is the latest FF luck royale buff this time.
Even though it could be quite an impossible thing, if there are many who ask, everyone will be there on time. The excitement that we can have from here, is indeed quite a lot for later.
So just make sure that in this latest event, you can have lots of attractive prizes that need to be tried. This new royale is very attractive prizes with that character bundle from the start until now.
Even the Chrono Free Fire character is presented in the Bundle of this Royale. That's what might interest players, so they can spin and have one of the main prizes in the new Royale.
We just need to wait for confirmation from Free Fire Indonesia, whether such a Royale will be present on our server. Because what we know is the thing that gives big prizes like this, it's difficult to be present in Indonesia, huh.
Also Read: 10 Best Diamond Royale FF Until Now in Free Fire
Also Read: Come on, Player FF Complete Collaboration Items Free Fire x One Punch Man
Also Read: 5 Reasons for FF Players to Avoid the Early Free Fire Game
Also Read: The Dog Tag FF Bug Has Ended, Can Compensate Free Fire Dog Tag
After seeing the Leaked Luck Royale FF Free Fire Character Bundle, are you interested in this feature? maybe will attend, but things like this are not sure when it will appear later.
So, don't forget to try Spin Free Fire Hockey Method, so you can get prizes in this Royale easily. Use this method, to get various main prizes in this Event Royale for the future too.
---
So we can find out new information and always update, from my Instagram Esports right now. Follow and don't miss it, a variety of the latest information that is already present in this game right now, so you can try it later.