The latest news comes from Louvre Esports, which is one of Indonesia's professional esports teams that has various esports game divisions. Louvre King as the PUBG Mobile division of Louvre Esports was officially released. The following is information about the latest news.
PUBG Mobile is a popular battle royale game that has millions of active players scattered in various parts of the world. As an esports game, PUBG Mobile presents competition for esports athletes.
Indonesia is one of the countries that has many PUBG Mobile player communities, including professional PUBG Mobile esports teams. One of them is Louvre King which is the PUBG Mobile division of Louvre Esports.
Also read: Tips for Completing the Power Upgrade Event at PUBG Mobile Season 17
Louvre King as PUBG Mobile Division of Louvre Esports is Officially Released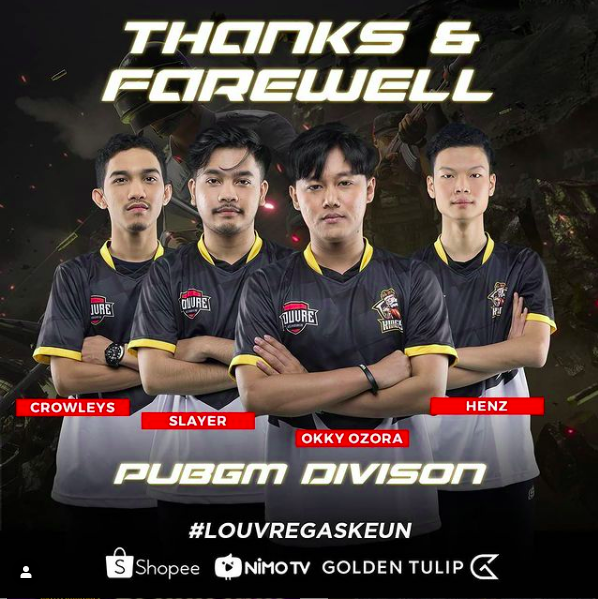 When the PUBG Mobile Pro League (PMPL) Indonesia Season 2 tournament took place last year, the name Louvre King was also in the spotlight. The performance shown by this team has indeed fluctuated. However, the results obtained by Louvre King during the last PMPL ID Season 2 were still quite satisfying.
When Bigetron Red Aliens and Aerowolf LIMAX were in the spotlight for participating in the PUBG Mobile Global Championship (PMGC) Season Zero 2020 until the final round, the names of other PUBG Mobile esports teams who fought together when PMPL ID Season 2 were quite submerged.
The latest news came from the Louvre King. The PUBG Mobile esports team is the PUBG Mobile division for Louvre Esports. As we know that Louvre Esports has various divisions. One of them that is currently shining is Louvre Esports for the Free Fire division.
Yesterday through the official Louvre Esports social media account announced that the Louvre King as a PUBG Mobile division was officially released. The following is a post from the official Instagram of Louvre Esports, namely Dewa United Esports.
In the post, we can see that the four PUBG Mobile Louvre King rosters have been officially released. The four main PUBG Mobile rosters for the Louvre King team are Crowleys, Slayer, Okky Ozora, and Hens.
With this decision, there is already one of the best PUBG Mobile esports teams that Indonesia has. There has been no further news from the four roosters. Maybe they will join other PUBG Mobile esports teams.
Also read: 4 Ways to Increase Reflexes in the PUBG Mobile Game
That's the news about the Louvre King as the PUBG Mobile division of the Louvre Esports being officially removed. The year 2021 has started with the PUBG Mobile Clup Open (PMCO) 2021 tournament. Hopefully, new teams will emerge that can enliven the battle for PUBG Mobile rules throughout this year.
Follow the latest information and news about the world of esports only at Esportsku!