Mobile Legends has a number of features that you can find, one of which is the Starlight Member feature which always provides new things every month, the February 2021 Starlight Member Prize List is here for you to get, what are you doing?
As usual, of course many of you are eyeing the Starlight Member Prize, especially in February 2021, you will be given a series of attractive prizes, ranging from skins, painted skins, sacred statues and many others.
On this occasion, Esportsku will provide information about the February 2021 Starlight Member Prizes in the Mobile Legends game. Make sure you get all of the following prizes when you arrive later.
Also read: Hero Counter Lapu-Lapu in Mobile Legends
List of Starlight Member Prizes February 2021 Mobile Legends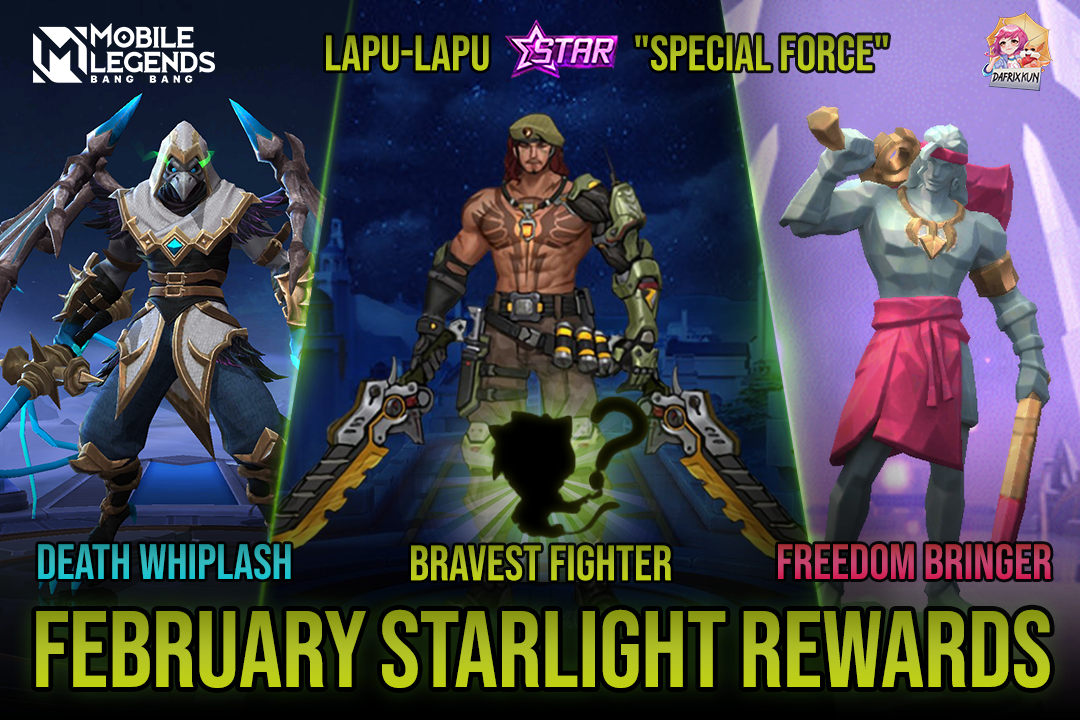 Every month, Moonton certainly gives a series of February 2021 Starlight Member Prizes that you can get in the Mobile Legends game. So here are what items you can get.
Level 0: Lapu-Lapu – Special Force (Starlight Skin)

Level 1: Painted Skin Kaja – Death Whiplash

Level 20: Random Skin Chest

Level 30: Starlight Gem

Level 40: Battle Emote Lapu-Lapu – Bravest Fighter

Level 50: 100 Diamond Coupon

Level 60: Lapu-Lapu Freedom Bringer's Sacred Statue
Also read: Reasons for Lapu-Lapu to be Meta in MPLI 2020
When you first buy a Starlight Member, you will definitely get the Starlight skin from the Lapu-Lapu Special Force hero. You can get this one skin right away, just by making a purchase. Make sure to prepare 500 diamonds.
At level 1, you can get Painted Skin for the Elite Kaja Death Whiplash hero skin, to use this painted skin make sure you already have the Elite Kaja skin first, otherwise you can't use it.
Then there is the Random Skin Chest which gives you the opportunity to get additional normal skins for free. You can get this chest when you reach level 20 on the Starlight Pass in Mobile Legends.
Also read: Skill Lapu-Lapu Revamp in Mobile Legends
There are also Starlight Gems that you can use to buy Annual Starlight skins at the Shop in Mobile Legends. Unfortunately every month you only get one starlight gem.
For the Battle Emote Lapu-Lapu, you can get Bravest Fighter which is pretty cool. But unfortunately there is still no leaked appearance for this battle emote, you can get it when you reach level 40 Starlight Pass.
Next, at Level 50 you will get 100 Diamond Coupons which you can use to buy skins with a 100 diamond discount. Make sure you use it when buying skins at the Shop so that the price is cheaper.
Also read: Tips and Strategies for Mobile Legends Lapu-Lapu Teamfight
Finally, you can get the Sacred Statue from the Lapu-Lapu hero with the name Freedom Bringer, you can get this statue when you reach level 60 on the Starlight Pass.
So that's it for the latest review regarding the February 2021 Starlight Member Prize in the Mobile Legends game. Even though it's still a long time, make sure you prepare a budget to get the latest skin from this meta hero in Mobile Legends.