Until now, Free Fire is still one of the best Battle Royale games that you should try. Even now, Free Fire already has quite a lot of total players. So that when you play later, you can find various players with quite unique gameplay.
Even now, Free Fire is still very well developed. So naturally, if the updates that have come into this game are pretty good and very interesting. Not only that, Garena as the developer of this game will provide another new update.
Also Read: 8 FF characters that Free Fire players must avoid, don't use them!
So that later, the game will be even cooler and interesting to play. Even now we have the presence of a large number of Free Fire Characters, as well as character abilities that are unique enough to be used in matches.
In addition, there are also some recent UMP and MP5 Weapon Changes in Free Fire now, and there is also information about the current title change, namely the current King of SMG Thompson. All of this, specially presented by Garena.
Even on servers outside Indonesia, they have a new update that is quite unique to try. Where on the Brazilian server for example, on that server the players have received a pretty good update.
Also Read: How to Get the Latest 2020 Scarlet Flame Free Fire Bundle
Where there is a new Box, inside the Shop. Reportedly also, this item will later be present on the Indonesian server as well.
On this occasion we will discuss these items with all of you.
Curious? Immediately, we see the explanation in the article below.
Also Read: How to Good at Playing the Best Free Fire Squad, Compact Auto!
New Fire Bomb Box Free Fire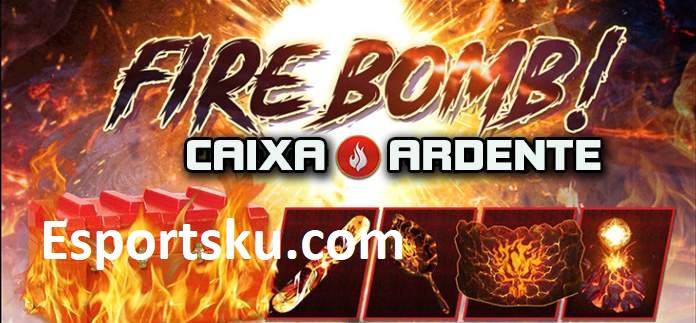 On that server, the player has the presence of a new box called Fire Bomb. Now in this box too, you will be given lots of cool items that are elements of fire or lava. Of course this appearance, very good and it must be obtained.
This box has been sold at the Free Fire Brazil Shop at a fairly cheap price, so of course all of you in Indonesia can buy it later when you arrive. Even in this Box, you can get a Gloo Wall Lava, Pan Lava, Lootbox Volcano and Surfboard Lava.
All of these items, can be obtained from the Fire Bomb Box. Even in this box, there is a Fire Token that can be exchanged for attractive prizes at the Event. Of course the chances of getting tokens, are much greater than these rare skins.
But don't worry, the more you buy, the greater the chance to get these rare items.
Also Read: Space Soldier FF Bundle Free Fire Voting Winner So Cheap!
Fire Token Exchange Event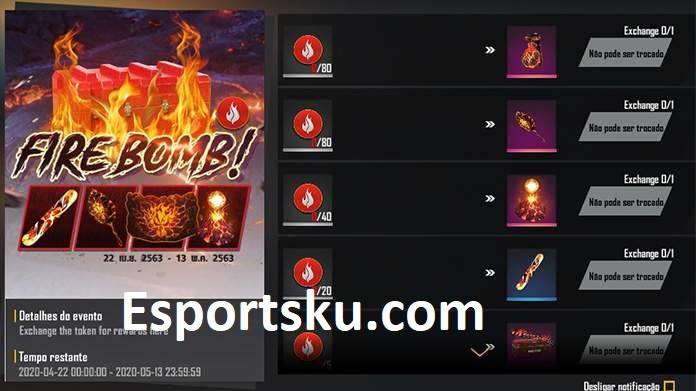 If you buy a lot of these Fire Bomb Boxes but never get a rare item, don't worry because in this exchange, the item is there. So by using Fire Tokens, later you can exchange the prizes available at the event.
Of course, each item has a different exchange price. So if you already have a lot of fire tokens, don't hesitate to exchange these tokens for good prizes at the fire token exchange event.
The following are the Exchange Terms.
Gloo Wall Lava: 80 Fire Tokens
Pan Lava: 80 Fire Tokens
Loot Box Volcano: 40 Fire Tokens
Lava Surfboard: 20 Fire Tokens
Weapon Gun Skin Lava: 5 Fire Tokens
All of this can be exchanged, if indeed you already have enough total tokens.
Also Read: How to Find Free Fire Lootbox for Vest and Helmet for FF 2020
So, those are some of the information that we can convey on this occasion. How? Are you all impatient with this Box?
In addition, there are also some of the best Kapella character combinations, as well as a counter to turn off Steffie's character. There are even several Locations to Find Groza Weapons in this Free Fire game.
That's it, Thank You and Greetings, Booyah.
---
If you want to get lots of information about the Free Fire game, you can immediately join our group.