Now there is a leak of the latest Gloo Wall Overpower skin in Free Fire, this is a pointer to the enemy if we will be the winner when we compete later. Moreover, by trying whatever things will be in this game, it is one of the best things to feel. So don't forget to always know what will be coming later.
That way you will continue to update, in playing the Free Fire game and don't miss other interesting things in the game later. Because what we know is the Booyah Day Free Fire Event now, is one of the things that we need to solve. That way you also don't forget to take part in all the latest events now.
Because in addition to what is in this game and can be completed, it turns out that there are also those who will attend later. Check out the explanation directly in the article below right now.
Leaks of the Latest Overpowered Gloo Wall Skin in Free Fire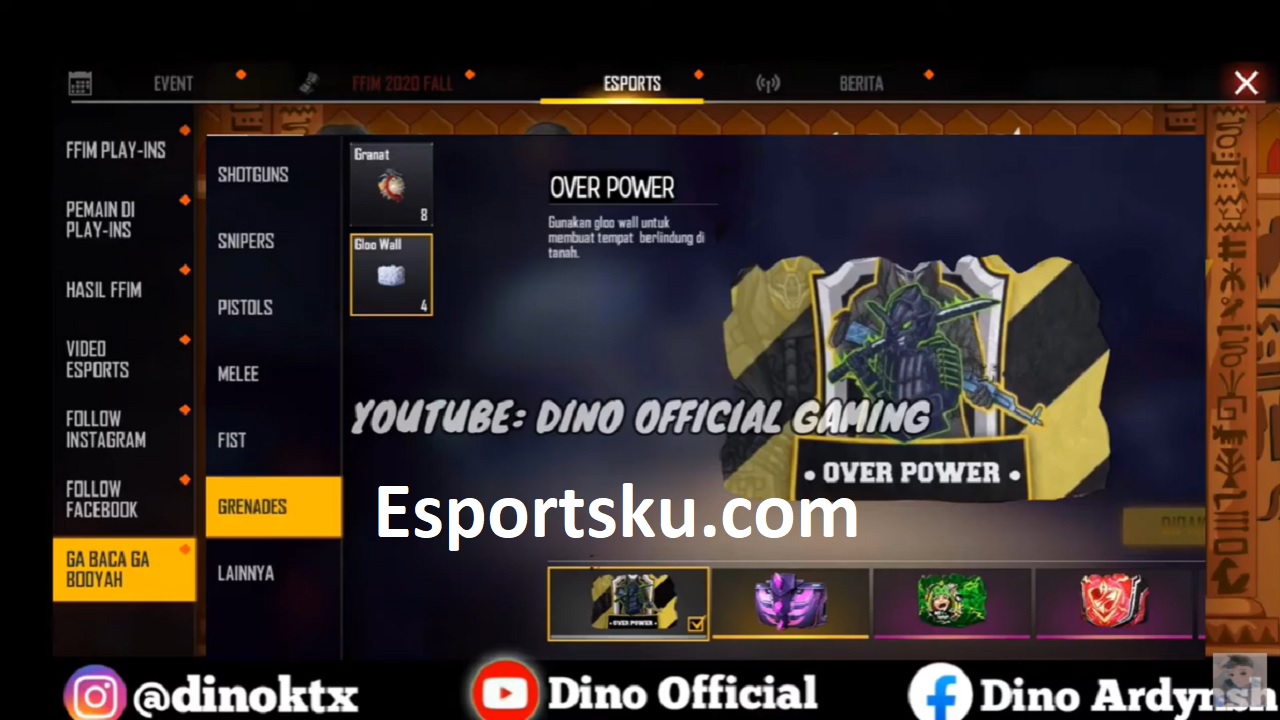 The skins that appear in the Free Fire game today, are not only in the weapon skins or other things too. But for the part of the Gloo Wall too, we'll have it. Then now there is a new leak, which is related to the latest Skin Gloo Wall. With that too, of course you shouldn't miss the skin later.
Because it is the latest skin now, it has the name Overpower, so it is certain that when the enemy is used it will know that we are indeed a very strong player. Overpower if interpreted is also one of the advantages, this will give us great strength in competing or fighting enemies later when it can be used properly.
Then also know that the latest leak from Skin Gloo Wall is here and reportedly will enter the Indonesian server as well. From this appearance, we can see that the Gloo Wall has a unique motif in the middle. There is a symbol of a character, using a hoodie bundle and holding a weapon that looks quite strong.
Black And Yellow!
At the bottom of the Logo there is also the word Overpower, that is a sign of considerable strength. Then on the other side of the Gloo Wall we can see, if there is a yellow and black hue, it looks like it shows that you won't be able to break through this defense. If you use the Gloo Wall Skin, it will definitely look even cooler.
Even though the appearance given to this skin is quite cool, you must also be able to know how to use Gloo Wall Free Fire properly. This method will help you too, to make it even easier so that you can provide Gloo Wall defense with a very high level level.
But there are several possibilities too, if for example this Skin will be present in a Top Up Event. Because the appearance of this skin is also very interesting, we can say that it is quite interesting.
Counting the number of updates and new leaks, we can't really see it well either. But be aware that, for example, there are also some Leaks for the AUG Booyah Free Fire Skin Event soon. That way, you can feel the various excitement of an event like this, because everything that is presented will also give a lot of good things.
Especially from the leak now, maybe the appearance of your Skin Gloo Wall will also look even more interesting.
---
Oh yes, all of you too, don't forget to Follow Us on my Esports Instagram. So that you know the updates to the Free Fire game and others.