Free Fire is one of the games that is quite famous until now, even the game already has quite a lot of total players from all over the world. Of course, with achievements like this, making the Free Fire game the best until now. The more development of the Free Fire game, of course, will make this game have many new and interesting events.
Garena will always present many new things and dance events for the players. This is done, so that you don't feel bored when playing the Free Fire game later. Especially for now, where you have to stay indoors.
4 Strongest Combination of Free Fire Role Characters, Not Translucent!
So of course, Garena will present many new events to accompany your time at home. Each server, of course, has lots of different interesting events. Of course this way, you can take advantage of the event so you don't get bored at home.
The prizes that were presented at the event were very interesting to get. All of these prizes, of course, are quite beneficial for many players from all over the world.
4 Important FF Role When Playing Squad Free Fire 2020
Now, on external servers, there has been a new event which is quite impressive for many players from all servers. Many hope that this event will be presented globally as well. So that everyone, can feel the event later.
So, on this occasion we will provide a leak for the Latest Free Fire 2020 FF Spirit Fox Token Event. It is reported that the event will be made global later.
Curious? Immediately, we see the explanation in the article below.
How to use the FF Gatling Gun to make Free Fire more deadly
Spirit Fox Free Fire Token Event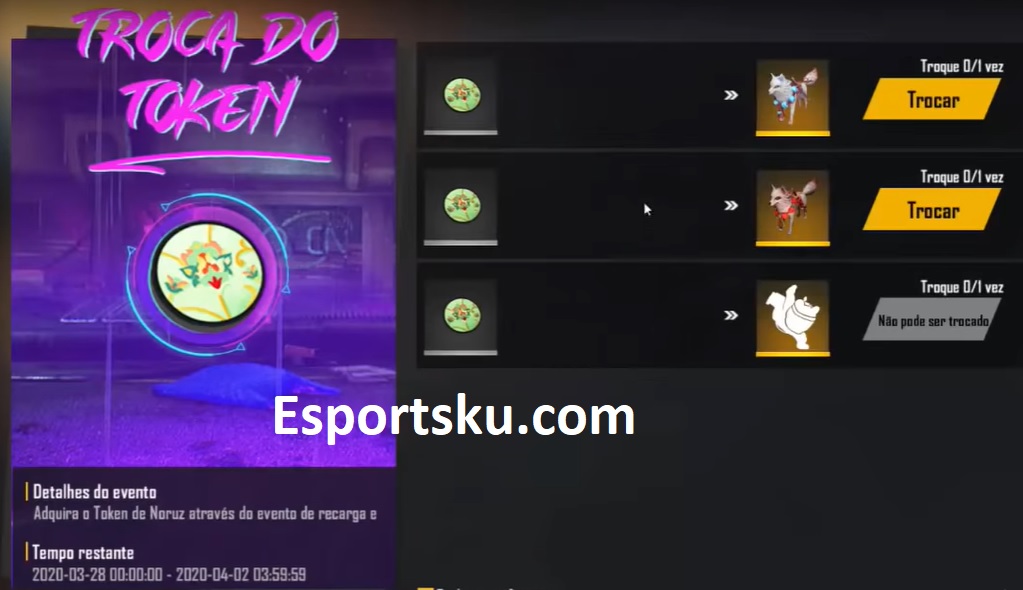 In this event, you will be able to get 3 different types of prizes by exchanging Spirit Fox Free Fire Tokens. These gifts are quite interesting and you really shouldn't miss it. Because there are 2 Spirit Fox Legend Skins, given for free by Garena.
In this event, there are 2 Spirit Fox Skins and 1 Emote from Pet Panda which is quite funny. Of course at this event, you can't miss it. Because all the gifts given are very good and have a high selling price if they are sold again.
This event has been present at Free Fire Brazil, from March 28 to April 2 2020. It was also reported that this event would later be made global by Garena. So those of you who are served differently, please wait patiently.
Blue Zone Free Fire or Hot Zone FF, Functions and Explanations!
How to Get Spirit Fox Tokens
There are reportedly 2 different ways to get this token. First, you must be able to get Booyah in Ranked Mode, and top up a certain amount of Diamonds.
Of course how to get it, it's quite easy to do. Even now, in Brazil there are already many players who exchange these tokens for prizes at the event.
This gift exchange, too, only requires 1 token.
The Best FF Weapon For Jota Free Fire Characters, More OP!
It is also very likely that this event will be present in Indonesia with different missions and ways to get tokens as well.
So, those are some of the information that we can convey on this occasion. How? Are you interested in waiting for this event to come?
That's it, Thank You and Greetings, Booyah.
---
If you want to get lots of information about the Free Fire game, you can immediately join our group. Stay tuned to my esports to get the latest Indonesian esports news 2020 !.