Rafaela seems to be one of the heroes that Moonton chose to be given his latest skin later. Currently, there is information about the leaked new skin of Rafaela in Mobile Legends. However, this skin leak is only still in the form of a design.
Rafaela himself is one of the support heroes in Mobile Legends which has recently been played again by Mobile Legends players. Rafaela has also been used several times by pro players who are competing in the current MPL season tournament. Rafaela becomes a support hero who can provide healing effects and increase the movement speed of his teammates. With the presence of a new skin for Rafaela, it is hoped that this hero can become popular again in Mobile Legends.
On this occasion we will provide an explanation about the Leak of the New Skin of Rafaela in Mobile Legends. For those of you who are curious and want to know how the appearance of Rafaela's newest skin, let's just look at the full explanation below!
New Skin appearance of Rafaela Star Chaser in Mobile Legends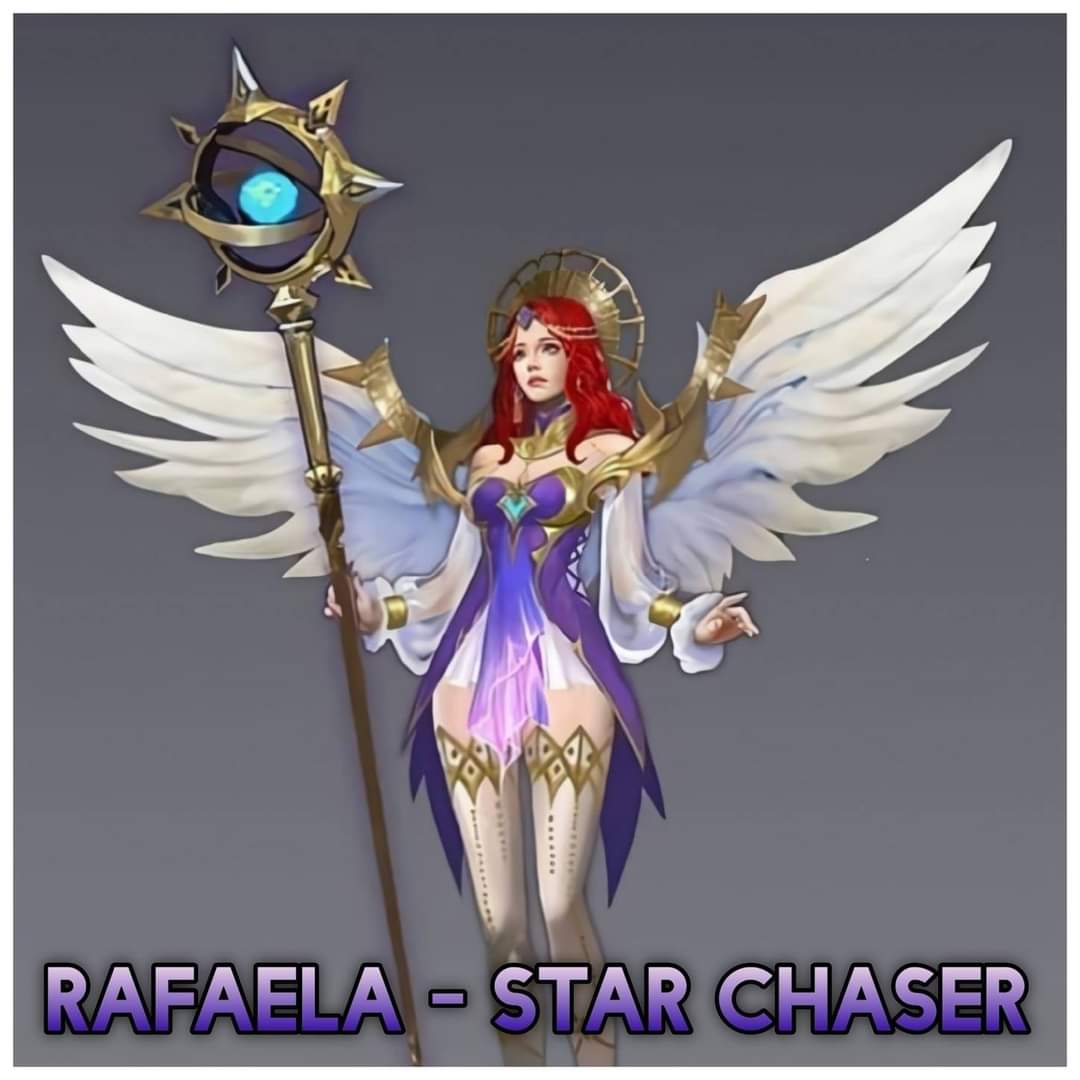 The new skin from Rafaela is still unknown, whether it will be an elite, special, or even epic skin. The name of Rafaela's new skin is Star Chaser. The appearance of his latest skin design is perfect for Rafaela and makes him look more beautiful and elegant.
At the top right on the head, Rafaela looks like he is wearing accessories such as a magnificent crown. Rafaela's forehead looked like a purple stone. Rafaela's own hair has been changed to red in this skin design. In addition, the wings themselves are made more elegant, complete with golden accessories.
The costume used by Rafaela himself is purple combined with white cloth. The costume itself looks like a dress and is perfect for Rafaela. For the weapon itself looks very different from usual. At the end of the stick, it looks like there is a crystal ball in a beautiful light blue color.
For those of you who used to play Rafaela, of course this is good news for you. Rafaela will get his latest skin and it is hoped that the presence of the latest skin for this one support hero will make him popular again and can be played again as before. For an explanation of the release date you can see below!
Prediction Release Date for New Skin Rafaela Star Chaser Mobile Legends
Because Rafaela's new skin category is also not known automatically the release time is also not known with certainty. However, it can be predicted that the new Rafaela Mobile Legends skin will be available in 2020 or early 2021. Just wait until Moonton announces the exact release date on Mobile Legends!
For those of you who are interested in having Rafaela's newest skin, please collect as many diamonds as possible because this skin will become an epic limited skin in Mobile Legends.
So, that's the explanation of the new Rafaela Mobile Legends Skin Leaks that we have explained. Hopefully this is useful and can be a new reference source for you. Keep on visiting our Esports website for new information about the Esports World! That is all and thank you!