Know that FF optimization on the active Skill Display Free Fire, has now come to the game. So that way players, it will be even easier to use their skills. The features that have been present in all of the Free Fire games will indeed help you to not have problems anymore and get cool benefits too.
The update, which was present yesterday in this game, is one that we shouldn't miss. Of course with that you also make sure, if the Full Patch OB24 Free Fire has been understood. Because by understanding this, it is certain that you will find it easier to immediately understand what other new things are too.
But for those who are now present too, you need to understand the optimization and it is quite important that we can try it in the future. Curious? let's just look at the explanation, in the article below.
Optimized Free Fire Active Skill Display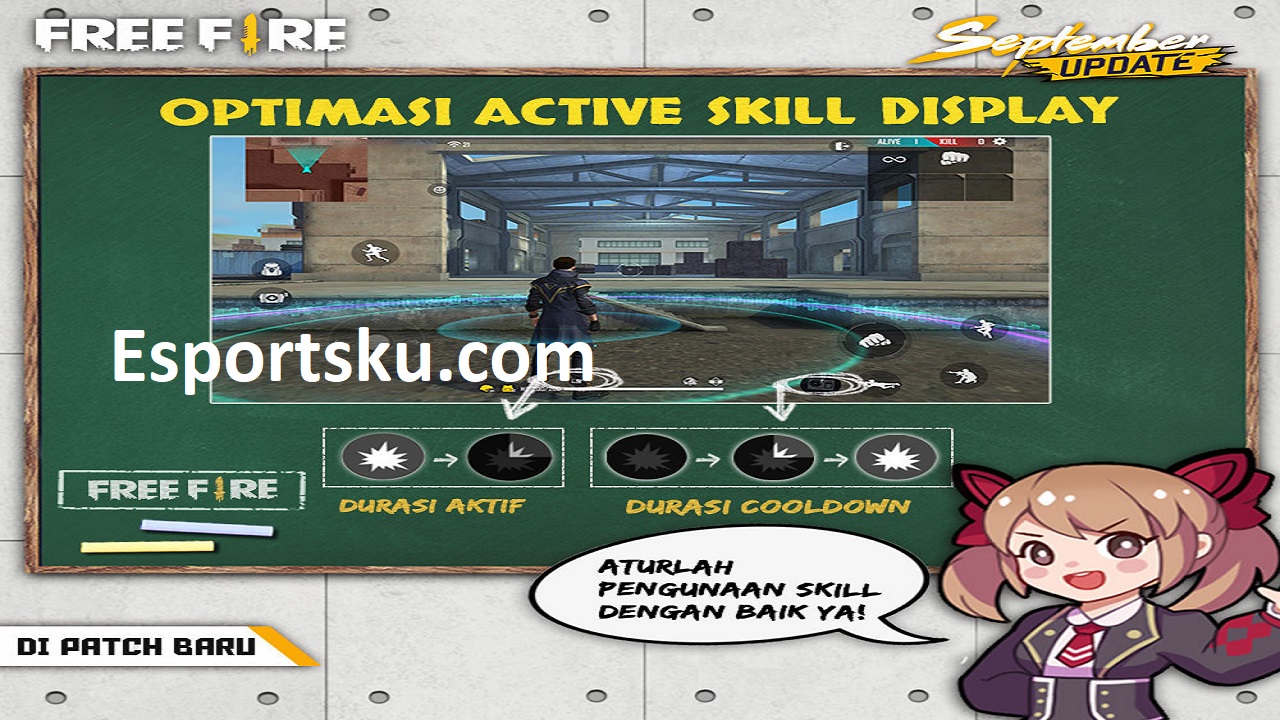 Making the Free Fire game even better, will indeed continue to be done by the developer. So from this too, there are many new features that we can take advantage of later. Because of these features, we will be able to become even stronger and find out about events in the Free Fire game in the future too.
The features that are presented now are in the form of features that are present in active skill characters in the game. So maybe we need to pay attention to this, if for example using a character with this skill. The latest optimization now, will show the Skill Time used and the Cooldown Time of the skill on the character you used earlier.
Now there are 2 FF Icons!
For example, as shown in the picture, there are 2 Icons and one of them is at the top of the Health Point. For those above the Bar, we can see how long this Skill will last. Knowing the length of time the Skill is presented is indeed one of the advantages and becomes our benchmark for the future.
Then on the icon near the attack button, it is an icon where we can see the Cooldown Time and can be used to use this skill later. We can find out how long the character's Skill will be, can be used again after being used previously. Surely you will understand even more, to know why we have to save the character's skill huh.
Therefore, there are so many players who until now, still use the Free Fire Passive Skill Character. Because the difference from this has been seen, where Passive will always be Active and for Active has a Cooldown for you to use again.
Actually, this feature too, has previously been discussed in the Free Fire Character Skill Feature, but in the end we get a clearer one. Take advantage of all the features that are present today, because they are very important.
With this latest optimization, Garena will help you use skills when you compete later. Because there are so many incidents, where we are too wasteful to use the Skill of this character. Always pay attention to the character's skills, so that they don't go to waste later. If this happens then maybe you guys will quickly lose too.
You can also read Free Fire Season 17 Character Skill Combinations, this is something that will help you in Push Rank later. By using a variety of Unique combinations nowadays, surely you will find it easier to compete and face enemies later.
That's it, Thank You and Greetings, Booyah.
---
Oh yes, all of you too, don't forget to Follow Us on my Esports Instagram. So that you know the updates – updates to the Free Fire game and others.