Mobile Legends is one of the best MOBA games on Android to date. Moonton as the direct developer of this game will always provide interesting updates for its players, this is so that they don't get bored. There is the newest ML Starlight Skin for Hero Masha in Mobile Legends that you can get
In addition, because of this good performance, Mobile Legends was finally able to compete with other popular MOBA games such as Arena Of Valor and Vainglory.
Besides that, the event that Moonton gave to its players was able to provide the opportunity to get Skin at a fairly expensive price. Usually Moonton will only give Normal Skins, but now they more often give Elite to Epic Skins for free.
This event that takes place is usually found in their official account or in the game. Moonton received many positive responses for holding this one event.
Now we will discuss one of the skins that are released every 1 month, namely Starlight. This skin is arguably quite friendly, because you only need to pay 150 thousand to get it.
In addition, now you can get additional rewards if you level up the Starlight. Prizes late or mid, you can get a Skin Tower which is quite cool.
Leaks regarding the next Starlight Skin have spread in the Mobile Legends Game Player Community, the next Starlight Skin that will come to the Original Mobile Legends Server is Masha.
Intrigued by the appearance of the skin? Immediately, we see below.
Latest ML Starlight Skins Hero Masha Mobile Legends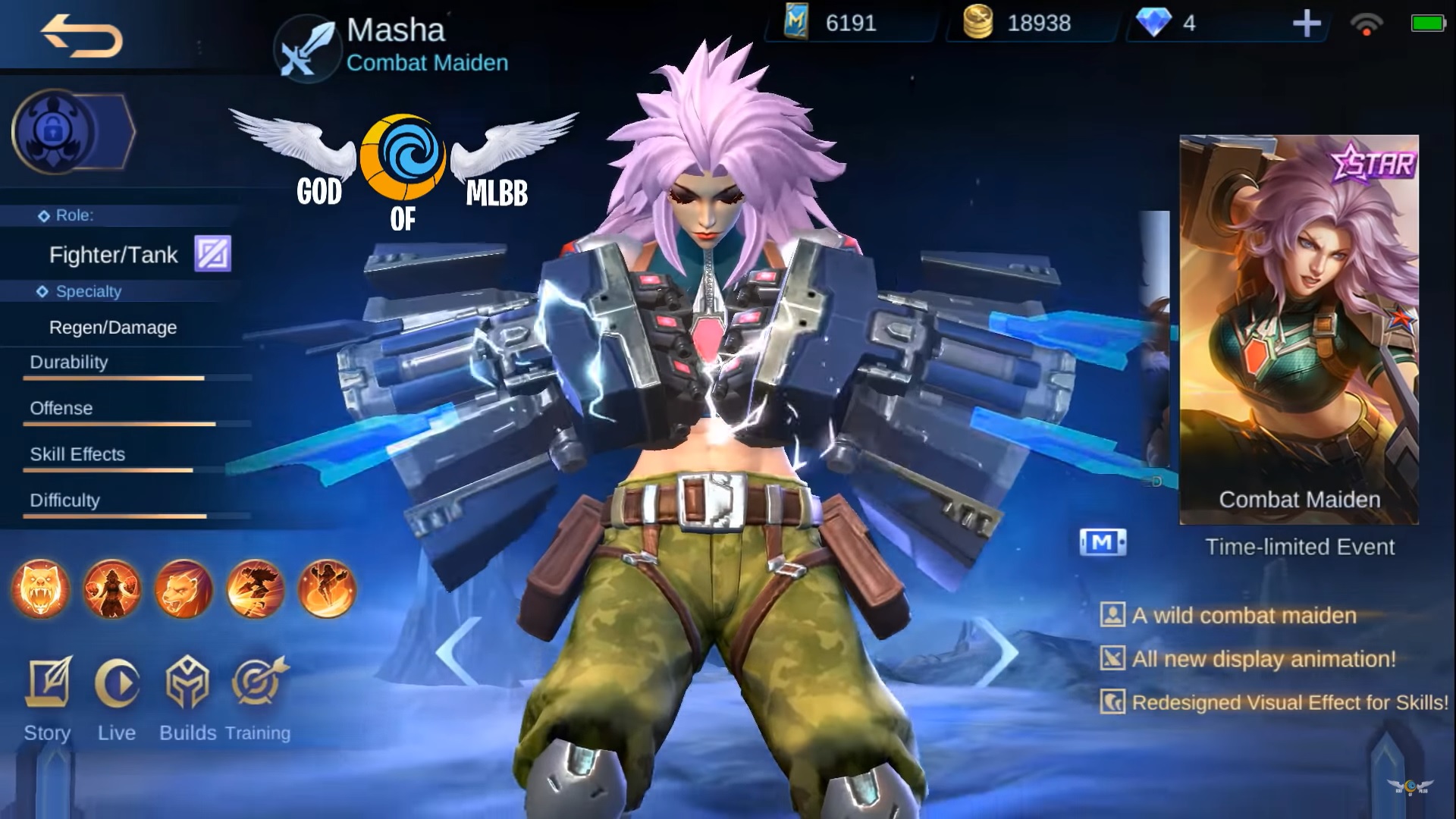 Leaks regarding this skin have been around for a long time, but only became widespread a few days ago. This is because before officially becoming Starlight, this Skin has a Special Logo so that many players think it is a Special Skin from the event or for sale.
ALSO READ:
Latest Masha Skin Combat Mainden Mobile Legends
But finally Moonton answered the players' curiosity, because this skin will officially become the skin for the next Starlight prize.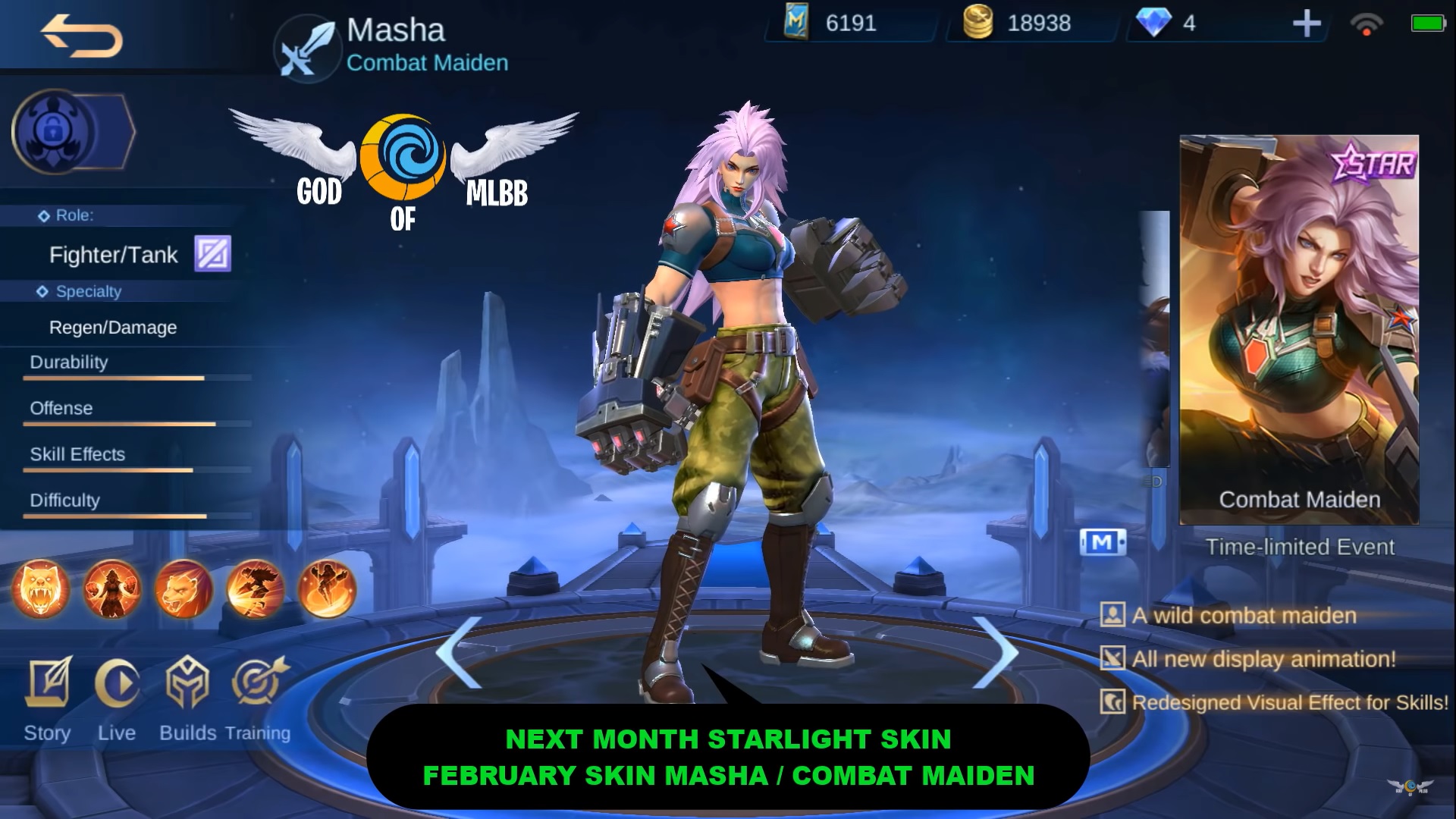 The newest ML Starlight skin of Hero Masha in Mobile Legends has the name Combat Maiden. Has a very cool mode like a soldier on the battlefield. Maybe this is equated with Masha's country of origin, she is someone who comes from Russia.
Even though Masha is not wearing skin alone, the ability released is able to make the enemy confused and panicked. Because of Masha mobile legends has 3 HP Bar which makes itself thicker.
In addition, if each HP bar is lost, he will get a large additional Attack Speed ​​and Life Steal. If you are in Rank Mythic, usually you will see Masha being a Banned subscription.
Not from the damage and fast attack speed, Masha is also a specialist in stealing turrets. This is what is able to make the enemy confused and panic, when their War Turret which the enemy has is flat because of Masha.
Moreover, later on, Masha will get the Skin Combat Maiden, her abilities will increase to be stronger than before.
That's the Starlight Skin which will be present in February at Mobile Legends. For you Masha users, don't miss this cool skin. Like the new starlight skin released
That's all we can say, Don't forget to follow our official Instagram on Esportsku (@ esports.ku) to get other latest information about the Mobile Legends game and also the latest news. Thank you.