Free Fire is a battle royale game, where this game was developed directly by Garena. Where until now, Free Fire has provided many pretty cool new updates. Even from the start of the update in 2017, this game was not much in demand. But for now, Free Fire is one of the best games on Android.
Various kinds of updates such as the Free Fire Character feature, make this game much more colorful. So naturally, if this game is indeed busier than before. In fact, you can also provide the character with the Best Assault Rifle to make it stronger.
Also Read: The function of the Ottero FF Free Fire Skill, Make it Thick in Free Fire 2020
For now, Garena still has a lot of new projects for the Free Fire game event. Even for the Booyah Ramadhan Event section, it turns out that currently the players are most busy completing it. Because the prizes that can be obtained are quite good and very unique.
If you play this game, of course you won't want the name to play lagging. There is a Tips for Playing Free Fire Smoothly, so that you don't lag later.
Also Read: FF Tips for Combining Free Fire 2020 Character Skills, There are 5 Parts!
As we know, each server in the Free Fire game must have different events. Be it an event or a sales item, everything is presented differently. But sometimes, there are events where the prizes are the same but the missions are different too.
In Free Fire Vietnam, there is a new update and a new sale where there is a character item in the form of a sandal.
Curious? Immediately, we see the explanation in the article below.
Also Read: Reasons for FF Players Still Noob During the Free Fire 2020 Battle
Free Fire Vietnam's New Item – Rubber Sandals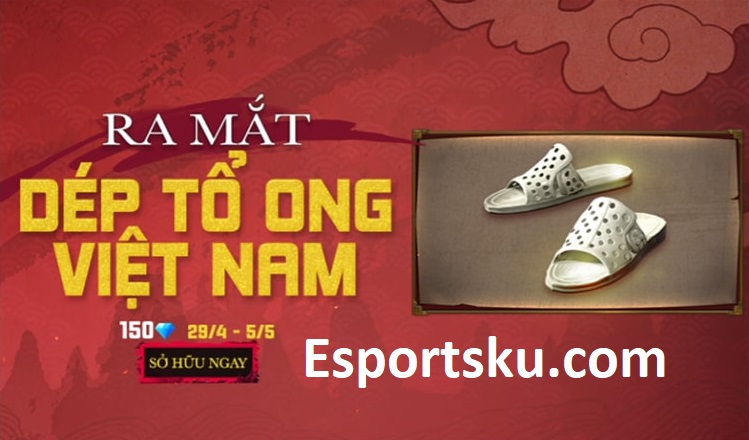 Sandals are indeed a foot protector that is often used by many people, even now in Vietnam this protector is here to be tried by the players. Of course this is a sales item, where new Diamonds can be used.
Items Only Make On Feet
This is a character item for the legs, so of course it doesn't interfere with the rest of the equipment. So it can only replace, the existing bundle item in the leg. That way, if you buy it, it won't hurt.
Also Read: Free Date for Magic Cube FF on Booyah Ramadan Free Fire, when is it?

Just for fun buying is also not a problem, the price given is also quite cheap and not too expensive. You only need to take out 150 Diamonds, you can get the Sandal. But we don't know whether it is present in Indonesia or not.
But just hope that this is present, because this sandal item is quite good and unique when used. Just imagine, you guys use the legends multilevel bundle. But right below, you are wearing a sandal. This automatic is what makes it interesting, and funny in the eyes of the enemy.
So don't miss the sales, when this sandal is present on the Indonesian server. But usually, items on Vietnam servers will also be present in Indonesia. We hope that, in the middle of this month or the end of May, the sandals will come.
Also Read: Benefits of FF Having Friends Hiding in Free Fire 2020
You can also attach it to the Rafael Free Fire Character, so that his footsteps can be covered by the sandal. Even besides that, this character is one of the Best Silent Killers in the Free Fire game.
So, those are some of the information that we can convey on this occasion. How? have you all understood and are waiting for this item?
That's it, Thank You and Greetings, Booyah.
---
If you want to get lots of information about the Free Fire game, you can immediately join our group.