As a popular game, Free Fire has many features in it that the players can enjoy in the game. With these features available, players can utilize those features in order to be the best in game. Now we will present you a full review on Free Fire character Kapella that you can use in the game.
Kapella is one of those characters needed the most by every team. Her buff skills cannot be underestimated because it's very useful for the team. Kapella Free Fire skills will enable her to heal others and reduce HP loss. She is one of the most valuable character when you play as a squad. She is also one of the best support character in the game that you can use to support your friends.
Kapella Skill Free Fire

In Free Fire, Kapella is acquired with a skill called Healing Song which is really valuable. Her skills is quite easy to utilize. Kapella's skill effect is to increase the healing effect in herself and her teammate. Her skill effect is also to decrease her team's HP loss.
Even from level 1 her skills is already quite effective. In level 1, she has 10% skill effect for her healing skill. And 20% effect for her HP loss skill. In every level ups, her skill is upgraded for up to 2% on heal item and her equipment, but unfortunately her healing skills will not be increased. Other than that, Kapella will also gain extra 2% in every level of ups regarding HP loss skill.
How to Play Using Kapella Free Fire

Kapella Free Fire is a character that is fairly easy to use, yet her skills are really effective. Having various skills and high level of skill cap, Kapella's role in the team is really vital. She is a character that's the most responsible for the team.
The most important thing with Kapella is that she shouldn't die first in the team, or else it would be such a waste. The reason is that she is a valuable buffer in the team, so losing her is a huge cost for the team.
Kapella is also flexible to cooperate with many other characters so with her being in the team is really important.
Kapella's Character Combo Free Fire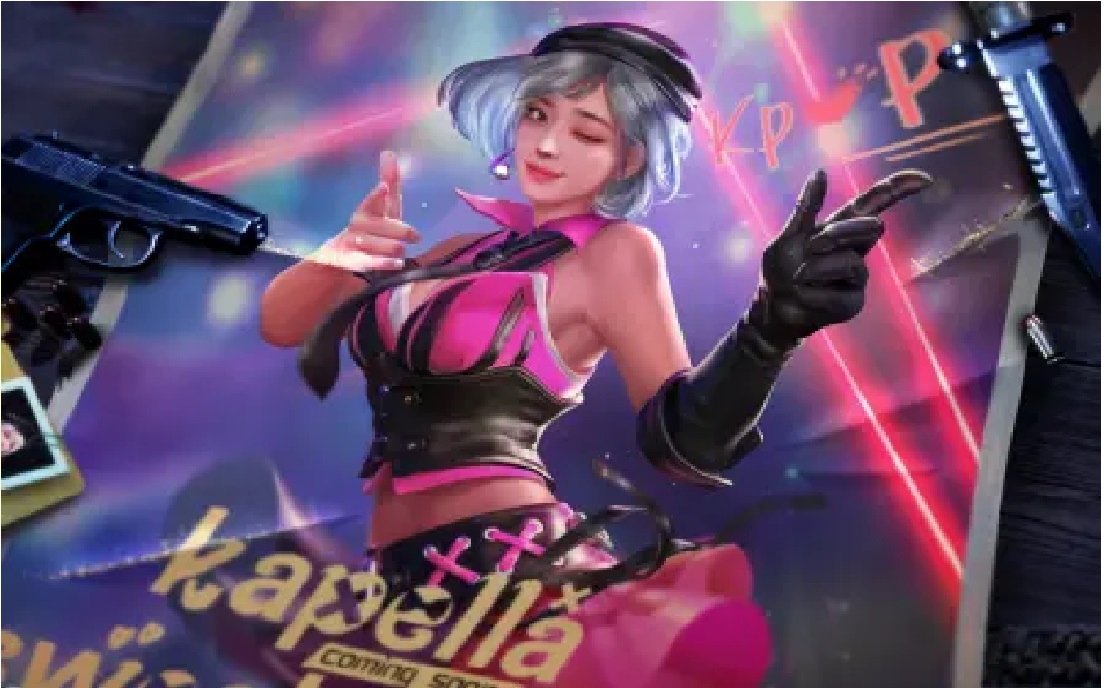 As with all characters in Free Fire, Kapella also has some pros and cons that players can utilize by cooperating with other characters. As a buffer, Kapella is a quite strong character compared to others.
Here are some characters that is suitable to cooperate with Kapella.
DJ Alok
Having a capable healing skill, of course he's a decent fit to combine with Kapella. With them together in a team, the healing effect will be much higher in that particular team. So you won't have to spend much on med kit, with Kapella and DJ Alok in the team.
Jota

Jota is a character that is suitable for close range battle. You won't have to worry as much since Jota will heal himself after he kills an enemy with an SMG or a shotgun. Both of those guns is really effective in close range. As a Free Fire Rusher, Jota won't have to worry to rush because he can heal himself after killing an enemy with SMG or shotgun. Both of those weapons is a deadly close range weapon. So approach your enemy and get closer to kill effectively.
Jota's high HP regeneration will be much more effective with Kapella in the team. With them together in the team, it will be a much more aggressive team if played together properly.
A124

Next is A124, with her very unique skills. She can turn Energy Points into HP. If combined with Kapella, the HP that A124 receive will be increased. But, you need to remember to gather enough EP in order to gain more HP than the normal rate.
These two combination can be really effective. A124 as a tanker and Kapella as a buffer can be a deadly combination in the team. A124 will be very hard to kill with Kapella on her side.
Pros and Cons
Every character has unique characteristics in Free Fire. And every character must have strength and weakness. Here's Kapella's pros and cons.
Pros
One of the best buffer in Free Fire
One of the best support on Free Fire
Overpowered character combo with DJ Alok
Flexible character
Cons
Less effective with a team with no chemistry
Her skill is too much spent on healing
A huge cost for the team if this character dies first
As one of the best character and also the best buffer in Free Fire, Kapella is the character that cannot be underestimated. This character is the one that her teammate must preserve, because losing her is a huge cost for the team. With a good chemistry and well-planned strategy, it will be a huge advantage with Kapella being in the team. You'll get multiple kills in free fire if use kapella free fire properly
And that's our review on Kapella. As a buffer for the team, her role is very important for the team to work together to win. You can use this information later in the game while using Kapella to help your teammate either as a pick or a counter in a match. Follow Us on Esportsku Instagram