Raptor Machete is one of the jungle items of a million people that is often used in the Mobile Legends game. Starting from marksman, assassin, and fighters often use this ML jungle item. But in the upcoming update, the Raptor Machete item will get nerfed in season 17 of Mobile Legends.
The marksman and assassin heroes are definitely mandatory for using the Raptor Machete item. This jungle item has a very important role to increase EXP and also level quickly in Mobile Legends.
On this occasion we will discuss the latest Mobile Legends udpate which gives nerf to one of the Raptor Machete jungle items in the Mobile Legends game. Now for those of you who are curious about this update, consider the following review.
Jungle ML Raptor Machete items get Nerf in Mobile Legends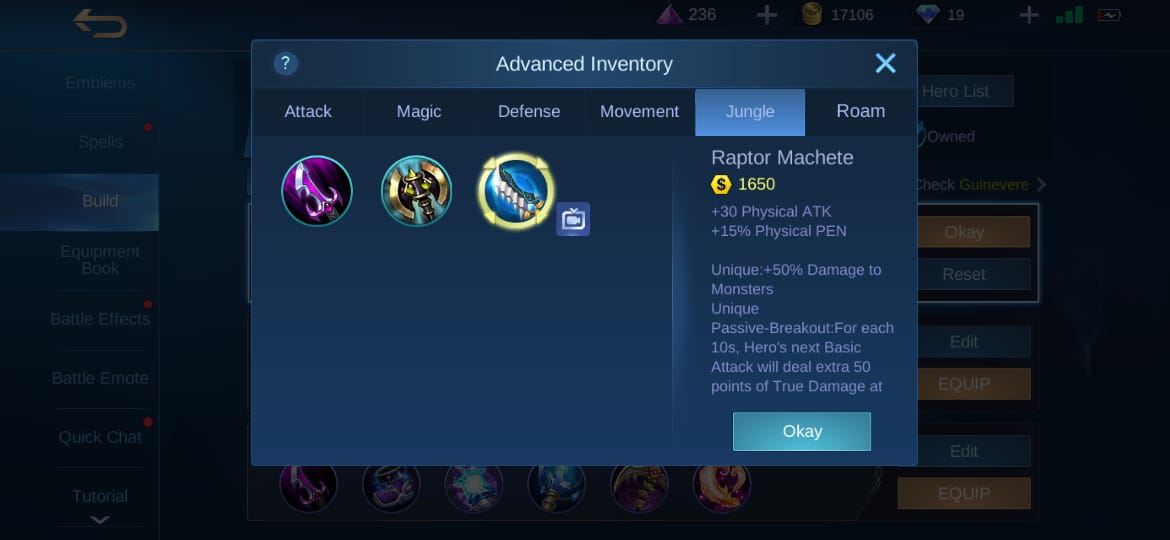 Raptor Machete is an item that is quite OP to get nerfed at season 17 Mobile Legends. This jungle item is often used by the hero core and each of the gameplay.
Because it is used too often so it makes other items collapse and is rarely used. Moonton provides 1 nerf which is quite a significant impact on the item.
Nerf on the Raptor Machete item is present in the Season 17 update of Mobile Legends Pacth Note 1.4.94 which was released a few days ago in Mobile Legends. In this update, the ML Raptor Machete item gets nerfed on a passive skill that deals True Damage for the wearer.
The true damage effect on Raptor Machete is changed to Physical Damage which of course will have an impact on the total damage it can release.
Moreover, the functions of True Damage and Physical Damage items are quite different. True Damage can attack the enemy directly regardless of the armor possessed by the opponent. But also Physical Damage will be blocked directly if the opponent uses Physical Defense items.
The Nerf Raptor Machete presented by Moonton in season 17 of Mobile Legends has a huge impact, especially for heroes who have brust damage skills like marksman. With that said, every marksman hero is now unable to take out True Damage to its full potential.
Raptor Machete Nerf Season 17 Mobile Legends Mobile Legends Patch Note 1.4.92
But take it easy. To overcome this, you can use some suitable build combos to cover it.
It is quite unfortunate if a marksman using Raptor Machete will lose a few percent of the true damage it generates. But you can outsmart it by using items such as Endless Battle which has an effect skill with high true damage.
By using Endless Battle, the effect on the enemy will remain the same, with maybe a slight reduction and replaced by a physical attack.
The latest nerf this time we think is quite right. Which is where meta in season 17 this time is controlled by several marksman heroes and almost all assassin heroes where, the use of the Raptor Machete item is very dominating.
The main purpose of nerf is so that the meta rotation of Mobile Legends can change so that not all assassin heroes get banned in season 17 of Mobile Legends.
ALSO READ:
So, that's the latest Mobile Legends update that gives nerf to one of Raptor Machete's jungle items in season 17 of Mobile Legends. Hopefully this nerf won't be a problem for other players in Mobile Legends. Don't forget to follow Esportsku (@ esports.ku) too! May be useful!