The corona pandemic since 2019 has made many changes in community activities. Campaign Stay at Home and Physical Distancing rampant nowadays. Many schools are closed and filled with online learning. The workers are also much in demand Work from Home. This causes more free time than usual.
Activities that are usually carried out outside the home are now eliminated. Many places that could potentially invite crowds were closed, including entertainment venues. So, you have to find entertainment at home, so you don't get bored all day long. Many applications provide premium services for free to their users. Not only applications for online learning, applications that provide entertainment also provide this free service. This is done as a form of knockouttheir contribution in fighting this COVID 19 pandemic.
One application that has contributed to making its premium service free is Video. Vidio itself is an application that provides content in the form of videos, such as films and documentaries. Let's see how to get Vidio premium service for free!
Vidio as an application that provides services in the form of stream video on-demand provides free premium service access for 14 days. You can access exclusive content ranging from original video series, the best local films, Korean, selected Hollywood films and educational content. This free-to-watch service for 14 days can only be accessed once by one user, valid from 4 April 2020 until the end of the month.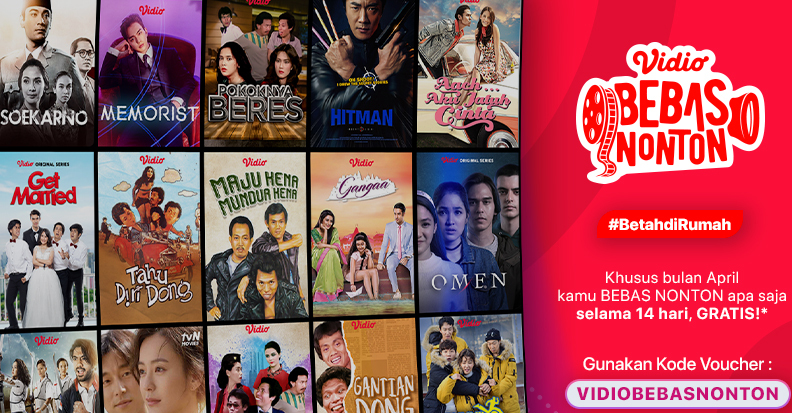 You can get the free watching service by redeeming the voucher VIDIOBEBASNONTON through the video application. Here are the steps to activate free watching on video:
Download and install the video application on your Android

Create a video account and log in using that account. You can use a Google or Facebook account

You will be asked to enter a phone number if you log in using a Google account

Enter the verification code sent via SMS to your phone number

Enter the menu

account

by selecting the icon in the lower right corner

Do it

upgrade to premier

on page

account

the

Choose an option

use

in the

Have a number code?

Enter the voucher code

VIDIOBEBASNONTON

to get free watching service for 14 days

Click on options

use

on the menu that appears

Now you can watch all the exclusive videos to your heart's content
Well, that's how to activate the free premium service in the Vidio application. It's easy, right guys. Have a good try!
Greetings technology!