Many people are worried about the condition of their own body temperature due to the corona pandemic that is currently spreading. Not a few also brought body temperature measuring devices which caused the price to soar. Not only that, the supply has become limited, so that interested people cannot get it easily. The high price of the thermometer made people look for other alternatives. One of them is using an application that measures body temperature on a smartphone.
As information has been widely circulated, the temperature of the body exposed to the corona is above 38 degrees Celsius. Of course, checking body temperature regularly can be one way to find out whether we are exposed or not. Therefore, the application of measuring body temperature on smart phones is widely discussed. The existence of this application allows everyone to measure their own body temperature regularly.
Messages circulating through social media such as Whatsapp say that the Body Temperature Diary application can be used to measure body temperature through the day fingerprint sensor. Is it true that this application can measure body temperature via a fingerprint sensor? The answer is NOT at all. Body Temperature Diary itself is an application that provides a daily log of the user's body temperature and presents the data in a structured manner through graphs and diagrams.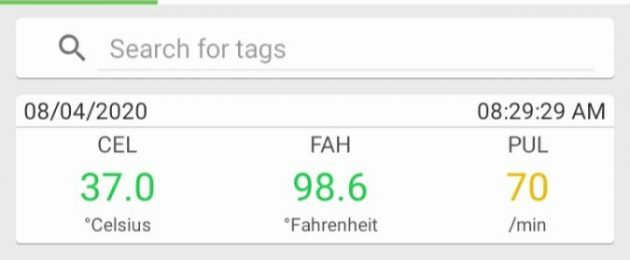 You have to manually input the body temperature that you get from the measurement results using thermometer. So you still have to have a thermometer guys. Then how do you use this Body Temperature Diary application? Let's look at the following steps:
Download and install the Body Temperature Diary application on your Android

Measure your temperature manually, then enter the data into the application. The way to enter the data is by selecting the icon

+

on home

Enter the previous body temperature measurement by swiping

slider

in the Celsius section which is commonly used in Indonesia. You can also add pulse notes in the options

pulse

You can also add a tag in the form of the body temperature measurement time

Analyze body temperature from the entered data by tapping the option

Analyze

to find out your health condition. You can see the diagram given to see the development of your daily body temperature

You can install a reminder to measure the temperature regularly every day. The trick is to select the + icon and select an option

Calendar
So, that's how to use the Body Temperature Diary application, right guys. So it cannot be used to measure body temperature through the fingerprint sensor. Don't get consumed by hoaxes circulating in WhatsApp groups. Good luck guys!
Greetings technology!