Know How to Play on the Discovery Music Free Fire (FF) Web Event, this is one of the biggest events currently present. Later you will definitely get a lot of profit, if you take part in the event.
The Discovery Music Web Event is indeed quite special and of course not to be missed by the players. Because there are also some attractive prizes, so we can get them in this latest event later.
Make sure all of you also have to be ready immediately, along with some of the latest things such as How to Get Trumpet Free Fire Tokens. With this presence, the benefits of the players can be even more pronounced.
Besides that, there are still a variety of new things that you might try with all of you. For example, the Bermuda Remastered Free Fire Quiz Event, it can still be tried until now and the present is still there.
But for How to Play on the Web Event Discovery Music Free Fire (FF) now, it's easy and we will provide detailed information. Check out the explanation directly, in the article below.
How to Play on the Web Event Discovery Music Free Fire (FF)
So for now we do have a Web Event called Discovery Music. Yup here we will do Spin, where the prize will be determined from the total% you get too of course.
In this event we can indeed do Spin according to choice, yes, but in full, this latest event is included in the free phase. This is of course beneficial, for all players in the game too.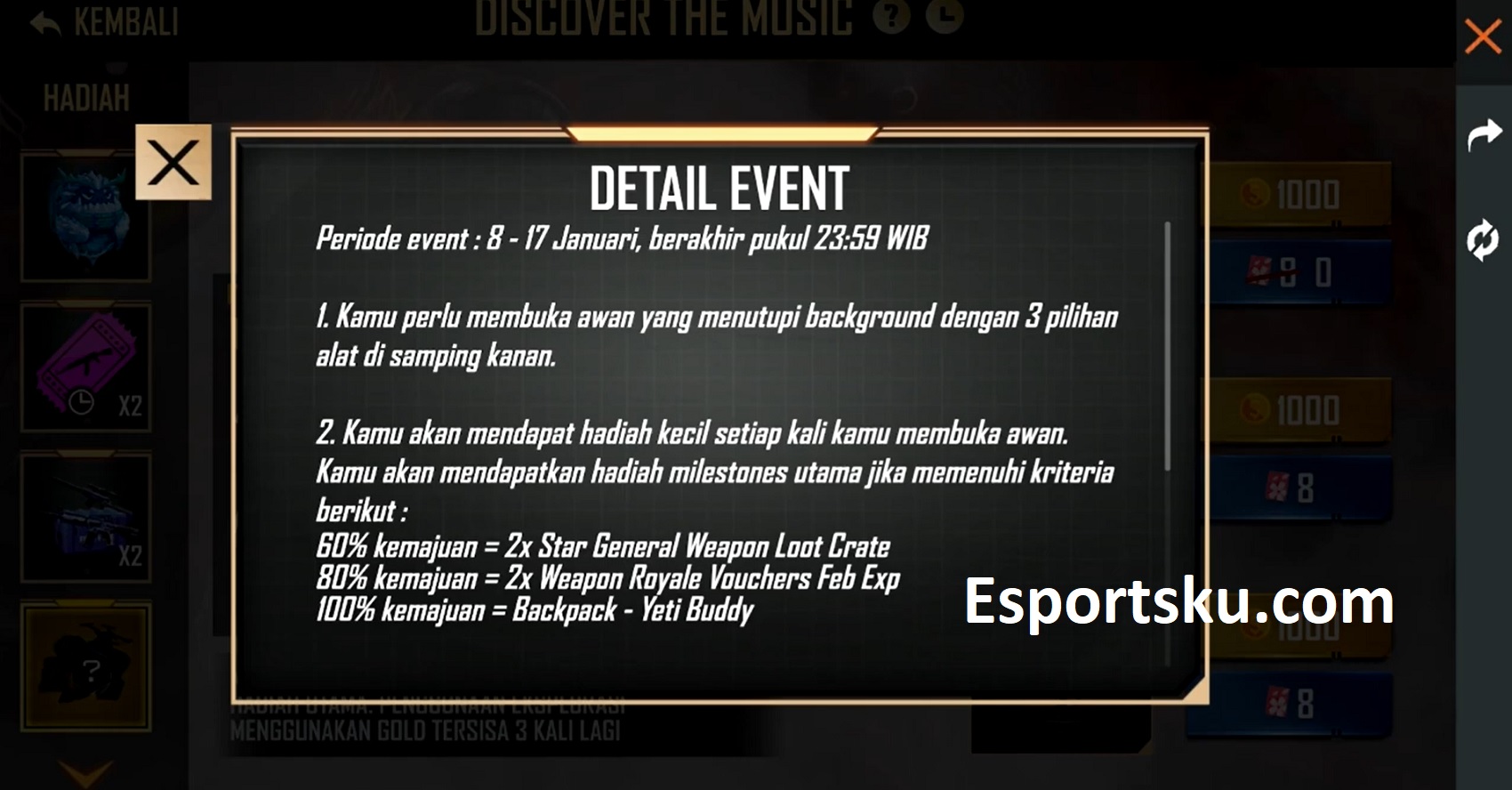 When you want to get all the prizes that are present at this event, then we have to make the total target 100%. Later here you have to use the Sakura Pink Card Token to do the Spin that has been determined, huh.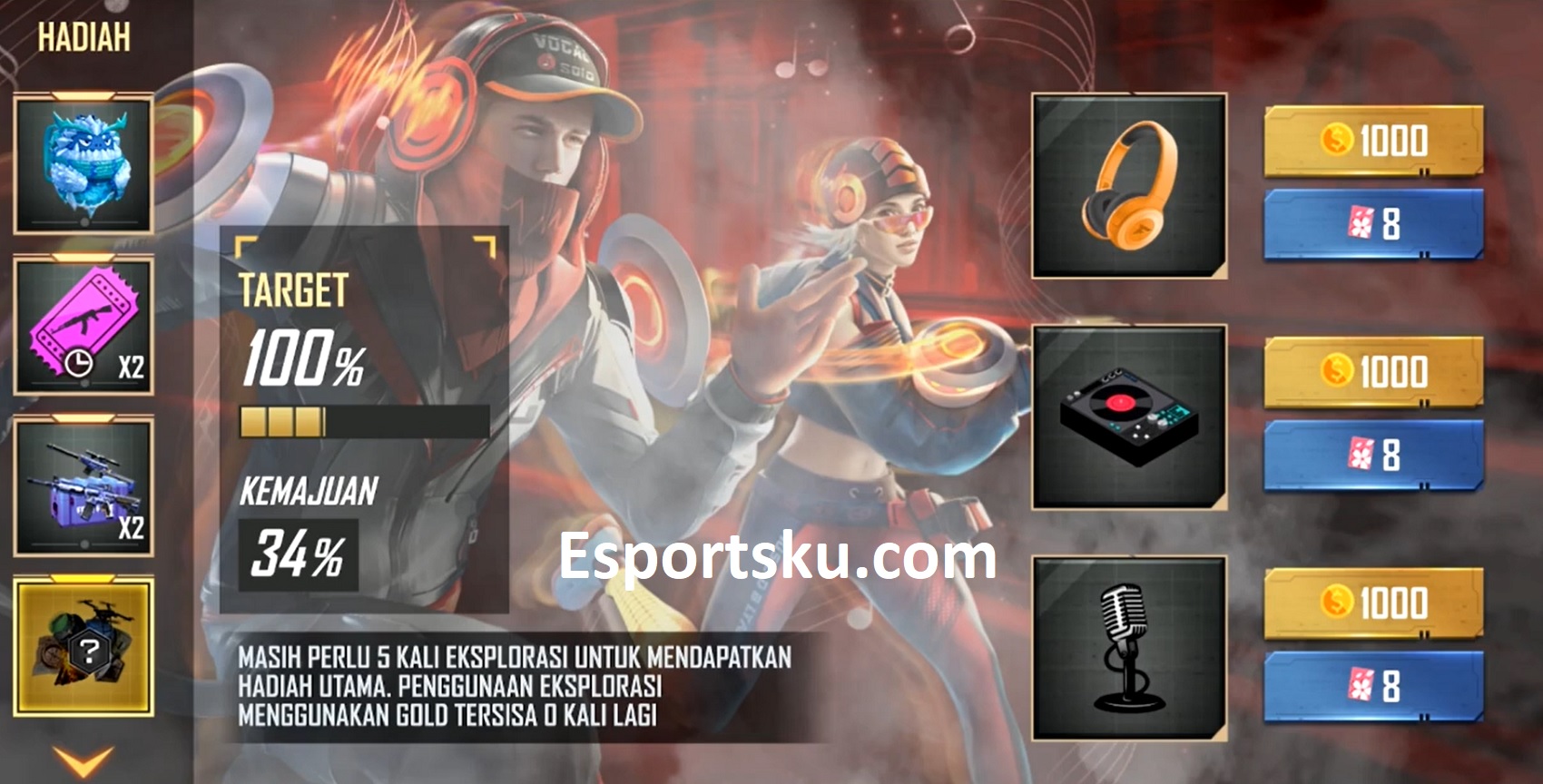 When the Spin we do is getting faster, the closer you will get to the main prize of the Yeti Skin Backpack. The following is the Total Spin you can do, in the latest event right now.
Here there are a total of up to 3 Spin options, each of which has 2 Spin options as well. First you can use Gold and secondly you can use the Sakura Pink Card Token.
Spin using Gold we can only do 3 times, later the total% we can get is random. Even you guys, can immediately get 100% if you are lucky.
If you want to get all these prizes, then you really have to be able to diligently collect Sakura Pink Card Tokens too.
There are free spins in this event, but only 1% has been made to play the 100% target.
This latest event is indeed quite interesting for us to try, of course it will provide an opportunity for the players to get them a pretty cool Skin Backpack.
Discovery Music will run from January 8 to 17, 2021. Don't miss this event, especially if you already know how to play it too.
Also Read: FF New Things On January 1, 2021 Free Fire (FF)
Also Read: How to get Deathbox Winterland Free Fire (FF)
Also Read: 5 Bermuda Remastered 2.0 Free Fire (FF) Looting Locations
Also Read: Yokai and Collosus Bundles are in Magic Shop Free Fire (FF)
After seeing How to Play on the Discovery Music Free Fire (FF) Web Event, maybe you will be a little helped by this. So don't forget, to always monitor information and methods in this Free Fire game.
Especially you will also attend the Free Fire x One Punch Man Challenge Event which is ready for full release soon. That way, there are many other free gifts for you to get.
---
There is always a lot of new information about the Free Fire game from my Instagram Esports now. So don't forget to follow directly, so you don't miss a variety of other interesting things too. Moreover, knowing the new event information, it will definitely help you to play the Free Fire game later too.