And now we have some information on how to play in Fire punch event in Free Fire. This is one of the event with many prizes waiting for you to claim. So don't miss the chance to participate in this event before the event is eventually over.
Free Fire is a really popular battle royale game with millions of active players worldwide. In this game, there are many events in Free Fire that you can participate together with your friends online. If you manage to participate in every event in the game, you will have the chance to get many interesting prizes to claim later on.
So always try to participate in every event in the game, because there are many event options that you can choose every time. Usually, collaboration event offers you more prizes than any normal event. But normal events can also give you some interesting prizes in it. So be sure to participate!
We also have some tips on how to register to the upcoming Free Fire advanced server 2021 that you can check out here.
How to Play in Fire Punch Event in
Free Fire (FF)
If you want to know how to participate in this fire punch event in Free Fire, it is actually quite easy to do. Because practically, all you have to do is to collect the Saitama token. This token will be useful for you to punch the enemy in the event.
In this event, you will have a mission to punch your enemy. As you punch your enemy in this event mission, you will get many different prizes. Make sure to complete every level in the game to get all the prizes.
For example, if you're in level one. Make sure that you get all the prize to move on to the next level. You will need those tokens to increase the chance of getting a prizes.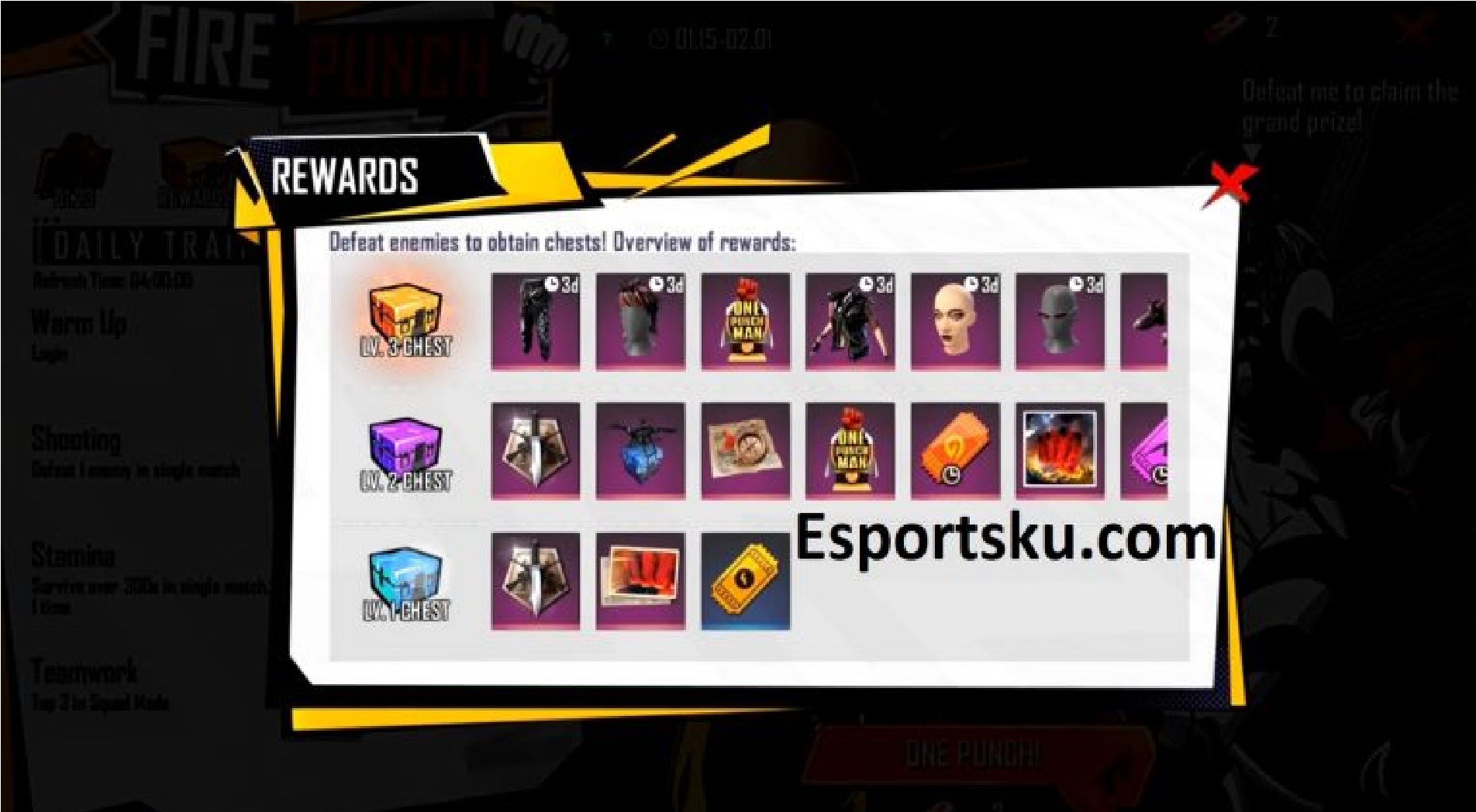 From this event looks like, you're gonna have to complete 4 missions and collect the right amount of Saitama token in Free Fire.
Login to the game
Kill an enemy 1 time
Survive for 300 seconds
Reach rank 3 in squad battle royale mode
This missions will reset every 4AM in the morning. So make sure that you are capable of finishing those missions in one day. Because in every level, there are many prizes that is waiting for you to claim and own it later on.
And that's some information on how to play in Fire Punch event in Free Fire that you need to know. Be sure to follow esportsku on Instagram for more tips to come!