Find out how to get the Black Rose Rocker Hallowins Free Fire FF Bundle now. That way, we will be even better, so we can get attractive prizes to try. Especially there are many other new things that appear in this Free Fire game. Just focus first on whatever things are in the Free Fire game now, you will definitely be lucky later.
Especially we also shouldn't miss some other important things, if there is a new event being presented in the Free Fire game. For example, yesterday we attended the Booyah Day Event, but for now it has been replaced. Even though it has been replaced, the excitement when playing can still be felt quite well, of course, yes.
Especially if it has been replaced, it means that there is a new event with much better content. Check out this explanation directly, in the article below.
How to get the Black Rose Rocker Hallowins Free Fire bundle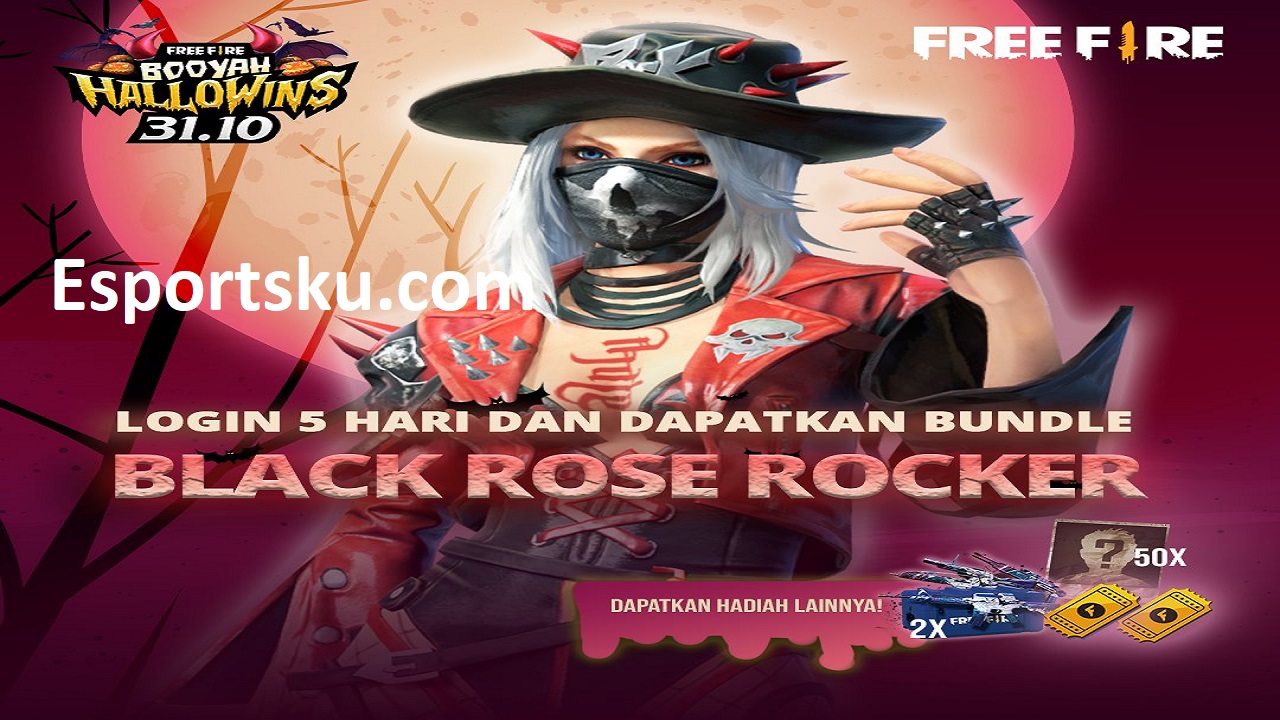 The presence of many new events will make players better and this will add to their enthusiasm as well. Moreover, from all these things too, we can find out some other interesting things where the Black Rose Rocket Bundle is one of the new items and now you can get it by completing existing missions.
The mission at this event is also fairly easy, yesterday we certainly know isn't the Thriller Killer Bundle Free Fire Login Event? well it turns out that this is the real name of the bundle. Where the Black Rose Rocker is now set directly. So you only need to log in for 5 consecutive days, then you will be able to have this prize later.
Do not let the login holes in, because if you miss it then this opportunity will be wasted. Therefore, don't forget to be able to take part in the latest events like this. Because it can be said yes if for example This is one of the most solid events to start with. Just the front and not yet on Peak Day, maybe it is more festive.
Not Too Difficult?
The prizes on this mission are not too difficult for us to complete. Because you can say you only need to log in, then there are also prizes such as 2 Gold Royale Tickets and Universal Fragment. After that you get another prize such as the Weapon Loot Crate Free Fire, and there is the main prize for the bundle if you log in 5 days.
Just follow what new things are present in the Free Fire game right now. That way, our advantage in playing the game will be even better and should not be missed. Especially from this prize, it must be one of the items that will be Limited in the Free Fire game in the future and you won't be able to get it again later.
Even so for the next new update as well, there will definitely be an opportunity to have a bundle like this in the new event.
If you participate in an event, you must know that usually it presents missions as well. Now understand first that there are still many New Hallowins Damage Events Free Fire that can be used later. That way, we will benefit from playing too, will be better and can have an interesting opportunity to get all the prizes.
---
Oh yes, all of you too, don't forget to Follow Us on my Esports Instagram. So that you know the updates – updates to the Free Fire game and others.