Currently, you can find out how to get the Missy Sweetheart Free Fire FF Bundle. Of course this is one of the newest items presented by Garena, in the Free Fire game from the update that had appeared at that time.
Don't you miss an event like this, because what we also know is that this Missy Sweetheart Bundle is indeed quite interesting. Of course, don't miss it, because this is an interesting bundle.
We should also be able to know, if there is currently an OB26 Free Fire Update, which is indeed quite interesting. In fact, all this new information, the features that appear in the update are pretty good.
Besides that, you also have to prepare for the Free Fire x MTP Collaboration, from here there are many advantages that you can get. Where is the total in the prize too, it is indeed quite a huge total for us to get.
Then also follow How to Get the Missy Sweetheart Free Fire FF Bundle now. Listen to the explanation directly, in the article below.
How to Get Missy Sweetheart Free Fire FF Bundle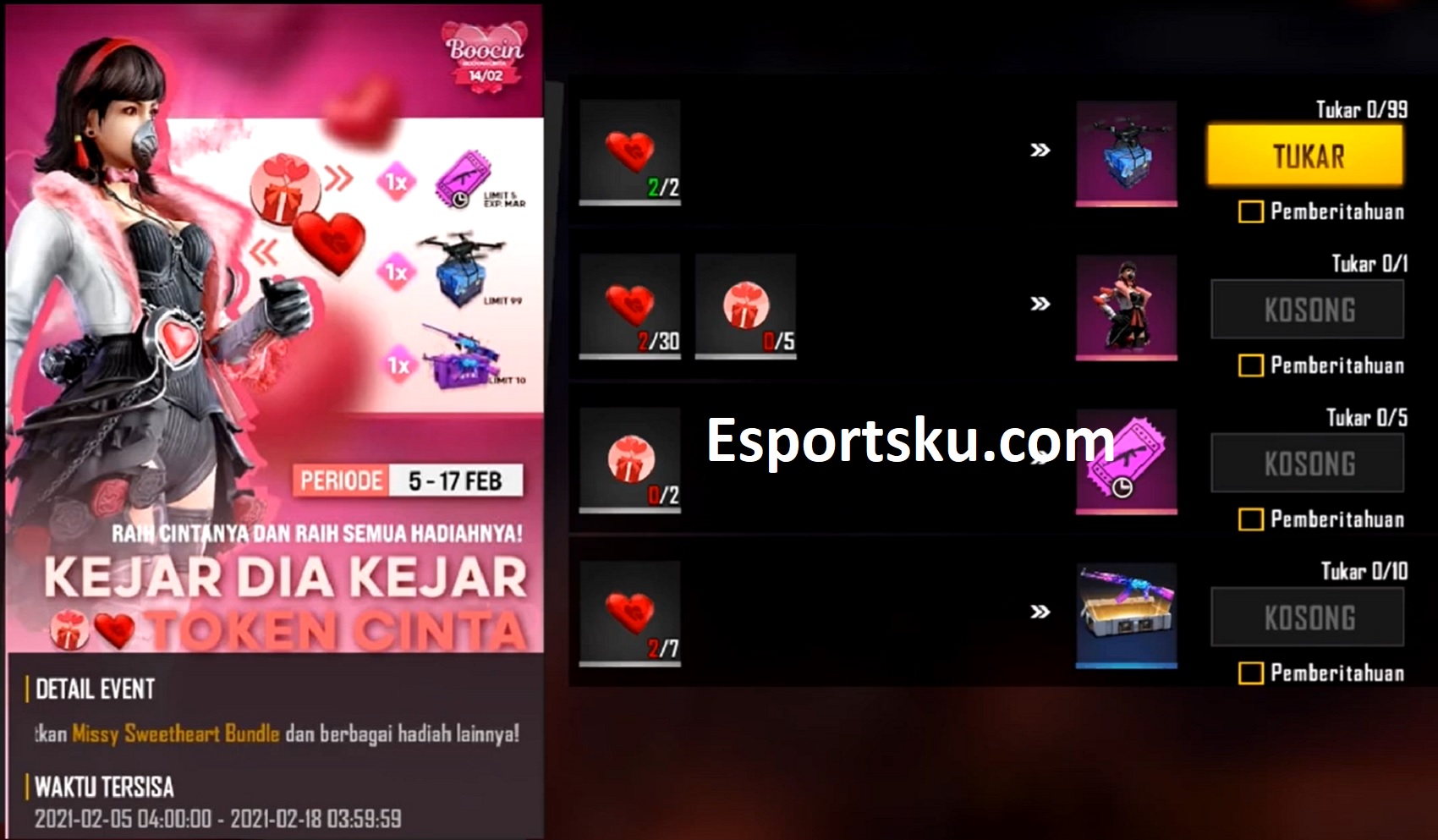 There are quite a lot of new bundles in the Free Fire game right now, and you shouldn't miss all the new things from this Missy Sweetheart Bundle. Because the appearance that was given was also very interesting.
We knew yesterday, right, that there is a Free Fire Valentine Girl Bundle. Now this is a new event, where you have to take part in the Valentine Free Fire Event Schedule.
That way you shouldn't ignore all of these events, because what Garena presents is the easiest event to do right now. Because later, you only need to collect Tokens to get the bundle too.
The Love Flow token is an important thing for us to get, so that later this new bundle can be obtained by all of you. Don't you guys ignore the newest bundle which is really cool right now?
Here's How to Get the Missy Sweetheart Free Fire (FF) Bundle:
Enter the Free Fire game Event tab, then you select the Booyah Cinta section.
Those of you who are already in the position of this event, then go ahead and select the Valentine Exchange section.
Later in that section you will see the exchange of Tokens, so they can be exchanged for cool prizes that are present here.
To get this bundle, you must prepare 30 Love Flow Tokens and 5 Love Gift Tokens.
The bundle, which we can exchange, will immediately enter the Free Fire Vault game.
Using this bundle, your appearance will be cooler than before.
For this reason, Kado Cinta Tokens are also important, don't let you miss this latest event. Since the bundle will be a limited item, it may appear that it will take longer.
Make sure that the current bundle event is present, you can already find out how to get it too.
Also Read: Strengths And Weaknesses Of SPAS12 With M1014 Free Fire (FF)
Also Read: Skin Surfboard FF At Shop Free Fire x One Punch Man
Also Read: Bocoran FF Theme Elite Pass Season 34 Free Fire
Also Read: How to Get Free Fire (FF) Latest Love Gift Tokens
Don't forget how to get the Missy Sweetheart Free Fire FF Bundle, so that later your female characters can be cooler using this latest bundle. Because what Garena presents is indeed a quite special Bundle.
Besides that, we can find out another thing, where the Free Fire Cowo Valentine Bundle is ready to be presented. We just need to wait for the appearance of the bundle, a few days later after this it has been dated February 10.
---
We can find out a lot of new information from the Free Fire game, by keeping up with this update. Just follow it right away, Instagram Esportsku so you don't miss a variety of new update information from this Free Fire game.