The games that are present on Android have reached quite a lot in total, in the future there are definitely more interesting and exciting games to try later. For example, if you want to try a game that is quite good and very challenging, of course you can immediately play the Free Fire game right now. Well, this time there is a way to get token fortune ice cream free fire that you have to follow
As we all know the Free Fire game is one of the best on Android, this game has also been played by many people from all over the world. Yesterday, the Free Fire game has received the latest June Update which is very cool.
With the presence of such an update, you will definitely never be bored again, to turn off the current Free Fire game. Yesterday we all had a new character named Wolfrahh, his ability is very deadly to use later.
Not only that, because Garena will also not forget the event in this game. In June 2020 alone, we all attend the Beach Party Free Fire Event which is quite cool. Where in this event, there are many cool prizes that can be obtained.
We are currently having a Fortune Ice Cream Event, where we all have to collect Ice Cream Tokens so that they can be used to exchange prizes. On this occasion, we will provide the information. Curious? Listen to this article.
Also Read: Treasure Map Location Day 8 Free Fire Elite Pass 25 Bermuda FF
How to Get Free Fire Ice Cream Tokens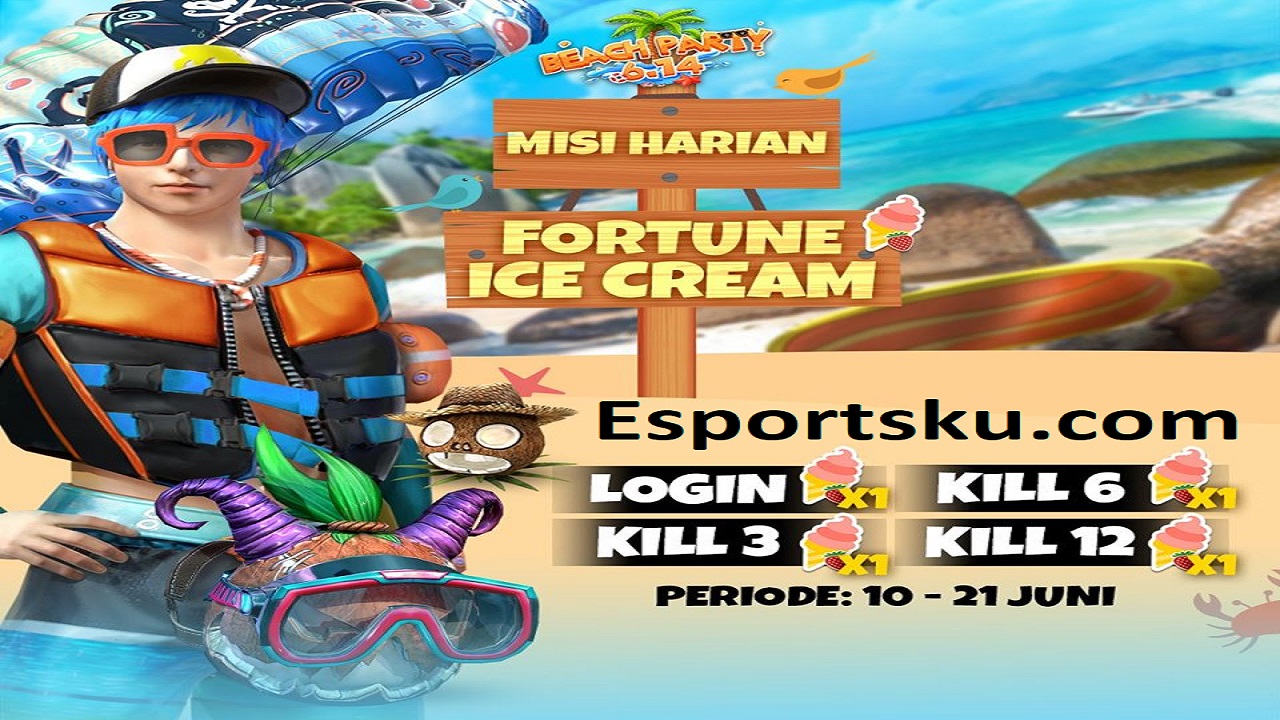 This Ice Cream free fire token is indeed one of the first keys, so that you can get lots of prizes at this event. Of course, with the presence of this new event, all of you will definitely never get bored playing the Free Fire game.
Because in the future, Garena will also provide many new things so that the Free Fire game will be even better. That way, all of you will definitely never be bored. At this Fortune Ice Cream event, we can get cool prizes that are very interesting.
But before that too, if you want to get these prizes, you must have Ice Cream Tokens first. So we will also explain how to get these Tokens, so that later cool prizes can be obtained quickly and easily.
Also Read: 5 Unique Facts about the Origins of Free Fire, from Potatoes to the Popular FF!
To get this Token, you must complete the mission given by Garena. Where all these missions are quite easy to complete, so that those whose names get cool prizes can definitely be achieved.
Ice Cream Event Missions
The following is some information about the mission of the event.
Login 1 time: 1 token
Kill 3 Enemies: 1 Token
Kill 6 Enemies: 1 Token
Kill 12 Enemies: 1 Token
It is also said that you can complete the mission of this ongoing event every day. Even though that is still an estimate, but later the main prize at this event can be obtained quickly. Can be counted clearly, 1 day you can get 4 tokens.
This event lasts for 11 days, so the total Token you can get is 44 Ice Cream Tokens. By having a lot of total tokens, surely all of you will not miss the 1 cool gift that is being presented today.
Also Read: Leaked the Latest Purple Graffiti Bundle for Free Fire with FF Top Up?
The events that come to the Free Fire game are indeed quite good, so that we all will not be bored to play later. In the future, there are still many new events, so that players who are still playing do not get bored quickly.
That's it, Thank You and Greetings, Booyah.