Free fire players certainly don't get bored playing the ff game. This is because Garena Free Fire itself always holds interesting events that you can find. At this time there is a golden dragon event that gives you attractive prizes for free and most importantly the prize is permanent in the free fire game. Then, how do you get this free fire FF Golden Dragon parachute called draconic invasion?
Free fire players can enjoy the golden dragon free fire event until January 20, 2020. Besides that, you can also play the latest fatal blade free fire mode which you can try playing with your friends. The fatal blade mode requires you to kill a samurai boss who can get a drop box for you to exchange for free ff fatal blade mask.
Besides you can play this mode at the golden dragon event, you will get other interesting prizes such as the dragon parachute given by Garena Free Fire. Then, how do you get the FF Golden Dragon's Dragon Parachute?
Get the New Free Fire Draconic Invansion Parachute
The players at this time were greeted by a booby m14 weapon that you can get when you log in for the first time at this golden ff event. The booyah m14 skin itself will add 2 points of accuracy to you. So you can control the bullets free fire for you to hit the target well.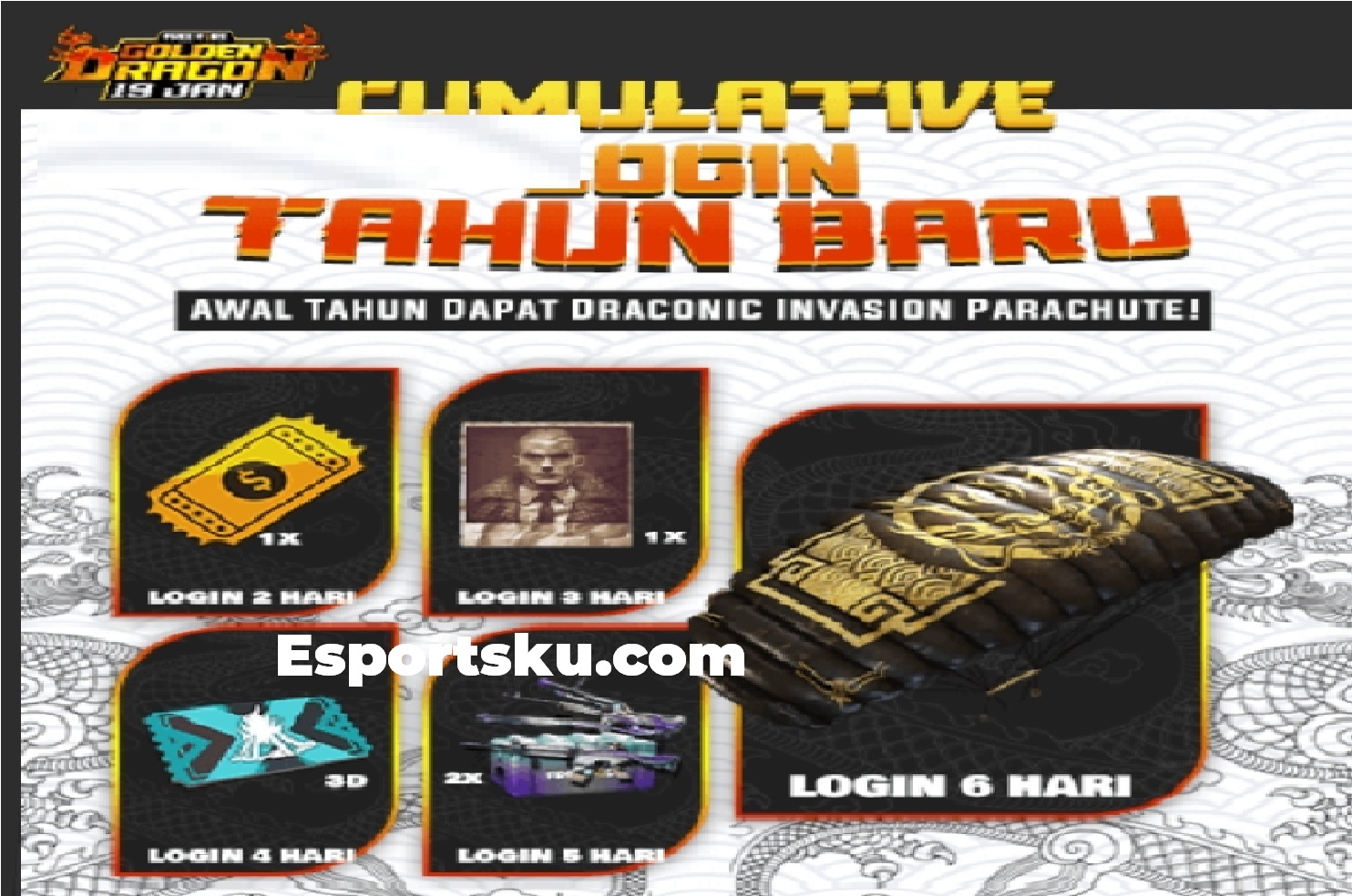 Not only that, after logging in for the first time, free fire players, both beginners and pros, would also be greeted with an interesting event. You can get attractive prizes that you can get just by logging in.
Then how to get a Free Fire Dragon Parachute is that players who complete the mission will get attractive prizes. Like weapon royale tickets and weapon boxes, you can get good weapon skins. In addition, if you have completed all of the missions you will get a free fire Dragon Parachute FF Golden Dragon called draconic invasion.
How to Get FF Golden Dragon's Parachute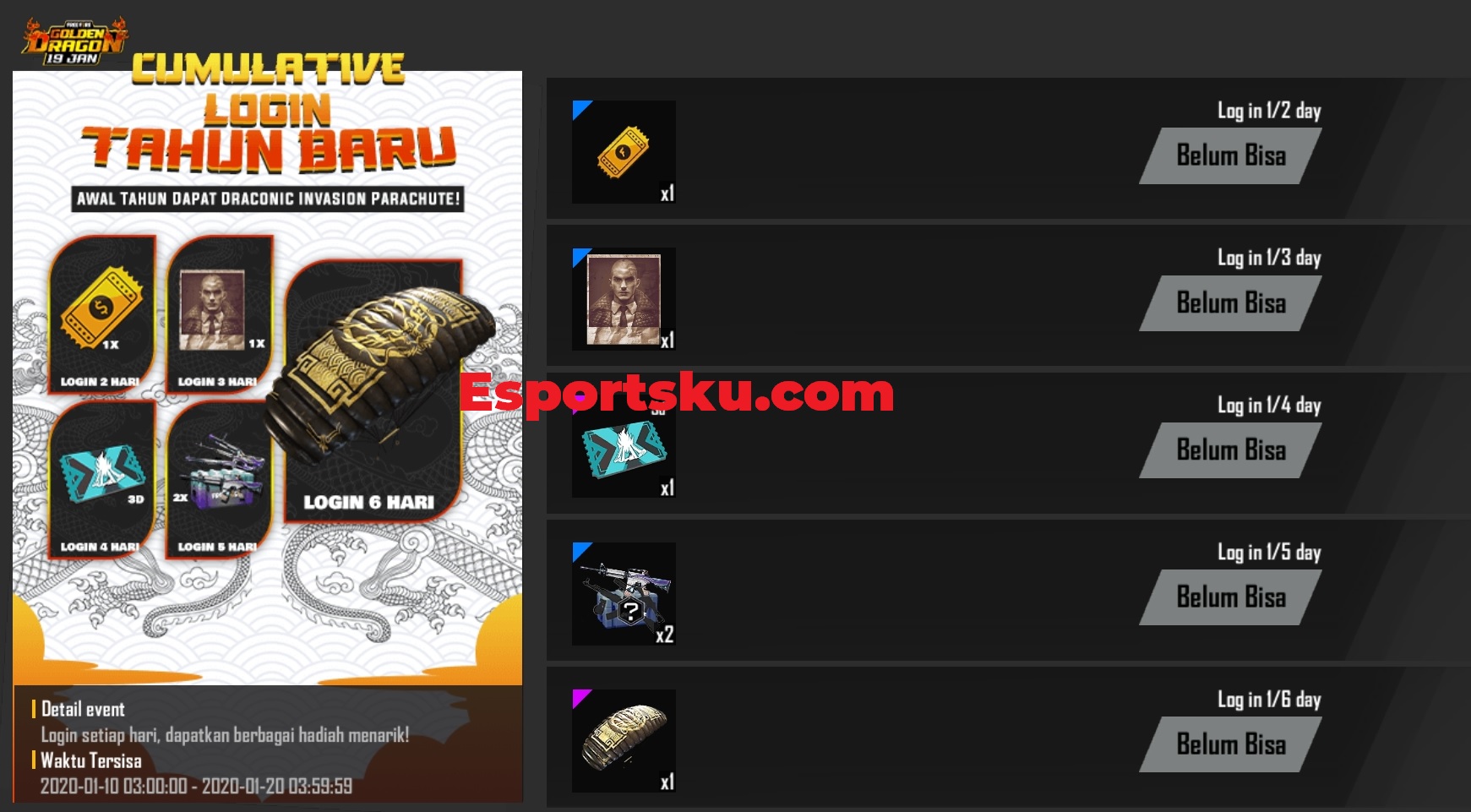 The first step on How to Get Free Fire Dragon Parachutes is that you can immediately check the free fire event tab on golden dragon ff. There you just have to choose cumulative free fire login. Well, after that you will see a menu that shows a mission for you to complete. After all, this mission is fairly easy for practical ff players.
Also Read: How to Get a New Free Fire Gloo Wall Skin
You are only told to log in on the days of this free fire event. Players can log in to take the prizes available on the mission.
Then for How to Get a Dragon FF Parachute, if you have logged in on the second day, you will get a gold royale ff ticket, then on the third day you will also get attractive prizes. On the fifth day you log in, you will be able to get a weapon box for you to use. And on the sixth day or the last day you can get the FF Golden Dragon Parachute. The dragon parachute is called the draconic invasion free fire parachute.
So, you have to take part in this event and log in every day so you can get all the attractive prizes at this free fire event. Always make sure to log in for each day. Greetings, Booyah
That's how you can get the FF Golden Dragon parachute free fire that you can do. the golden dragon free fire event will be presented until January 20. Enjoy this ff event, make sure you log in every day!