This is How to Complete the EP Mission 32 Week 2 Free Fire (FF), if we know the fast way it will definitely be easier than before too. Because of this, some were confused and curious about how to complete the mission.
Of course, if we complete the missions that are present in this Elite Pass, surely this will give a badge that is quite profitable. So with that, you really have to prepare with this mission as well.
Moreover, there are still some interesting things that we can indeed try when playing the Free Fire game now. Especially you can complete this mission too, along with How to Get Trumpet Free Fire Tokens.
Surely that way the 2 missions will be completed immediately, so that you will be able to complete the Mission from the Elite Pass. Don't forget to complete the Elite Pass Season 32 Week 1 Mission, so you can get Badgen prizes too.
Especially from the information on How to Complete the EP 32 Week 2 Free Fire (FF) Mission, we will help you with this. Listen to all of these explanations, in the article below.
How to Complete the EP Mission 32 Week 2 Free Fire (FF)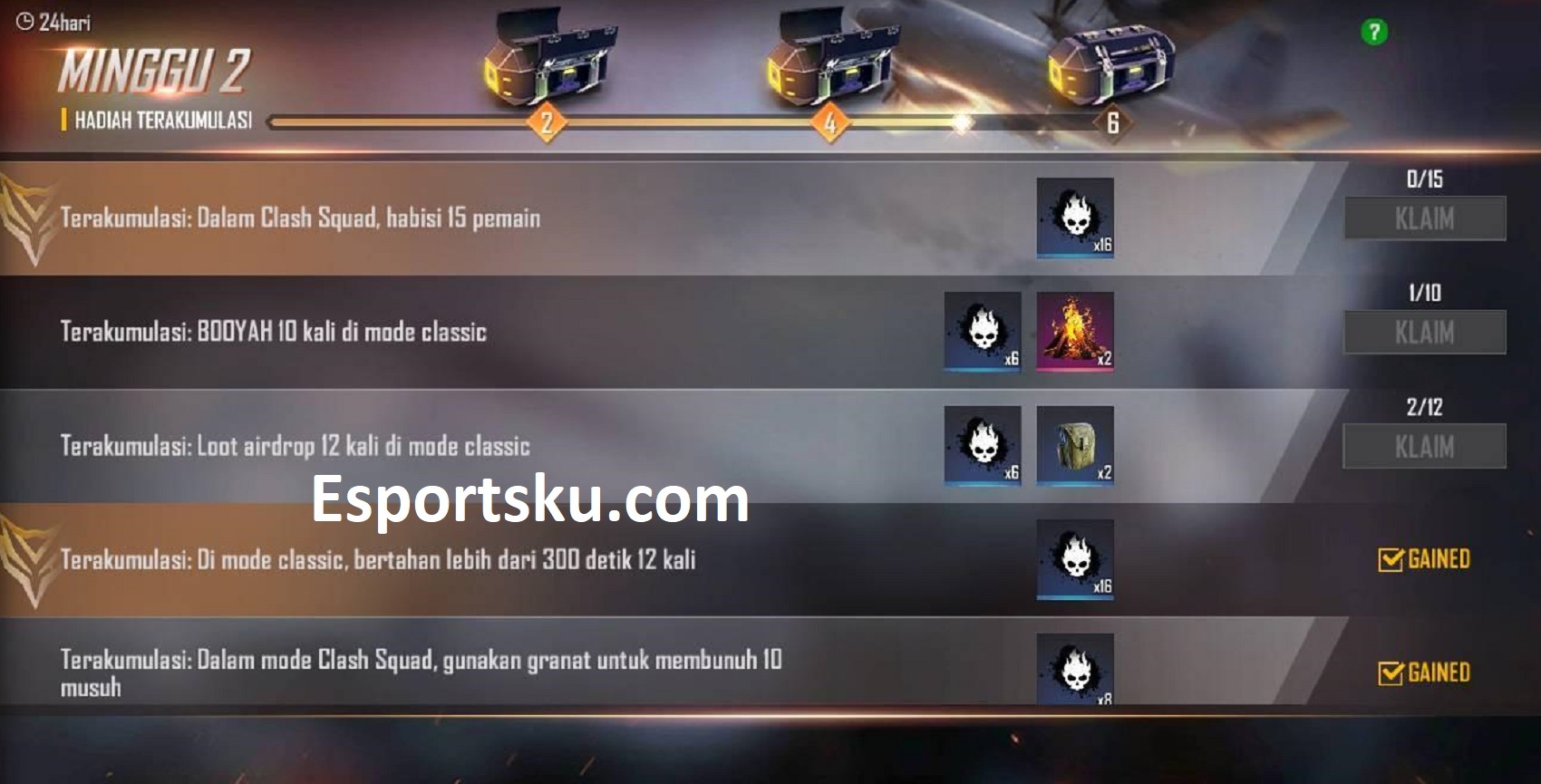 The missions that are present on Week 2 of Elite Pass Season 32, there are quite a lot of total badges. Of course, from there, you will be able to get a decent reward from here if you follow the mission as well.
Now one of the missions that are present now, we must be able to Kill 15 enemies in Clash Squad Mode. The mission is indeed very easy for us to complete in just 1 day.
But if you have a messy team or a kill trashman, surely the way to complete this mission will be very long. It turns out that there is a way, to be able to make the mission easy and quickly complete.
Here we will help you, to be able to complete the mission without any ties and difficulties at all right now.
You must be able to play with friends, because this is quite important for us to do. The problem is what we also know, if this latest mission requires quite a lot of kills. Avoid the Player Random Kill trashman, then mabar is an option.
Use your flagship weapon when playing in this mode, because what we know from here can help you play. Defeating the enemies, it will be easy if you use your own flagship weapon.
You can immediately knock the enemy out or lose quickly, when you knock the enemy out, just end him. The problem is that this will avoid the chance that he will be hit by Revive, and then his team mates get littered.
Try to be able to kill 4 enemies in each round. So if you kill 4 enemies in 1 Round, then there are 4 Points that can be obtained. Now this round only reaches 4, meaning there are 16 Kill Points and can make this mission complete immediately.
By knowing things like this, then you will also get quite a lot of benefits in completing the mission. Make sure we also don't miss, all the latest things from the mission that are present today.
The thing is, from all of that, you will indeed get a fast level from the latest Elite Pass right now.
After knowing how to complete the EP Mission 32 Week 2 Free Fire (FF), then you will get a big profit from all of it. Where players can level up faster on the upcoming Elite Pass.
Then don't forget that there is a Way to Get Free Fire Elite Pass now. Where it will make you have lots of prizes for free by trying this way later.
---
Right now, we have to follow my Esports Instagram, so that no one can overlook all the new information and updates from the Free Fire game.