Hagen Dark Nest is one of the most difficult dungeons to complete in World of Dragon Nest. We have several Ways to Clear Hagen Dungeon in World of Dragon Nest. Even though Hagen Dark Nest is a difficult dugeon, if you follow the steps below it might be able to finish quickly.
As we know, to enter this dungeon you must have a minimum level of 25 and must open Time & Space found on the World map> Saints Havem> Move> Time & Space.
The gifts given by Haden Dark Nest are quite large and have a fairly expensive price. Therefore many players are eyeing this Dungeon.
The prize is indeed proportional to the difficulties that players go through, especially for solo players. Therefore, see Tips for Completing the Hagen Dungeon in World of Dragon Nest.
How to Clear Hagen Dungeon in World of Dragon Nest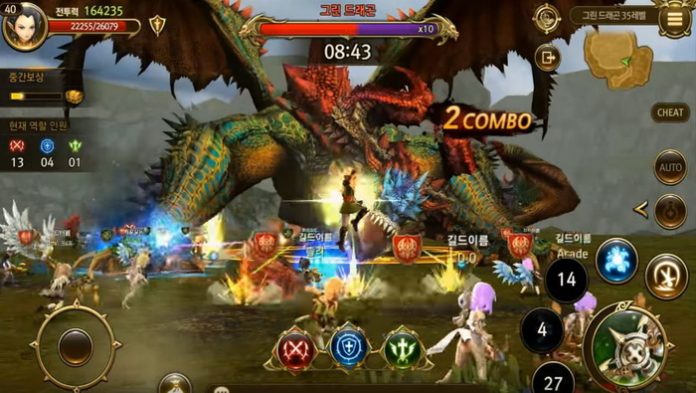 The way to complete the main Hagen Dungeon is to prepare dodge skill first. This skill allows you to dodge faster than the ultimate attack of every boss.
In the Hagen Dark Nest Dungeon there is a very troublesome boss by issuing a special skill that is quite painful when it hits you.
To defeat the Hagen Dungeon, you must go through several stages and then complete them.
Fight against the Exile of Paradise Fighter
To defeat the Exile of Paradse Fihter, you don't need to dodge skills. You can just attack him as usual.
The first stage is not a difficult enemy, you can easily beat it.
Against the Heat Gate Monster
The way to complete the Hagen Dungeon you have to fight the Heat Gate Monster has 10 blood bars, so here you are obliged to use the dodge skill.
Pay attention when the Heat Gate Monster will attack 1 player and will only issue its skills in one direction only. So in this position you have to be behind the monster
Use the best possible formation and attack the enemy on his guard. Perform attacks repeatedly and you will easily defeat the Heat Gate Monster.
How to Clear Hagen Dungeon Against Hagen
Unlike the other enemies. Here you are obliged using the Dogde skill. Hagen has 10 hp bars and he will attack with a short distance.
This is the best way to complete the Hagen Dungeon in our opinion.
For those of you who are a class archer or sorceress you can keep your distance from his attacks, but for a fighter you need to pay attention to the ax from the hagen.
Take advantage of attacks when he has issued his ultimate. Avoid attacks with dogde and then counterattack. Do it this way over and over, until then you beat him.
How to Clear the Last Hagen Dungeon Against Hangen Anger
The way to complete the last Hagen Dungeon is to fight Hangen Anger. Hangen anger only attacks in one direction. How to Complete the Hagen Dungeon You have to take advantage of the gap when he attacks your party mates.
Also make sure when the 6th bar runs out, at this time you have to stay away from Hangen Anger. Because at this time he will issue his ultimate skill.
See also the red wave which is the distance from the skill, so you can easily avoid it.
Avoid continuing to attack the enemy while striking back and you will beat him.
So, those are the tips for completing the Hagen Dark Nest Dungeon in World of Dragon Nest. Hopefully these tips are useful, and don't forget to give your resistance and finish the busiest dungeon!