The number of skins in the Mobile Legends game itself is very large because it exceeds the number of heroes. Mobile Legends skins are divided into several categories, namely normal, elite, Special, Epic, Epic Limited, and Legends skins which are the top skin categories. This is how much the Skin Lucky Box costs if purchased using Diamond in Mobile Legends.
There are skins that you can get by buying them through the shop and there are also skins that you cannot get through the shop. For the limited skin category, of course, you can only get it when the skin event is still going on.
Examples of Epic Limited skins are skins sold at the Lucky Box Event and certain events such as the King of Fighter Event and Hero Events such as Bruno's super hero-themed skin, Fire Bolt. We are here to discuss about the Lucky Box Mobile Legends skin. How many diamonds?
On this occasion we will provide an explanation of the Lucky Box Mobile Legends skin How much is Diamond? For those of you who are curious and want to know the price or estimate of the number of diamonds needed to get the Epic Limited skin at the Lucky Box Mobile Legends event, let's just take a look at the full explanation below properly and correctly!
Skin Lucky Box Mobile Legends How Much Diamond?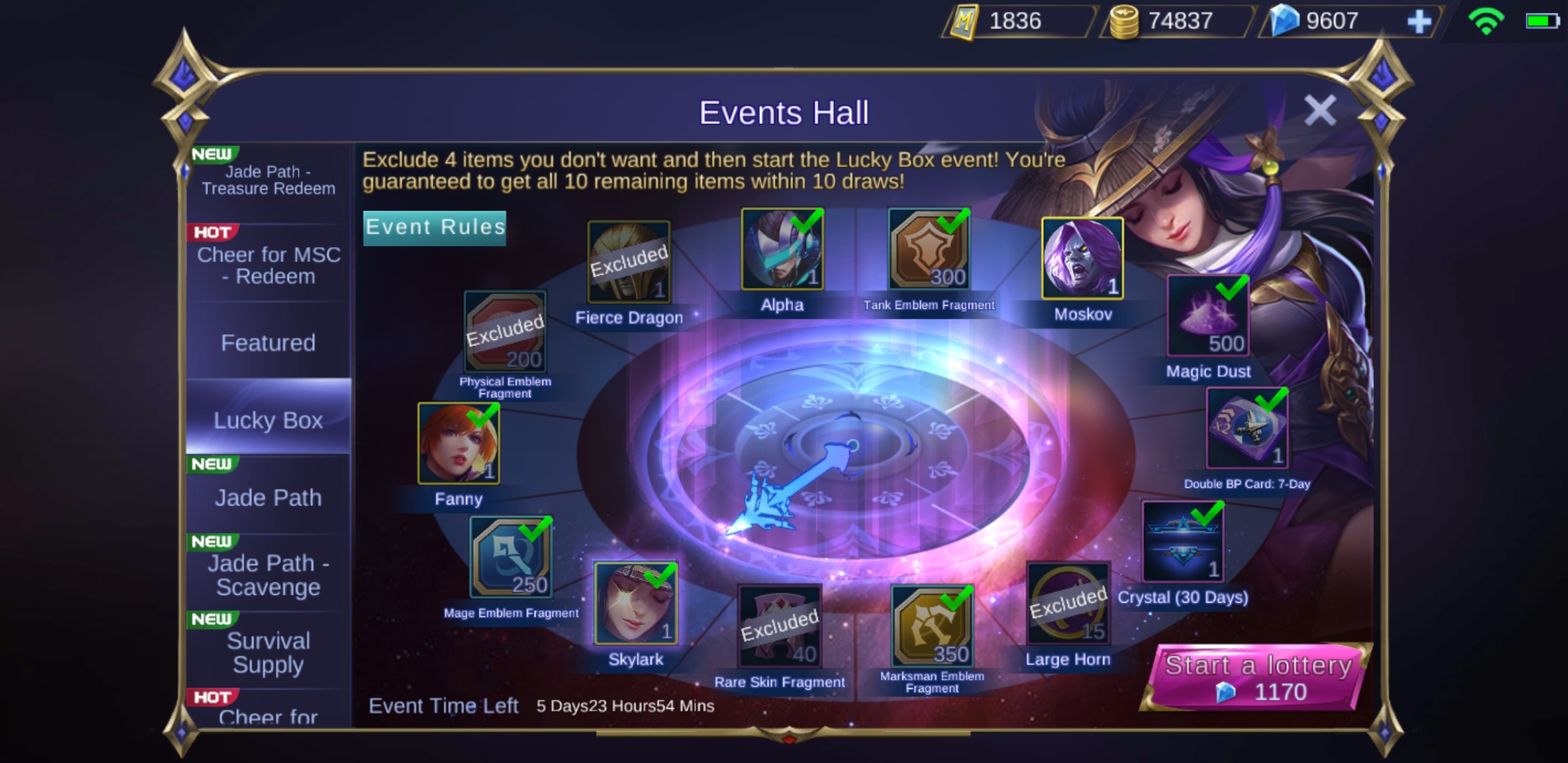 Lucky Box is one of the events in Mobile Legends which is usually used to get epic limited skins by Mobile Legends players. This is because the skin you can get here is the epic skin of a hero, which Moonton has just released. To get the Epic Limited skin from this Lucky Box Event, of course, you must have quite a lot of diamond stocks.
For those of you who want to take part in the lucky box event in Mobile Legends with the aim of getting the latest limited epic skin, you must have prepared quite a lot of diamonds, around 3080 to 4200 Diamond Mobile Legends. For the first spin round it is free, but you have to spin 9 spins up to 10 spins.
ALSO READ:
This is because you can get the latest Limited epic skin in the Lucky Box Event in the 9th spin if you are lucky and if you are not lucky then you will get it in the 10th spin.But the calculation of 3080 to 4200 diamonds in Mobile Legends is quite worth it. That's because there are other skins and heroes that you can get at once through this event. There are also some items which are of course quite useful and you can get them too.
Now that's an explanation of the price of the Lucky Box skin that you can get in the Mobile Legends game. Hopefully this is useful and can be a good reference source for all of you. Read the explanation above so you can find out how many estimated diamonds in Mobile Legends are needed to get the epic limited skin from Lucky Box!
Don't forget to follow our official Instagram on Esportsku (@ esports.ku) to get the latest information about Mobile Legends games and other latest games!