The Battle Royale game is one game that is quite cool, because it has a gameplay that is cool enough for you to try. One of the Battle Royale games on Android that is currently famous is Free Fire. This game has also been well developed, by Garena and in the future it will definitely be even better. This time, you can get a gun Skin Permanent Pink Paradise Free Fire and Emote Lebaran FF on the latest mission.
All updates presented by Garena are pretty good and very interesting for you to try. On the current Advanced Server, there is a Free Fire Character named Wolfrahh. This character is quite good, which will later become Meta in Free Fire.
In the future, this character is reportedly going to be present in the Free Fire game in June. You can also find out the Wolfrahh Character Ability, so you don't get confused later when used. So now, Wolfrahh can be played in Advanced Server.
So in this way, all players who play the Free Fire game will continue to play and will never be Bored. Events that are present in the Free Fire game too, are all pretty good and very cool. Because right now, there is a Booyah Lebaran event that you can try.
That way, you will definitely have lots of cool items that are very interesting. Even now, there is a new mission in the Free Fire game waiting to be completed.
Curious? Check out the article below.
Gun Skin Pink Paradise M249 Free Fire event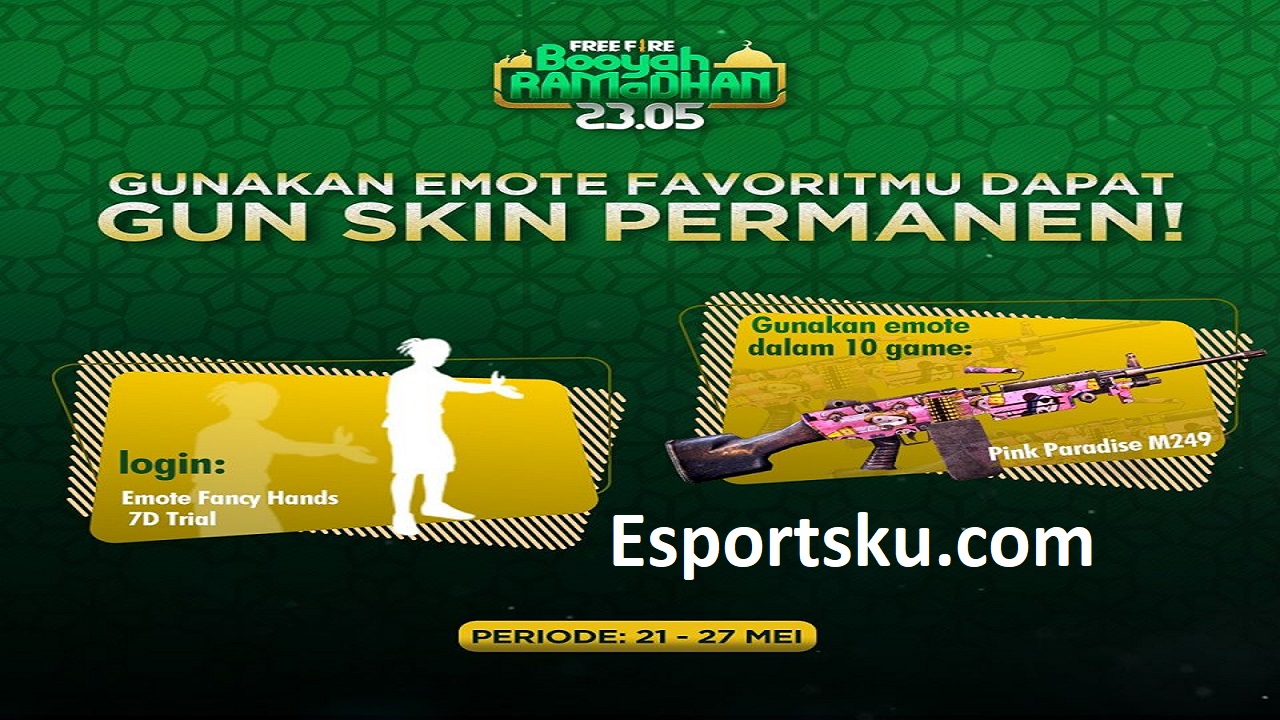 In this latest event, you can get a Free Weapon Skin which is pretty cool to try. Because of the M249 weapon, it is very deadly if you use it properly. This Weapon Skin, too, was once present in the Gun Skin Box.
So later on, you have to finish this event quickly. Because the mission you are given is also quite easy for you to complete later. This event is present from 21 May to 27 May 2020.
Has Only 6 Days
You only have 6 days to complete the event. But within 2 hours too, it must have been completed quite quickly. Below, we will provide this information to all of you.
Login: Get 7 Day Fancy Dance Emote
Using Emote 10 Times: Permanent M249 Pink Paradise Skin
So so that you can finish this event quickly, if you try Tips for Completing the Booyah Lebaran Event right now.
Also Read: Mystery Shop 9.0 Free Fire Comes to the Biker FF 2020 Bundle, Cool!
To finish it, we will give advice to all of you playing in Classic Mode only. Because that way, you will never worry about winning or losing.
We advise you to get off at a place that is far enough away and if possible at the end of the plane's path. After you get off the plane, use the free emote given by Garena.
Use it up to 10 times, then later you can complete the missions in this event in a fast enough time.
Also Read: The Latest Deadly Skill Pet Falcon Free Fire in the Early Game FF 2020
If you have completed the mission at this event, of course later you will never feel a loss when you have succeeded in bringing the cool weapon skin into the match.
That's it, Thank You and Greetings, Booyah.
---
If you want to get lots of information about the Free Fire game. Don't Forget to Follow and Like Our Fanspage on Facebook, so you don't miss any other information.