Don't miss the Latest Master Of Mind Gun Skin Box Free Fire, where this will provide several skin weapons that are quite rare with one of the Special themes. You certainly know the new character named KSHMR Terbaru now. By using these characters when playing later, there must be a lot of convenience that you can feel if you use them.
Especially there are many interesting things for you to try about this Free Fire game. With so many advantages, for you, feel it right now. Moreover, what we know is the newest KSHMR character in the Free Fire Game, giving the players the greatest convenience too. That way we shouldn't neglect all of these things.
Especially from one of the new sales that is now present in the Free Fire game shop. Check out this explanation directly, in the article below.
Master Of Mind Gun Skin Box Free Fire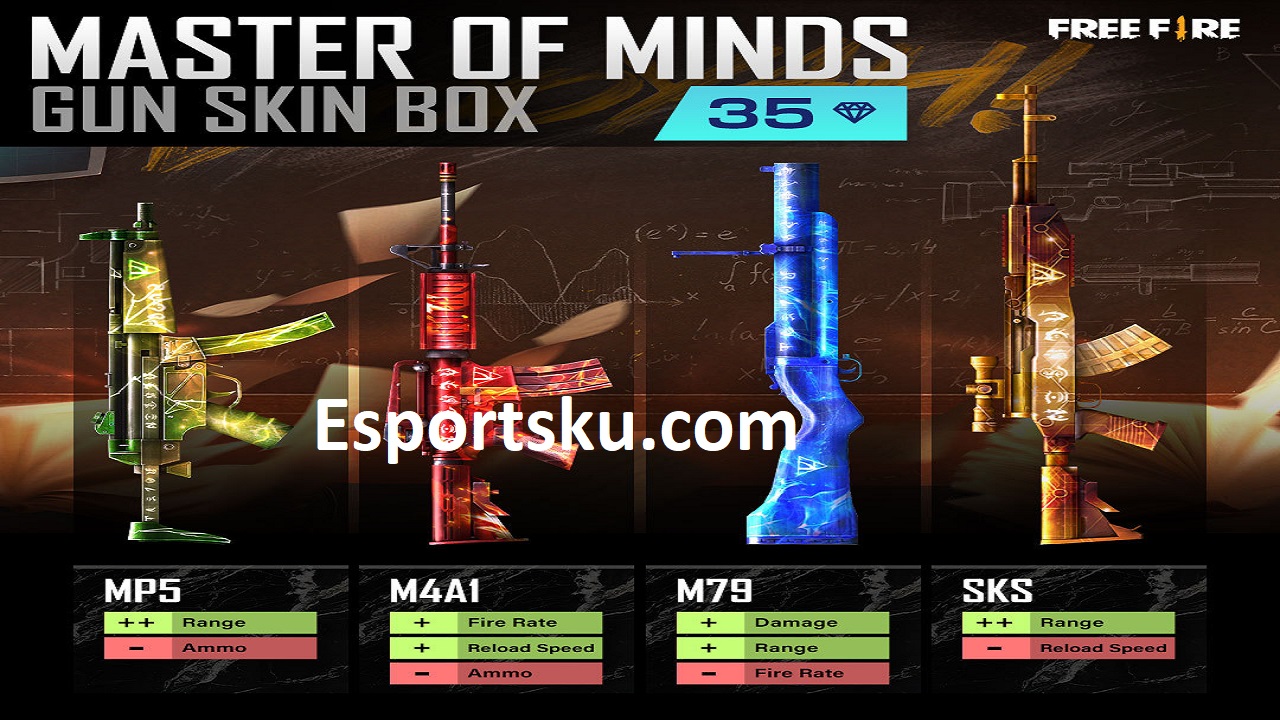 Now we can know and have one of the coolest skins, from the box called Master Of Mind. Yup, this is part of the Box presented in accordance with the character of the newest KSHMR. Because we can know that the theme given to this Skin box too, can indeed be quite different and you shouldn't be sure what to do later.
We can get this Box at a fairly cheap price, with only 35 Diamonds, you can have the Box later. But there is one important thing first, if in this box the system is very similar to Weapon Loot Crate Free Fire. So when you buy it, gacha will be the clearest answer from this box later.
Use Hockey Tips!
So from that you also have to be able to buy this Box in large quantities, so you can be sure of that Skin permanently too. Even so, we will also understand, if something like that needs Spin Free Fire Hockey Tips. The skins presented for this are MP5, M4A2, M79 and SKS. All of them have their own rate and can be obtained later.
But what we need to pay attention to for now, don't waste too much Diamond for this skin. It's good, but there's nothing wrong with waiting for the Latest KSHMR Weapon Skin Package, which is already present on the outside server. Nobody knows when it will appear on the Indonesian server but maybe it will come even though it's not quite right yet.
Every skin that is present in this box also has a stat, here are the stats on the skin that you can use when playing later.
MP5
Range ++
Ammo –
M4A1
Fire Rate +
Reload +
Ammo –
M79
Damage +
Range +
Fire Rate –
SKS
Range ++
Reload –
This stat that is given will indeed help you when using that weapon, but we also have to understand how to use it properly so that later there are also no mistakes that you can accept when using the skin. Don't miss the latest sales from this Box now.
Knowing all this, it will benefit us to take advantage of it too. Especially you can know that the current Free Fire K Character Review has become a part of Meta. Therefore we must not forget this character, wear it with the weapon's skin and you can see it as deadly as K when competing later too.
---
Oh yes, all of you too, don't forget to Follow Us on my Esports Instagram. So that you know the updates – updates to the Free Fire game and others.