There is a way to Get Free Fire Poring Hats that you can do right now. As we know, Free Fire is a pretty good Battle Royale Android game, and this game has also included a lot of players from all over the world. Free Fire has a game system that is different from other games, so this makes the Free Fire game quite often played by many people.
Garena himself has presented the Free Fire game with mediocre graphic quality, so that even players who use potato cellphones can play it. Although you could say that it is an ordinary Graphics, there is now an Ultra HD Graphics setting. This setting can also be used by potato cellphones as well, but it's better to just use the Smooth setting.
Not only that, this game has interesting features and cool events that are far better than other games. Even Garena free fire is not half-hearted, they present events with very many total prizes. Even though bundles are expensive, they can make it cheap and even become free.
Also Read: 3 FF Items Must Be Purchased When Free Fire Diamond Is Cheap
Right now, Garena has provided the latest event for Free Fire game players. In fact, this event is a proof of their collaboration with Gravity, the famous Ragnarok game holder.
Right now, the event is called Free Fire x Ragnarok and at this event you have to collect as many Poring Tokens as possible to get various other interesting prizes.
Therefore, on this occasion we will provide the Token Information needed to get these prizes.
Curious? Immediately, we see the explanation in the article below.
Also Read: 3 Weakest Free Fire Weapons According to FF 2020 Players
Get Free Fire Poring Hats, Right Now!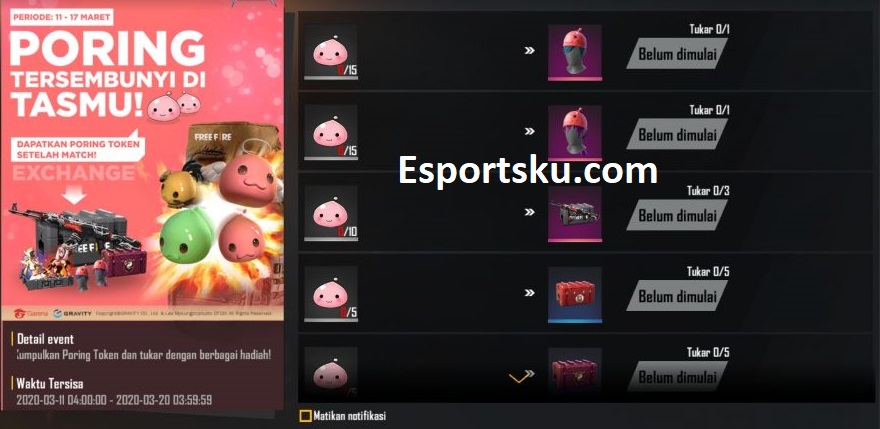 At this event, you have to collect a lot of tokens to be exchanged for other attractive prizes. Even in this event, you will get rare items and it is only provided at this event.
So basically you have to find tokens in the match and finish the match.
Now at this event, you will be able to get attractive prizes if you already have the total tokens needed. There are prizes in the form of Poring Hats and various other prizes, which you can get for free.
The following is the number of tokens that you must collect to get prizes at the event.
Prizes for Collecting Free Fire Poring Tokens
For the main prize for the Poring Hat, you need 30 Tokens to get the prize in 2 different types. 1 Poring Hat will cost 15 Tokens, so if you total it you need 30 Tokens to get all of them. The redemption limit of this prize is 1 time only.
Also Read: LetDa Hyper FF's story with Kulgar, his jaw has shifted
Furthermore, if you want to get Weapon Loot Crate AK47 Flaming Dragon, 10 Poring Tokens are needed. You can exchange this prize up to 3 times, so it takes 30 Tokens to exchange it 3 times.
You can also get Angel and Devil Pack for 5 Tokens for 1 Box only, it can be exchanged up to 5 times so you need 25 Poring Tokens to get 5 Boxes in this section.
For the Shiba box, this is the same as the Angel and Devil Pack. Where you also have to need 5 Tokens to exchange 1 gift, it can be exchanged up to 5 times so there must be 25 Poring Tokens to get the 5 Boxes.
Lastly is the Crate Supply which only requires 2 Tokens, this item can be exchanged as much as possible.
Also Read: The way Spas12 Free Fire is more deadly in FF 2020
So if we total everything, those of you who want to have all the prizes in this event must be able to collect up to 110 Poring Tokens. This is the sum of all the redemption events, if you really want to have all the prizes available in the Poring ff event.
The Token Get Event will be present on March 11, 2020.
So, those are some of the information that we can convey on this occasion. How? Are you ready for this event?
That's it, Thank You and Greetings, Booyah.
---
If you want to get lots of information about the Free Fire game, you can immediately join our group. Stay tuned to my esports to get the latest Indonesian esports news 2020!