2020 may not be a good year for many. With the COVID-19 pandemic, many are having difficulties. But esports still has high potential and the game with the biggest prizepool total in 2020 is quite a surprise.
Apparently some of the games that were very popular last year didn't provide the big prizepool anymore. This is because there are many LAN tournaments that have to be postponed due to this pandemic. So most of these tournaments are held online.
With many tournament changes due to health protocols in various countries, surely major tournaments have to follow this. Hence there is a shift also in terms of prizepool.
For those of you who are curious about what games with the biggest total prizepool in 2020 you can see below. This is interesting to discuss because PC gaming is still very prevalent today!
Game With The Biggest Prizepool Total In 2020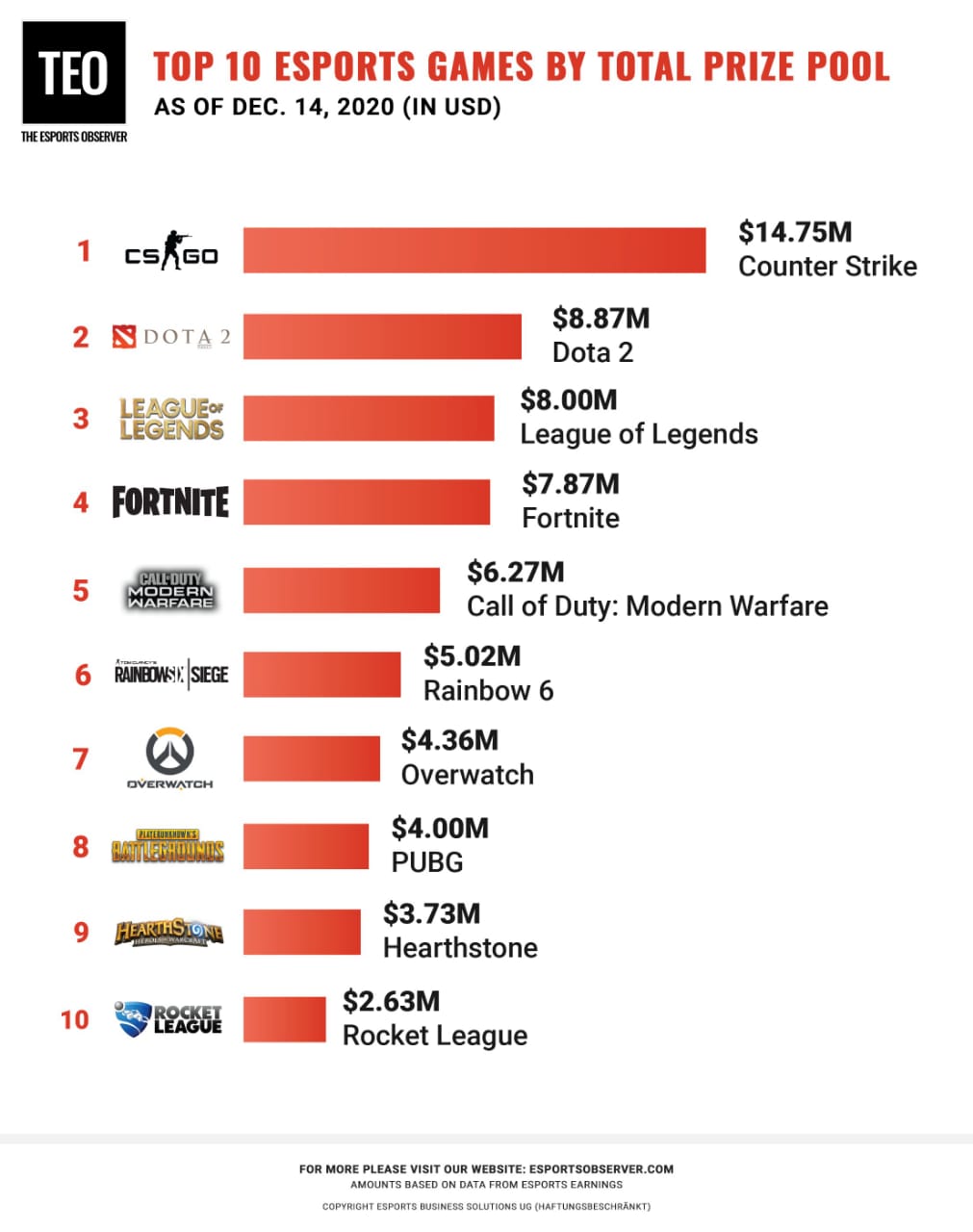 This data is reported by EsportsObserver which provides data on the total prizepool of the popular games in 2020. These games have a very large prizepool although not many run LAN Tourney.
If you noticed above, a lot of the games that peaked were all PC gaming! It is however unclear whether games like PUBG Mobile and PUBG are merged, but they seem to be split.
No kidding, because CSGO is still at the top of the list. This is because the CSGO culture has indeed carried out many events on various dates without stopping.
Dota is in second place with prizepool losing heavily to CSGO. This is because this year Dota did not run The International which was supposed to run in Stockholm in August.
If Dota ran The International it would easily be the top. LoL is greatly helped by their League and Worlds. This helps them occupy a comfortable third place under Dota.
What's interesting about this data is Call of Duty and Rainbow 6. Both of them can be said to be newbies to esports. Compared to the others, both of them are still young in the esports scene, but are growing rapidly.
This we can see and consider that the gaming PC does not look like it will die in this fast time. With great potential even though they are hit by a pandemic, they are still triumphant with their online play.
For mobile gaming, the world and other continents are not seriously in demand. Except for the PUBG Mobile game which is starting to be very brave and can even be said to beat PUBG PC!
This raises the question, what about other mobile gaming? Call it Mobile Legends and Free Fire. Both of them are new players to the esports scene but they don't really look good.
In terms of prizepool, media spotlight, and others are only too focused on one region only. Maybe because in regions like NA and EU this is less attractive and there are very few players.
It can be seen from the game with the biggest total prizepool in 2020, these three kings of esports cannot be taken down easily. CSGO, Dota, and LoL are the strongest games at the moment and are difficult to replace.
Also follow our social media on Instagram.