Mobile Legends will soon end this 13th Season and only less than a week later, this season will end and will continue to the next season. This time there is a free Mobile Legends skin for Skin Season 13!
As usual, Moonton will give you a Season Skin for free and permanently if you meet the rank requirements that have been determined by the Mobile Legends.
However, who are the heroes that will be given this Season 13 Skin?
From ever before, we all have a pretty good and interesting Skin Season, to the point that you can now buy the Season Skin at the Shop using a Blue Fragment, but the difference is that you won't get a Season Logo on the Skin you bought at the shop.
The previous season's skin was quite a lot, and won by heroes who were good enough to use in Classic and Rank, these heroes are:
Nana (S1)
Alucard (S2)
Fanny (S3)
Minotaur (S4)
Hilda (S5)
Alpha (S6)
Moskof (S7)
Estes (S8)
Franco (S9)
Tigreal (S10)
Bane (S11)
Vexana (S12)
Skin Season has always been given by Moonton to all players in Mobile Legends. But who will be the hero with season 13?
Free Mobile Legends Skins for Skin Season 13
Hero Mobile Legends HYLOS!
Hylos is a tank whose body is half a horse, the skill of Hylos is great suitable for use in Open War or protect your respective team members.
Free Mobile Legends Skins for Skin Season 13 on Hylos will have a muscular and large body. It is equipped with a predominantly natural green color and a horn on its head. This hero will also carry his flagship weapon, the ax.
We can get Skin if you have reach Tier Rank Master and above. Besides getting skin, you will also get another prize.
SKIN HYLOS SEASON 13 Mobile Legends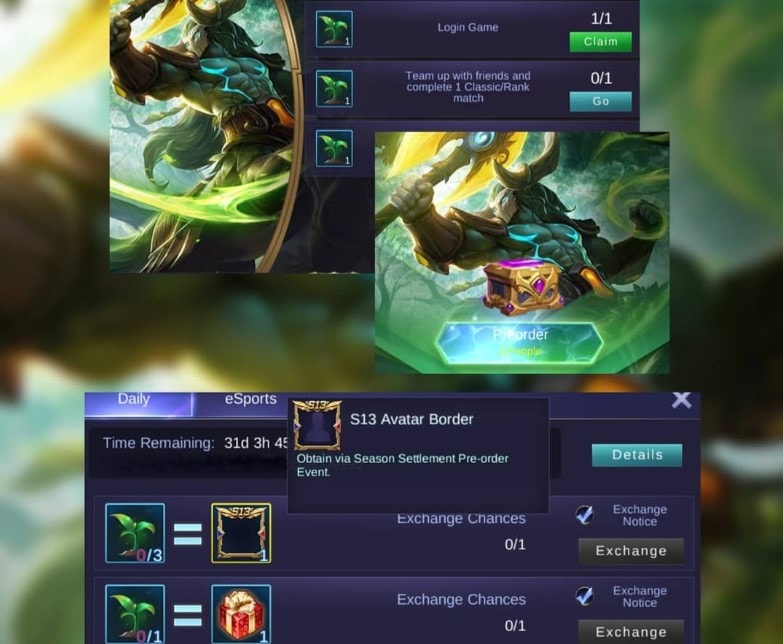 And later, you will have a new event on mobile legends. If you complete the mission, you will get an S13 border for free and permanent, of course.
That's some information for the free Mobile Legends skins for Skin Season 13 and Congratulations to Hylos Users who will soon get a New Skin.