Free Fire is one of the Battle Royale games that is quite famous until now, even this game also has a very large total player. Of course with this achievement, making the Free Fire game is indeed very good and quite exciting for all of you to play. This time there is a Free Magic Cube Free Fire Prize at the Ramadan FF 2020 Event that you can get.
This game was developed directly by Garena, so the updates and events that come are always good to try. Free Fire has also now presented a lot of updates and developments that are quite good.
Also Read: How to Get Free Diamonds for Free Fire Callback FF April 2020, Attack!
So that later you too, will never be bored when playing the Free Fire game. In this game too, there are several characters with Meta Skills that can be used. There are even some good and correct Medium Range Sniper Tips.
And there is also some latest information for you beginners, because there are some Booyah Tips for Beginners that are currently used quite often. So that way, you beginners can immediately become good at playing the Free Fire game.
Also Read: Pet Ottero FF Has Arrived at Shop Free Fire 2020
Right now, we will enter the month of Ramadan. Of course that way, you can get a lot of blessings from inside or outside the Free Fire game. Even later, there are lots of new things that you can feel at this event.
Of course, while Ngabuburit, you will be able to complete the Special Mission for the Month of Ramadan to get lots of prizes.
So on this occasion we will explain the event to all of you.
Curious? Immediately, we see the explanation in the article below.
Also Read: 4 Combo of FF Alvaro Characters, the Best Free Fire Explosives
Free Fire Ramadhan Booyah Event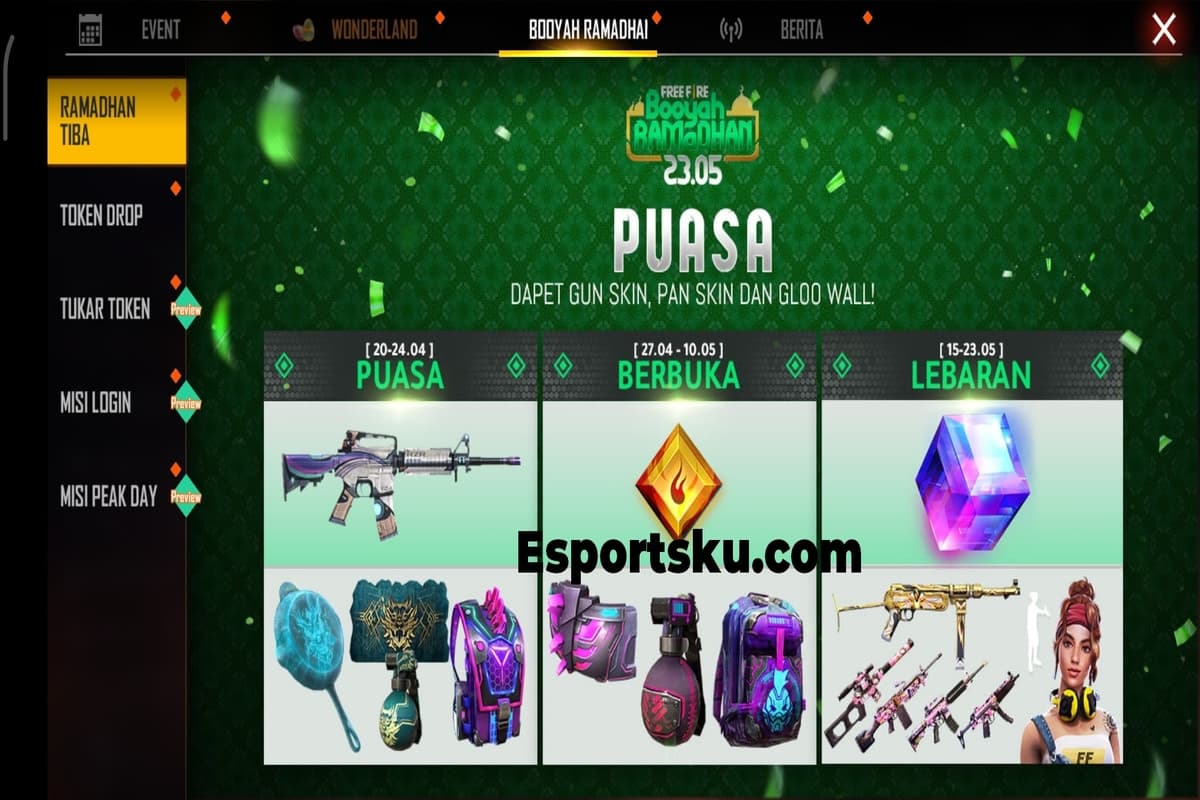 Fasting Event April 20-24, 2020
The first Booyah Ramadhan event will take place from April 20 to 24, 2020. Of course, at this event, you can get lots of attractive prizes that are cool enough to collect later.
There are even prizes in the form of M4A1 Weapon Skins, Free Pan Skins and also the latest Gloo Wall. Not only that, there are also prizes in the form of skin bags with very unique shapes and patterns.
Also Read: Latest FF Redeem Codes April Free Fire 2020, 16 Code FF!
Breaking Event April 27 – May 10 2020
Next, you will attend the Berbukan event in the Free Fire game, it is even one of the next interesting events. At this event, there are many cool and interesting prizes that can be obtained by all of you.
Of course at this event you can also get Awakening Stone, Skin Gloo Wall and Skin Backpack for free. In fact, this is a Clue, where the Backpack and the Gloo Wall are the next Skin Incubator leaks.
Lebaran Event May 15 – 23 2020 Free Magic Cube Free Fire
Now this is the peak event of Ramadan, of course this event will be much more festive than before. Even the prizes that you can get, are much better and there are lots of them to collect.
There are prizes in the form of Shani Characters, Emotes and Weapon Skins with a fairly rare level. Even the Jackpot prize in this event is 1 Magic Cube and it is rumored to be present immediately without collecting any Fragments first.
Also Read: Latest Leaks of Rank FF Death Box and Free Fire Skin Bag, Full of Skulls!
Besides getting blessings in your daily life, you will also be able to feel a lot of blessings in this Free Fire game.
So, those are some of the information that we can convey on this occasion. How? In addition to this information, there are some Tips for Counting Role Rusher in matches, there are even some of the Best Characters to Use Thompson today.
And there are some information on changes in UMP and MP5 after getting buffs in the Free Fire game.
That's it, Thank You and Greetings, Booyah.
---
If you want to get lots of information about the Free Fire game, you can immediately join our group.