Free Fire is one of the Battle Royale games on Android, even this game also has very many total players. All events and updates in the Free Fire game are quite good and very interesting. Even one of the updates is also frequently used, such as the unique Free Fire Character.
This game was developed directly by Garena, so of course all updates and events in the game are very good. Even now, we are being presented with the Booyah Ramadhan Event. Various kinds of prizes can be obtained at this event.
Also Read: Gameloop FF Emulator Specifications to Play Free Fire, Smooth on PC!
Besides that, you can try Free Fire's Best Landing Tips so you can survive longer. Even in this way, later you will also have Many of the Best Looting Items. So that it can help, when fighting later.
When you play this game, of course there are many new updates for you to try. There are also many modes that are present in this game. One of them is the Team Deathmatch mode, where you have to collect 40 Points to win.
Also Read: Popular FF characters and skills until now in Free Fire 2020, who are they?
Even at the beginning of the release of this mode, it was very busy to play. Now in the Booyah Ramadhan Event, now there will be another event. Of course that way, you can get lots of cool items by completing the event.
Curious? Immediately, we see the explanation in the article below.
Booyah Ramadhan Event – Play in Free Fire Team Deathmatch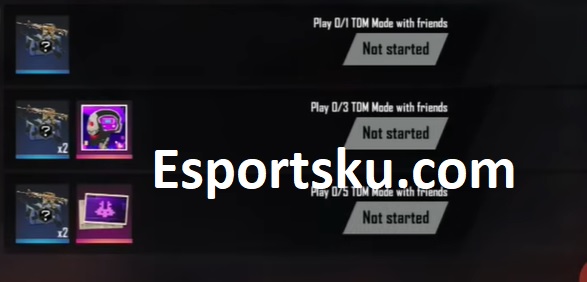 At this event, you will get a gift that is quite good and interesting. Even in this prize, you can get a banner and avatar leaked by the next incubator. Of course this way, it is certain that the incubator will change soon.
Also Read: 7 Free Fire Loadouts that FF Players Must Know for 2020!
In this event too, you will have the opportunity to get a free weapon skin. So don't lose too, complete the mission and can get Free Weapon Skins. Although later on, you could say that this would include Gacha.
So in this way, adding a lot of fun to the event is right. We do not know for sure, when this will appear and can be resolved. But the date for this event is over, is on 15 May 2020.
Weapon skins that can be obtained are for M4A1 weapons, even this weapon also has a Powerful Deadly Counter. So when you use it, you have to be careful with the counter.
Also Read: 9 FF Tips to Become a Famous Youtuber from the Free Fire 2020 Game, So Easy!
The following is an explanation of the event to all of you.
Play 1 Time in Team Deathmatch: 1 Gun Skin M4A1
Play 3 times in Team Deathmatch: 2 Gun Skin M4A1 And Free Avatars
Played 5 Times in Team Deathmatch: 2 Gun Skin M4A1 And Free Tires
All of these prizes can be obtained later if you only play in this mode. So don't forget, not to miss this event.
Also Read: 3 Tips for Free Fire Free Diamond Top Up FF, So Easy!
So, those are some of the information that we can convey on this occasion. How? do you all understand and are ready to finish it when it appears? In addition to this information, there are several Deadly Counters for Gloo Wall Free Fire today.
That's it, Thank You and Greetings, Booyah.
---
If you want to get lots of information about the Free Fire game, you can immediately join our group.
https://www.facebook.com/groups/512636906157569/.