The game that is currently popular for many people to play is a battle royale type game, because in this game you will get lots of new challenges. If you want to experience this on Android, of course you can try the Free Fire game, which is currently being played by many people. This time you can get the permanent Free Fire surfboard on FF June 2020 rescue easily
For now, the Free Fire game is still being developed well by Garena. So of course all the updates that come into it are very good, and interesting to try. Yesterday, we all had the Wolfrahh character free fire in the game.
So all players who play this game will of course accept many new challenges, because of the presence of the latest Meta in this Free Fire game. Yesterday we all had the Sniper M82B free fire weapon, the ability of this weapon was also very deadly.
Where the enemy who is taking shelter behind the Gloo Wall can still be given damage, if you shoot the gloo wall using this weapon. Apart from that, we also have the latest Beach Party event, where the prizes given are very good.
Until now, Garena has launched another new event, with the theme Beach Party into the game Free Fire. But for the event that is present this time, you have to play with friends. Curious? Immediately, we see in the article below.
Also Read: 5 Tips for the Best Free Fire M82B Weapons, Destroy Your FF Opponents!
Beach Party Free Fire Event – The Latest Rescue Mission!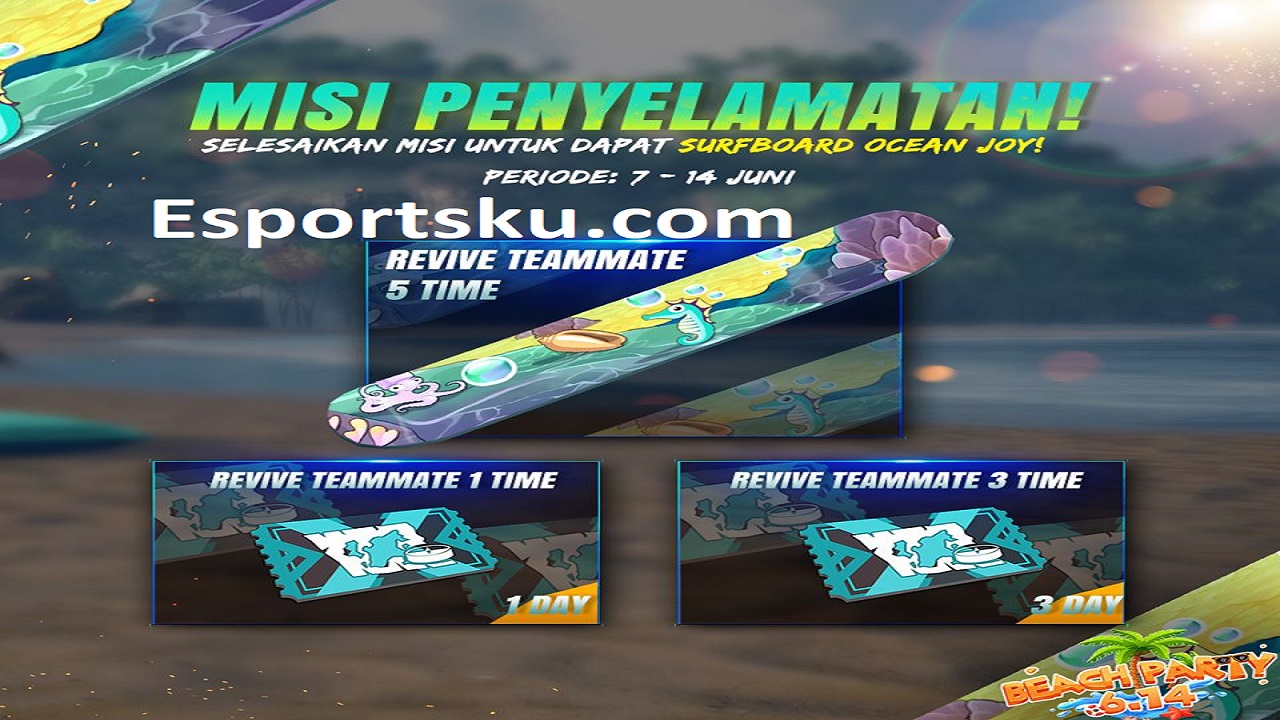 In this latest beach party event, all of us players in the Free Fire game really have to play with friends. Because the name alone is a Rescue Mission, where we later have to do a number of things related to Revive.
It is true that in the event mission this time we have to do a Revive, so that the missions present at the event can be completed. Even for that, we will definitely get attractive prizes, if we successfully complete the mission at the present event.
Also Read: Elite Pass Season 26 Free Fire, The Creepy Robot Human FF!
As information only, this Rescue Event will be present from June 7 to June 14, 2020. That way you only have 1 week, so you can complete the missions in the event this time.
Permanent Free Fire SKin Prizes
In the event mission that is currently present, these prizes do look normal. But in fact, this prize will not be presented again, aka being a fairly limited gift. So that way all of you can't miss this capable event. because it only needs to be revived.
The following are some explanations of the prizes you can get.
Revive 1 Time: 1 Day Treasure Map Playcard
Revive 3 Times: 3 Days Treasure Map Playcard
Revive 5 Times: Special Permanent Summer Surfboard Skin
To complete this mission quickly and easily, try to always play with 3 other friends. So this way you can certainly complete the mission, together and maybe faster than usual.
Also Read: The Latest Free Fire and Electric Royale Bundle, FF Players Must Have!
By combining the skills in this game, of course you will definitely become very strong and invincible. But if you want to focus on completing missions, just try playing in Classic Mode. You or your friends accidentally get Knocked, then Revive.
That's it, Thank You and Greetings, Booyah.