Until now, the games that are present on Android, already have many types and have very interesting challenges. Of course, with the presence of this game on Android, surely you will never be bored again when filling your spare time. For now, the Free Fire game is still the best, with quite a lot of players. This time there is a 50% discount Magma Ridge Incubator Free Fire bundle that you can get at a low price.
In the future, this game will also be developed even better, so that the players will never get bored playing the Free Fire game. Yesterday we had the Wolfrahh Free Fire Character, where for now his ability is very meta-meta.
The latest update in June 2020 alone has many important points that you can try, where the update is good enough for you to try. In the future, there will definitely be more new things, so that this game will be even better in the future.
The event that is presented by Garena will certainly make the players never get bored playing this game. Yesterday we attended the Beach Party Free Fire Event, with prizes that were quite attractive.
But now all of us, the presence of the latest Discount Event that has been presented by Garena. Surely you are curious about what event is present, let's just look at the article below.
Incubator Spin Free Fire 50% Discount Event Every Day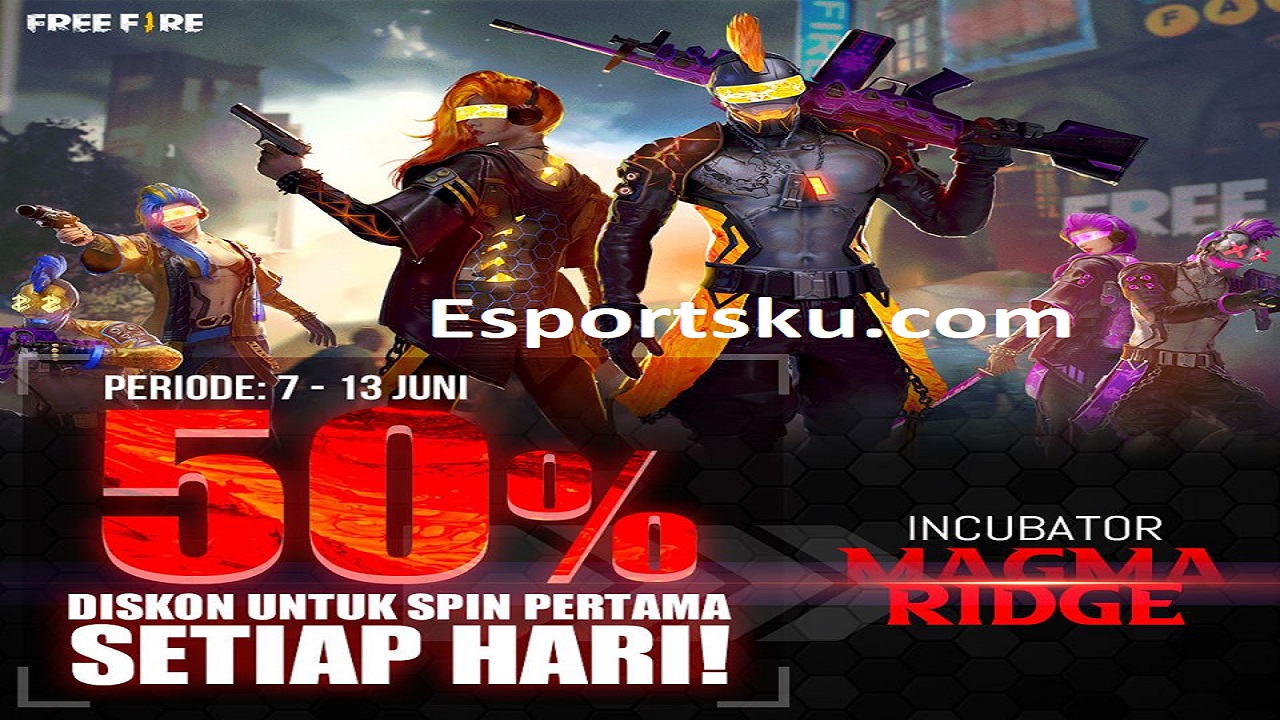 The event that was presented by Garena was indeed quite good, and later it would benefit many players. Because by doing this Spin when the discount event takes place, of course you will save more on issuing Diamonds later.
This event is presented in the Free Fire game from June 7 to June 13, 2020. All of you, of course, shouldn't miss the event, because the discounts presented by Garena are very good.
Also Read: Antonio Free Fire's character still sells by Pro FF players, why?
If you want to know the mechanism of this event, we will also explain it to all of you. So in this discount event, all of you will get a 50% discount, if you do the first Spin on that day.
So just like this on the day the event takes place, you will get a discount of up to 50% for the first Spin on that day. But remember, you have to take advantage of the 5 times Spin, when this event is in progress.
During the 76 Days Discount
If you have Spin for the first time that day in Incubator Royale, later this Event will disappear. Then the discount event will be present again, tomorrow at 4 in the morning. This event will last, for 6 days in the game.
That way we can count on our own fingers, if you can get a discount of up to 6 times in the event. By doing Spin when the discount occurs, surely you all will not lose or regret it.
This discount event has indeed happened a long time ago, even in this event there is a sign that is very visible. Usually Garena will hold this event, if the Incubator wants to end and disappear from Luck Royale. Later, the incubator will be replaced with a new one.
That's it, Thank You and Greetings, Booyah.